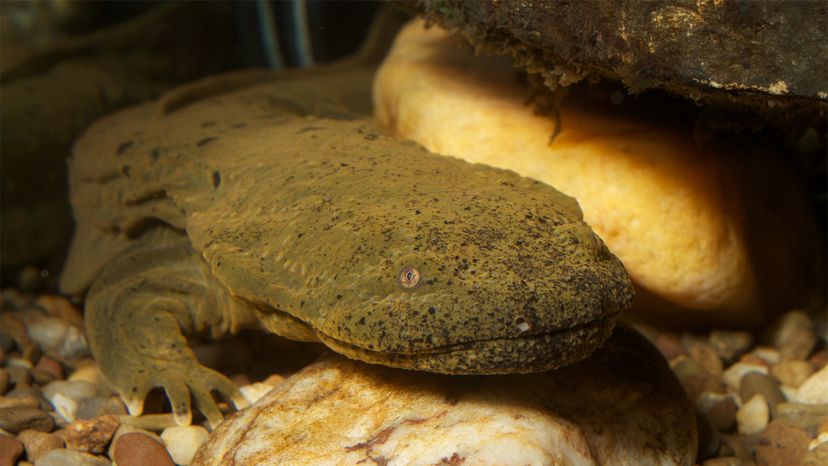 Picture a remote freshwater stream somewhere in the eastern U.S. The water's cool, there's a reasonably fast current and the bottom is littered with big, flat rocks. Sounds peaceful, doesn't it?
What you're imagining is a perfect environment for trout — and something else, besides. Every so often, anglers who cast their lines in such places wind up catching North America's biggest salamander.
And boy, can this thing leave an impression. Specimens measuring 29 inches (73 centimeters) long have been documented and the beefiest adults weigh 4 or 5 pounds (1.8 to 2.3 kilograms).
These four-legged amphibians have compressed heads and torsos and, judging by outward appearance, you'd think someone grabbed these critters and squished them flat with a rolling pin. Another key attribute is their brown-to-grayish skin, which hangs noticeably loose around the flanks.
Early settlers didn't know what to make of these guys. Baffled by their appearance, some folks began calling them "snot otters," "devil dogs" or "mud-devils." The species wouldn't receive its formal scientific name — Cryptobranchus alleganiensis — until 1803. Nowadays, most people know this strange salamander as the "hellbender."
Hellbenders are divided into two subspecies. Northern Arkansas and southern Missouri are the home of the endangered Ozark hellbender. Meanwhile, the eastern hellbender has a broader distribution, having spread itself across the greater Appalachian region and parts of the Midwest. Sadly, it's also got conservationists worried.