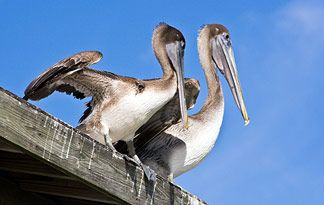 Thinkstock (11) Jupiterimages Jen Kuhfs/Get
So, the BP leak has finally been capped, but the fall out from the spill on wildlife and their habitat is still unmeasured. Here's our round up of animals impacted by the Gulf Oil spill. Find out what makes each of these creatures special and how the spill may affect their habitat and unique biological attributes.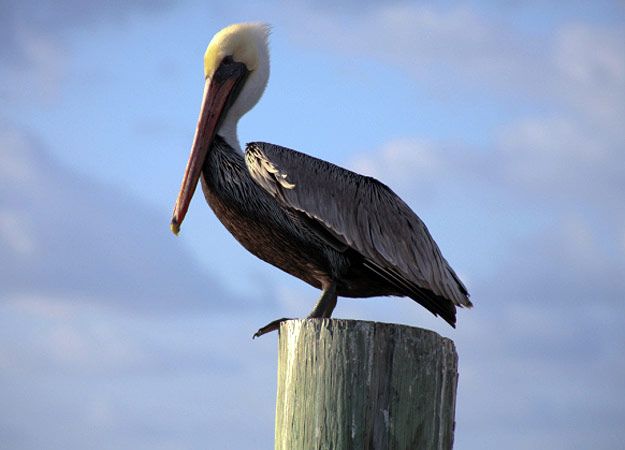 Thinkstock (11) Jupiterimages Jen Kuhfs/Get
Brown Pelican Taking the Plunge: One of only eight species of pelicans found in the world, brown pelicans live near the shallow coastlines of North and South America. Their method of hunting is known as "plunge diving." Scanning for prey as they glide over the ocean, they plunge into the water from heights of more than 65 feet to snatch up food (along with nearly 3 gallons of water) in their pouches. After the Spill: Because of the bird's hunting style, oil slicks can coat the brown pelican's feathers when it dives into the water. This prevents the feathers from trapping enough air to regulate the bird's body temperature, putting it at risk for hypothermia. With its feathers coated in oil, the pelican also has trouble maintaining buoyancy. The Gulf oil spill has also coincided with the bird's reproduction season. While the brown pelican was removed from the endangered species list in 1987, oil contamination brought to the nest by parents can severely damage the eggs.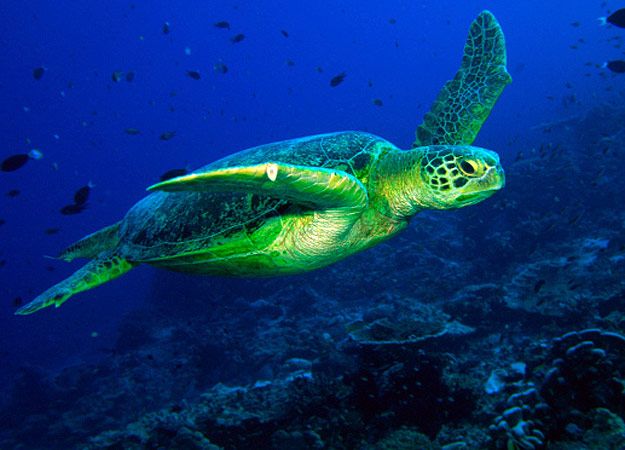 Thinkstock (11) Jupiterimages Jen Kuhfs/Get
Sea Turtles Sticking Their Necks Out: Unlike other turtles, sea turtles can't pull their bodies into their shells. Their lives are quite different from those of land turtles -- they live and hunt in the ocean, coming ashore only to nest. Sea turtles don't have teeth, either. Instead, they have beaklike jaws that allow them to tear their food and swallow it whole. After the Spill: Turtles may eat tar balls that look like food, and they have trouble finding safe places to nest when beaches become contaminated. Oil-covered beaches can also threaten baby turtles struggling to make it back to clean water. Though all sea turtle species are considered threatened, some of the ones affected by the Gulf spill are endangered -- and the spill has coincided with their nesting period. According NOAA, between April 30 and July 4, 2010, rescuers have found 601 sea turtles, affected by the spill. Of those, 438 were found dead, and only 48 survived long enough to be rehabilitated.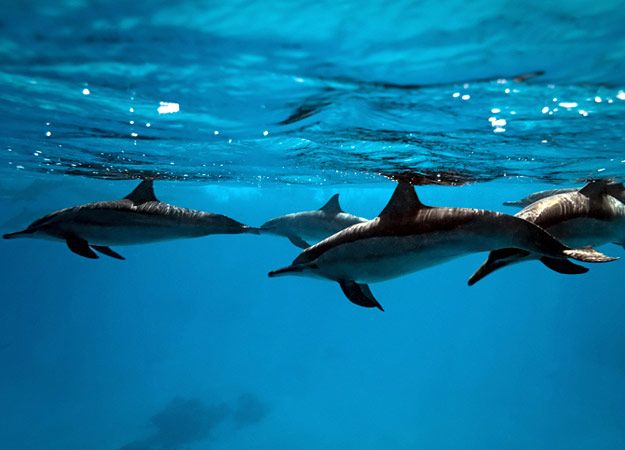 Thinkstock (11) Jupiterimages Jen Kuhfs/Get
Dolphins Seafaring Mammals: Dolphins are toothed cetaceans, or marine mammals, and the killer whale is the largest of them. Dolphins have teeth, but they only use them to hold on to their prey, not to chew -- they swallow their dinner whole. Like all mammals, they need to stay warm, so they use a protective layer of blubber to insulate them in the water. Among the most intelligent animal species, dolphins communicate using echolocation and high-pitched clicks. After the Spill: Because dolphins come up to the surface to breathe, they can inhale toxic oil fumes, which can cause long-term illness and even suffocation. Additionally, oil can irritate dolphins' mouths and eyes. As it contaminates the food supply, an oil spill can force dolphins closer to the shore. Between April 30 and July 4, 2010, 57 stranded dolphins were found in the Gulf, and only two of those survived.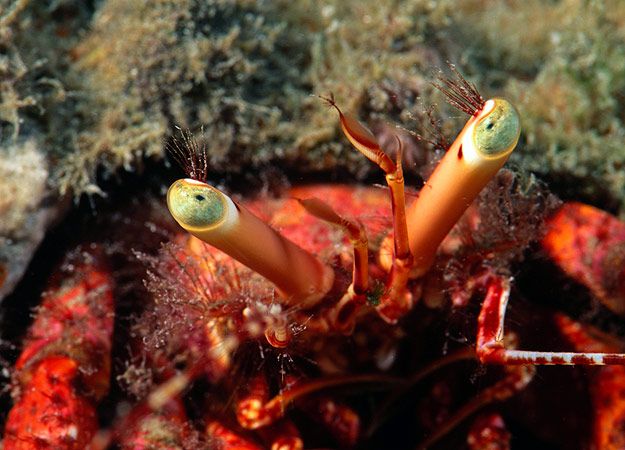 Thinkstock (11) Jupiterimages Jen Kuhfs/Get
Shellfish Under a Shell: The term "shellfish" refers to more than one animal -- mollusks, lobsters and crabs are all shellfish. There are thousands of species in this category, many of which live in the Gulf of Mexico. Many shellfish have a distinctive, protective shell (hence their name). Some mollusks -- including squid and octopuses -- neither have shells nor live close to the shoreline. After the Spill: Shellfish are especially susceptible to damage from the Gulf spill, whether they're bottom-dwellers living close to the source of the spill or inhabiting areas where chemicals become concentrated in sediment. Long-term exposure to oil and the use of dispersants in cleanup can seriously affect shellfish reproduction, growth and behavior.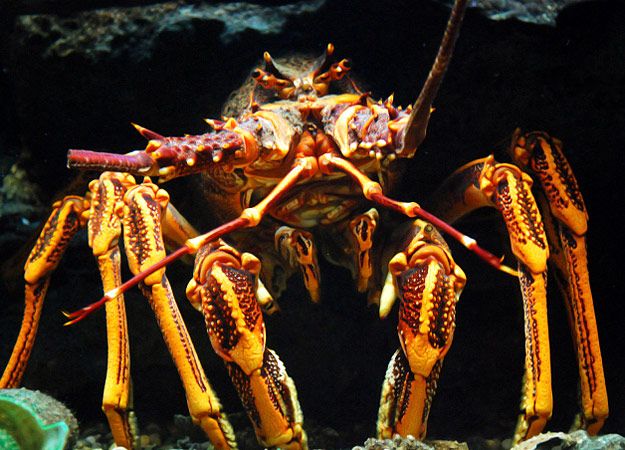 Thinkstock (11) Jupiterimages Jen Kuhfs/Get
Florida Spiny Lobster Crawling Crawfish: The Florida spiny lobster, also known as the Caribbean spiny lobster, has another name, too -- in the American South, the animal is commonly referred to as the crawfish. As implied by its name, the species is found around the Gulf of Mexico, from Florida to the Caribbean islands. Unlike true lobsters, spiny lobsters lack claws and have a line of sharply pointed spines on their bodies to protect them against predators. They molt when they grow, shedding their shells up to once a year. After the Spill: Because the spiny lobster spawns during the spring and summer seasons, it's greatly affected by the Deepwater Horizon spill. Most of the crawfish in the food industry are harvested around Florida and the Keys. The oil spill has already limited this fishing, however, and it's started to threaten the lobster's food supply and coral reef habitats.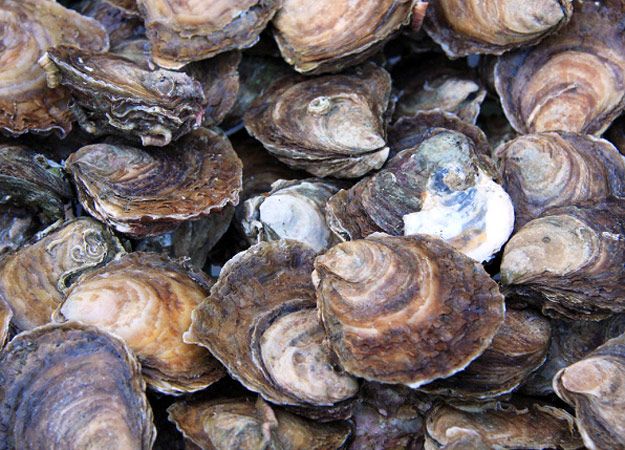 Thinkstock (11) Jupiterimages Jen Kuhfs/Get
Oysters Plankton and Pearls: Oysters are classified as mollusks, with a two-piece shell and neither a head nor a brain. When sand or dirt settles in an oyster's mantle, it produces a mixture of chemicals that will eventually coat the irritant to produce a pearl. Oysters feed on plankton and other kinds of debris and can change their sex several times throughout their lives. You can figure out an oyster's age just like you would a tree's -- each ring on its shells corresponds to one year. After the Spill: Oysters reproduce from May to August, which coincides with the Deepwater Horizon spill. Additionally, the American Atlantic oyster, one of the most important in the fishing industry, lives along the Gulf coast. In addition to contaminating the oysters' meat, the oil can also contaminate their habitat and food supply, particularly when oil and dispersant chemicals get trapped in the oyster's mantle, where it can remain for years.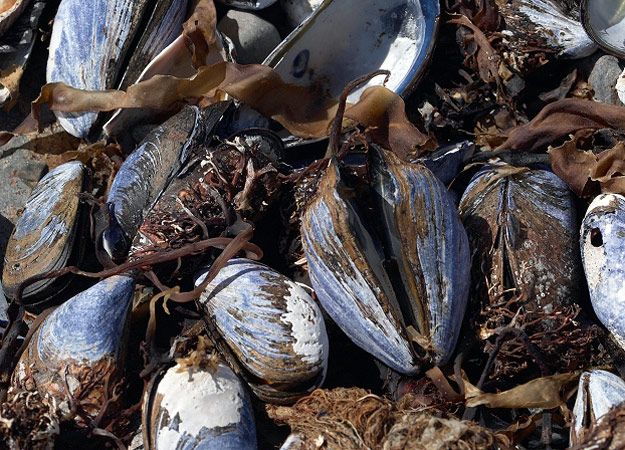 Thinkstock (11) Jupiterimages Jen Kuhfs/Get
Mussels Filter Feeders: Mussels, another type of mollusk, eat by filtering the organic matter from the water around them. This unique internal filtering system is why they're often used to measure levels of marine pollution. Like oysters, mussels have two shells made of calcium carbonate, but they also have a muscular foot to help them move around. After the Spill: As they feed, mussels ingest dangerous chemicals from the oil spreading in the water. Because mussels attach themselves to coastal rocks to grow, they may also find themselves surrounded by chemicals and contaminated sediment. Those chemicals don't just disappear, either -- they can stick around for decades.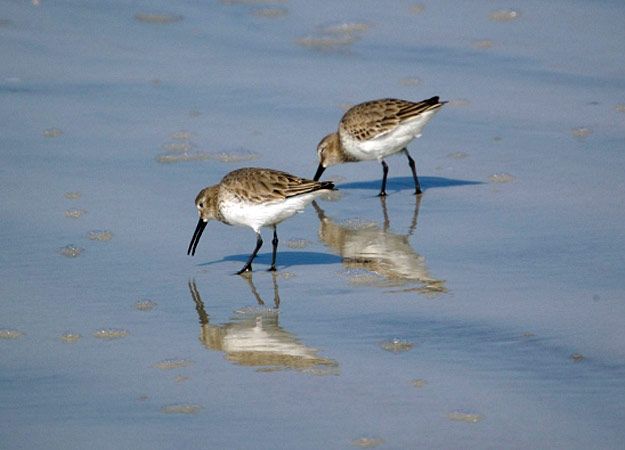 Thinkstock (11) Jupiterimages Jen Kuhfs/Get
Shorebirds Nesting and Wading: Shorebirds, or waders, are distinctive for their expansive migratory patterns, spanning from the southern tip of South America to the Arctic. There are more than 200 species, 75 of which nest in North America. Though commonly found along coastlines, shorebirds may also travel inland to nest. After the Spill: The Gulf of Mexico is a common rest stop for migratory shorebirds, particularly along the coast of Florida. That means that an oil spill in this region can interfere with migration patterns as well as limit access to a clean food supply. Additionally, nesting shorebirds that lay their eggs near coastlines are more susceptible to bringing contaminated oil back to their nests, jeopardizing the survival of their offspring.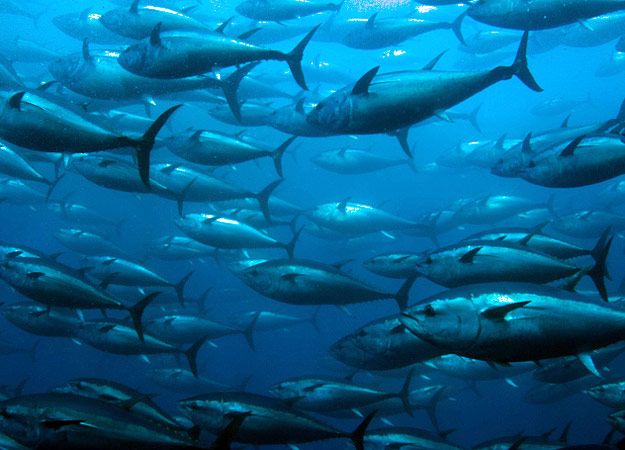 Thinkstock (11) Jupiterimages Jen Kuhfs/Get
Bluefin Tuna Ocean Giant: The North Atlantic bluefin tuna is the largest fish in the tuna family. These fish can weigh more than 1,000 pounds and live up to 30 years, but because of overfishing, the population has dramatically decreased. They feast on squid and sardines, among other fish, and can sell for more than $100,000 because of their rarity. After the Spill: The endangered bluefin tuna spawns in only two places; one of these is the Gulf of Mexico, during a period that corresponds with the oil spill. Because fish larvae are especially susceptible to toxic chemicals, oil pollution could have a devastating effect on this species' already threatened future.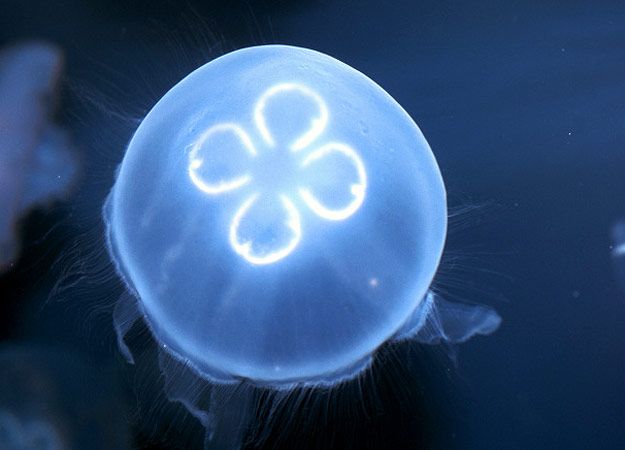 Thinkstock (11) Jupiterimages Jen Kuhfs/Get
Moon Jellyfish Drifting (and Stinging): Jellyfish are plankton, not fish. Their bodies are 98 percent water, and they produce little movement of their own, often floating along with the ocean's currents. Jellyfish are among the oldest species of sea creatures, yet they live less than a year on average. Their tentacles are vital to their survival: they not only possess basic sensory nerves to detect light, but they also sting to ward off potential predators. After the Spill: Moon jellyfish can live in shallow waters, and as the Deepwater Horizon spill spreads, they can become trapped in the thick, oily water: Since they can't move much on their own, they can't escape. They're not a threatened species, but the potential effects on jellyfish reproduction could hurt the population in this region. Additionally, jellyfish eat zooplankton, which can absorb oil toxins -- which means the jellyfish do, too.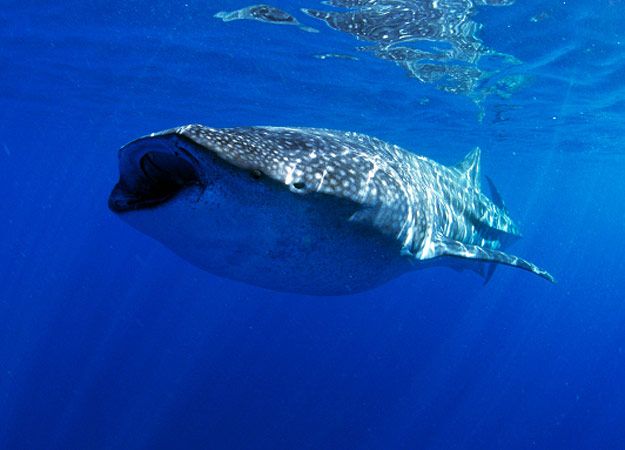 Thinkstock (11) Jupiterimages Jen Kuhfs/Get
Whale Sharks Oceanic Giants: Whale sharks are the biggest fish in the world. They can grow to more than 60 feet long, but they're not ferocious: They eat tiny plankton using a process called filter feeding. They swim slowly, taking in large mouthfuls of water and straining out the food. Whale sharks can also dive. Researchers have seen them swim down to depths of about a mile. After the Spill: Researchers and clean-up crews have seen large groups of whale sharks swimming in the oily waters around the Deepwater Horizon spill. Because of the way they feed, these sharks are taking in huge volumes of oily water, which could clog their filters and their gills. Their deep-diving behavior may put them in closer contact with dispersants being sprayed where the oil is spilling from the well. When the sharks are so far underwater, it's also hard for rescuers to try to direct them away from the spill. Researchers are particularly concerned about whale sharks because they are already threatened.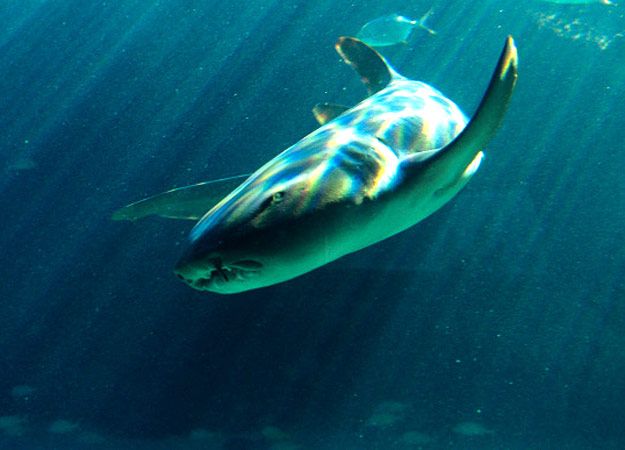 Thinkstock (11) Jupiterimages Jen Kuhfs/Get
Nurse Sharks Feeding from the Floor: Like whale sharks, nurse sharks are slow swimmers. They spend their time in a lazy trek around the sea floor, nibbling up their prey. Since they have small mouths and teeth, they feed mostly on very small sea life, like crabs and small fish. They also have catfishlike whiskers, which they use to detect food. After the Spill: Nurse sharks' mating season is in June and July of each year, and it takes place in shallow water. So, nurse sharks mating in the Gulf of Mexico have to contend with oily water, which could affect them and their young. Fortunately, nurse sharks typically mate in the Florida Keys and the Dry Tortugas, which had not seen the bulk of the spill as of early July. The spill may affect other shark species as well: Since sharks have very sensitive noses, the smell of oil and other chemicals may drive them closer to shore, in addition to causing physical and behavioral issues.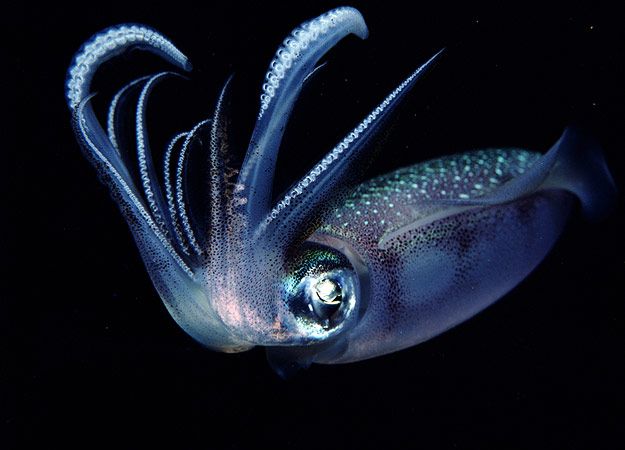 Thinkstock (11) Jupiterimages Jen Kuhfs/Get
Squid Shell-less Mollusks: Squid belong to the mollusk family, and they're intelligent creatures. Instead of an outer shell like clams or snails, they have an inner shell that protects their organs, surrounded by a soft outer body. They're similar to octopuses except they have 10 arms, which are lined with suckers to capture small prey. A few species of squid live in the region of the oil spill, and there was even a reported capture of the rare giant squid in the area in 2009. After the Spill: One unresolved concern of the spill is how oil plumes from the source of the leak affect deepwater swimmers like squid. These animals harvest oxygen from water that passes through their mantle, and researchers don't know how the presence of oil in the water affects this ability. But the potential damage doesn't end with the squid -- animals up the food chain, like the endangered sperm whale, eat the mollusk, so any changes in their population could have far-reaching effects.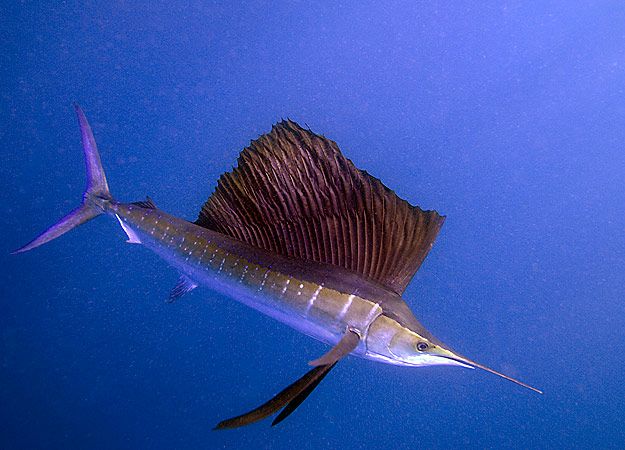 Thinkstock (11) Jupiterimages Jen Kuhfs/Get
Marlin Fighting Fish: If you hook a marlin, it will put up a memorable fight, made more dramatic by its spearlike snout. Marlins can grow up to 14 feet and weigh between 150 to 1,500 pounds, depending on the species. This fish prefers warm habitats, including the Gulf of Mexico, and feasts on other fish and squid. NOAA lists the white marlin as a species of concern due to overfishing and game fishing. After the Spill: Because marlin are on the top of the food chain, they experience effects of the oil spill in two major ways. They can ingest contaminated prey, and they swim in oily waters. Because of this twofold exposure pattern, marlins and other big fish are among the long-term indicators of how severe an oil spill is.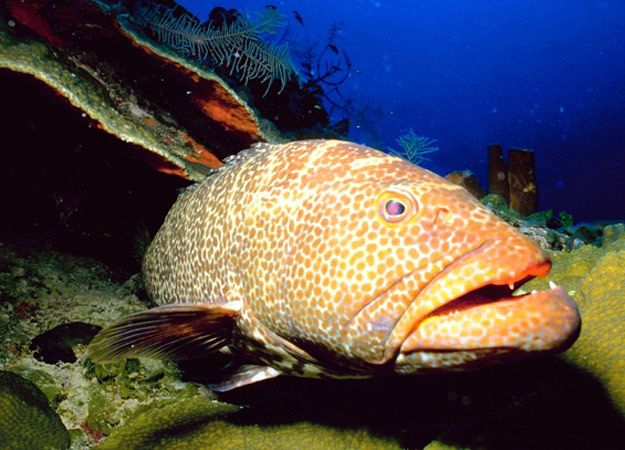 Thinkstock (11) Jupiterimages Jen Kuhfs/Get
Grouper Spiny Bass: The grouper family consists of several different species of fish, all of which prefer warm habitats. They're related to the bass, and they have spines along the dorsal fins on their backs. Grouper are popular around the Gulf of Mexico as gaming and harvested fish. And if a fish school is in danger of not reproducing because the male leader has left, some female species will simply switch sexes. After the Spill: Recently, NOAA listed a handful of grouper species as species of concern, a fact made more significant because of their shallow-water habitat near coral reefs and continental shelves. These areas are currently threatened by the spreading of the oil slick, which can cause coral to die and decay, leaving grouper species vulnerable.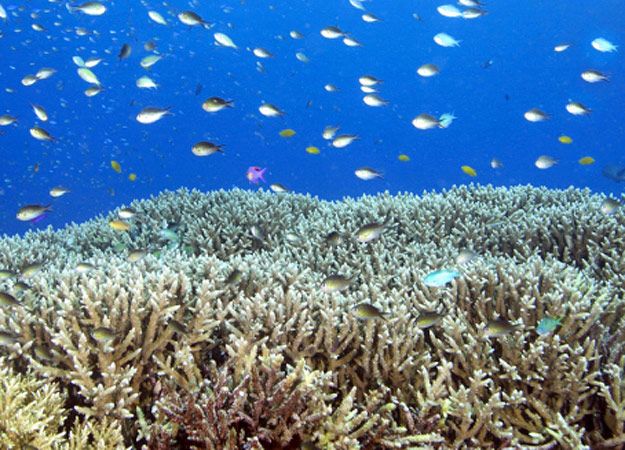 Thinkstock (11) Jupiterimages Jen Kuhfs/Get
Plankton Bottom of the Food Chain: Plankton are microscopic, floating organisms that form the building blocks of the marine food chain. Within this category are two important subdivisions: phytoplankton, which are plantlike organisms, and zooplankton, which feast on phytoplankton. They form the diet of animals as small as jellyfish and as large as the blue whale. After the Spill: Monitoring the levels and changes in plankton populations is essential to understanding the oil spill's long-term effects on all marine animals in the Gulf. While some plankton ingest and process oil particles, other fish who feast on these tiny organisms and likewise ingest the contaminated particles, producing long-term health problems that extend through the food chain.
Thinkstock (11) Jupiterimages Jen Kuhfs/Get
Coral Colorful Colonies: Originally thought to be plants, coral are carnivorous creatures that attach themselves to a spot and snag prey using barbed cells lining each individual polyp. Reproducing over thousands of years, coral can grow into colonies, creating a reef protected by skeletons made of limestone. After the Spill: The Gulf of Mexico is already a hotbed for "dead zones," areas where, because of pollutants and toxins released into the water from oil spills or industrial activity, the level of oxygen is too low for plants and animals to survive. This depletes the coral's food supply. And coral that resorts to eating plankton that have absorbed oil particles may begin to decay. Other deepwater corals consume oil particles directly from the plumes, which can poison the reef.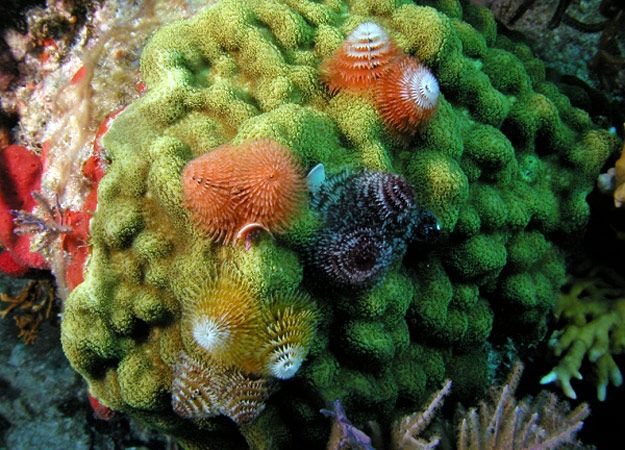 Thinkstock (11) Jupiterimages Jen Kuhfs/Get
Tubeworms Animal Profile: Discovered only a few decades ago, tubeworms are curious organisms that live in hydrothermal vents on the ocean floor. The lack of sunlight means tubeworms have to obtain food in a slightly different way -- they wait for bacteria to convert chemicals produced by vents into nutrients. They "breathe" using their red plumes, which filter elements such as oxygen from the water. Tubeworms can't survive without their plumes, so when predators approach, tubeworms draw their frills down into a hard-to-penetrate tube. After the Spill: The Gulf of Mexico has a murky ocean floor full of tubeworms living in its vents. These organisms are close to the source of the spill and may consume some of the pollutants expelled through the oil plumes. This causes the tubeworm itself to decay, and the animals that depend on its ability to filter the water are in danger, too.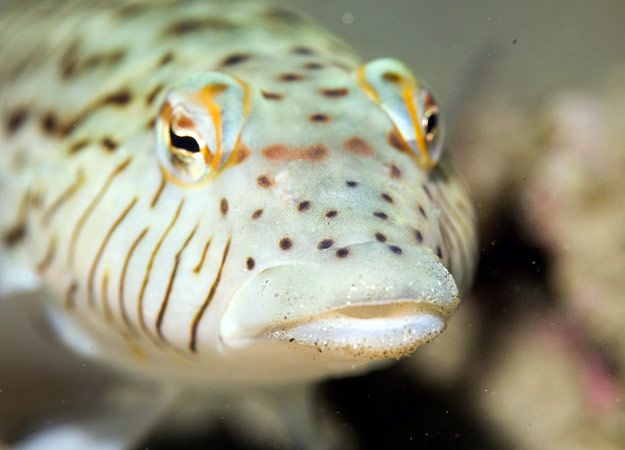 Thinkstock (11) Jupiterimages Jen Kuhfs/Get
Bottom-feeders Sandy Smorgasbord: Bottom-feeders, or soft bottom fish, treat the sea floor like a buffet, eating fish and other small organisms from the bottom of the ocean. Many soft bottom fish are popular for game hunting and commercial fishing. The Atlantic croaker, sand trout, Atlantic bumper, sea robin and sand perch are soft bottom fish that live in the Gulf of Mexico. They're all typically small -- a foot long or less. After the Spill: An oil spill like the one in the Gulf of Mexico increases the amount of methane and other harmful chemicals in the ocean, from the sea floor to the surface. This greatly reduces the amount of oxygen present in the water, which forces fish to migrate closer to the surface and compete for it. Such a relocation can be tricky for fish that are adapted to life at the bottom. Many bottom-dwelling fish can't get rid of oil particles and other chemicals that become trapped in the gills. Nearly all bottom-feeders spawn in the spring and the summer, which coincides with the timing of the Gulf oil spill.