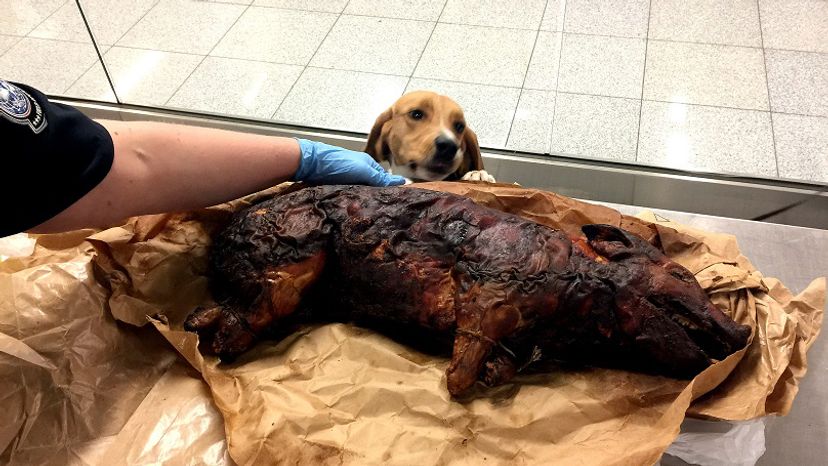 During the bustling Thanksgiving flying season in 2016, as travelers flitted from packed baggage claims to busy terminals catching flights, Beagle Brigade detector dog Joey was hard at work. As an employee of Atlanta's Hartsfield-Jackson International Airport, Joey is responsible for helping U.S. Customs and Border Protection (CBP) locate and intercept foreign agriculture that poses a threat to the country's ecosystem. The airport routinely buzzes with activity, and the days leading up to the holiday weekend were no exception.
It was a Wednesday when Joey sensed something highly unusual during his routine patrol. Following his instinct, he alerted his team to some suspicious baggage belonging to a female traveler from Peru. Upon examination, CBP agriculture specialists did indeed uncover something out of the ordinary: an entire roasted pig.
"All it needed was maybe a little barbecue sauce," laughs Rob Brisley, CBP public affairs officer. "Her intent was to cook it at home and board the plane to present it at a holiday meal with her family after she arrived in the U.S. Unfortunately, the right steps had to be taken to confiscate and destroy the item."
Employees like Joey are critical to CBP's mission; products like the well-intentioned traveler's pig are prohibited from entering the U.S. because they have the potential to introduce illnesses like foot and mouth disease or invasive pests that can destroy U.S. agriculture. For many, this successful seizure meant avoiding a possible threat to community health and well-being. For Joey, it was just another day on the job as a canine member of the Beagle Brigade [source: CBP].