Where Do the Beagles Come From?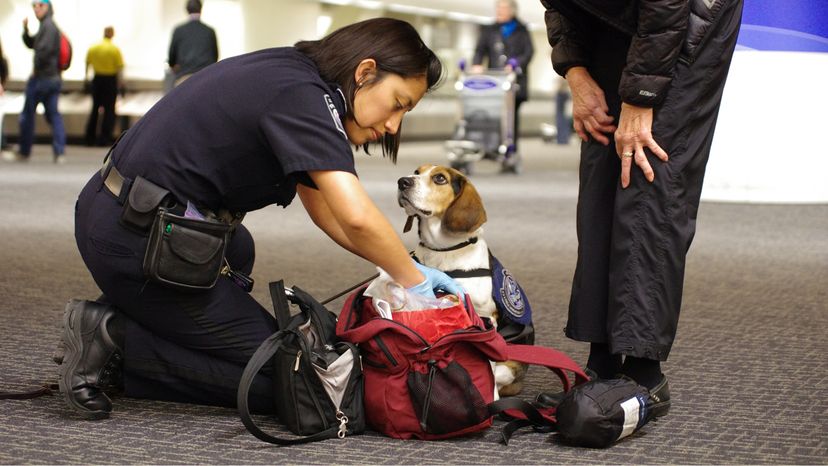 The majority of the dogs working in the Beagle Brigade come from rescues and shelters across the United States.
CBP
The USDA gets all of its beagles and other detector dogs through adoptions from rescue shelters in the U.S. or via private donations. "We don't buy any of our dogs; they're all given to us by shelters or rescue centers, or families," Powell says.
After an initial two-week intake period for health and behavior evaluations, the dogs' skills are put to the test. "Just because you're a beagle or lab doesn't mean you're suitable," Powell says. "We're looking for the right temperament; they have to be friendly, have high energy and a high food drive. Then they go into training with a handler and that can be an additional 10 to 14 weeks depending on whether they'll be working in an airport or a mail processing facility."
In early 2017, one particular beagle made headlines for highlighting the important role shelters play in staffing the Beagle Brigade with skilled, capable canine employees. Three-year-old Murray was rescued by Alcovy Pet rescue Inc. from the Northeast Georgia Animal Shelter, and found a renewed sense of purpose as Hartsfield-Jackson Atlanta International Airport's newest agriculture detector dog.
Murray had sustained serious injuries at the hands of his former owners — he was missing half of one ear and his tail had to be amputated because his owners had tried to dock it themselves. His severe injuries made adoption unlikely, but Alcovy Pet Rescue employees nursed him to better health and contacted the NDDTC. Thanks to his easygoing attitude and top-notch skills, he made an ideal Beagle Brigade candidate [source: Hansen].
And Murray's story isn't unusual, but for security purposes, U.S. Customs & Border Protection doesn't share exact numbers when it comes to the amount of active on-duty members of the Beagle Brigade. However, the agency can confirm that there are more than 116 CBP agriculture canine teams consisting of dogs and handlers. And these teams provide screening at every international airport in the country [source: Amelinckx].