The Success of the Beagle Brigade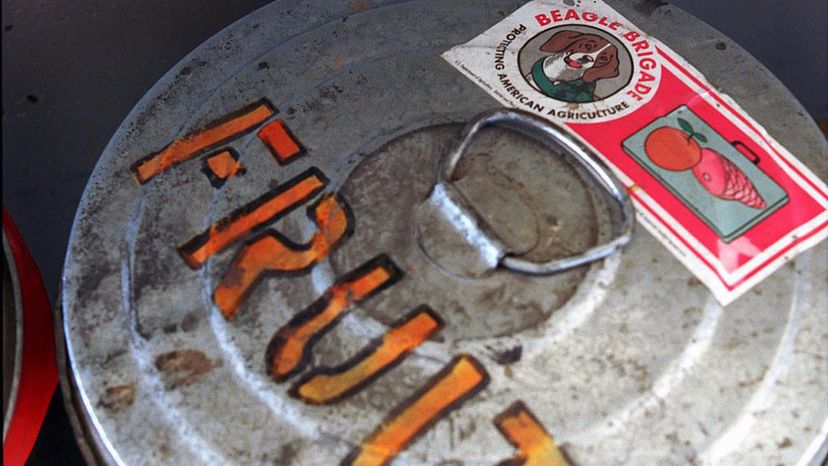 In 2016, the Beagle Brigade helped U.S. Customs & Border Patrol seized more than 1.77 million illegal agricultural goods from entering the country.
Joe Raedle/Getty Images
Today, more than 116 U.S. Customs and Border Protection agriculture canine teams work at border crossings, airports, cruise terminals, warehouses and mail facilities that process international passengers and cargo. In 2016 alone the Beagle Brigade inspected more than 23 million passengers, and nearly 741,000 pieces of freight, alerting to more than 1.77 million seizures of illegal agricultural materials [source: CPB].
In February 2017, Beagle Brigade agriculture canine Gadget seized two live trees and one live potted tamarind plant, 42 packages of seeds, 20 pieces of palm tree plantings, chicory seeds, rice, millet and fresh garlic from a traveler who arrived at Dallas-Fort Worth airport. The passenger listed only an apple and chocolate on her declaration. Gadget's find in Dallas is just one of many that occur daily by the beagles working in U.S. airports.
And other countries have noticed. According to APHIS, Mexico, Japan, Canada and Chile have looked to the National Detector Dog Training Center when creating their own processes for canine and handler training, certification and validation. That means USDA-trained dogs and handlers work around the world to protect agriculture. U.S. agencies like the U.S. Fish and Wildlife Services, and multiple state plant health directors also use the expertise of the National Detector Dog Training Center for their facilities and staff.
And the NDDTC also recognizes that it's been a team effort. Animal rescue centers, organizations and shelters have also played integral roles in placing the beagles into the positive work environment that they may not otherwise have had access to. "We need more dogs available for this type of work and the animal organizations know that certain dogs are good for humanitarian work; just like certain dogs can help lead the blind," Brisley says. "These organizations are a valuable link in providing beagles with the qualities we look for."
Some dog rescues and shelters, however, have been initially reticent about adopting to the USDA because they think they'll be robbing the dogs of a good home, Powell says. "But actually, the dogs that make the best candidates wouldn't be suitable for a home environment because of their high energy and high food drive, which makes them respond to positive reinforcement," she explains.
"These are dogs that would be going through the kitchen cabinets, jumping all over the place and that would be too hyper, but that's exactly what makes them ideal for us," Powell says. "This gives new life to dogs that would otherwise be euthanized in a shelter; they go from not working out in a home to eventually becoming heroes protecting American agriculture. It's a win-win for the dogs, for the USDA, CBP, and U.S. agriculture."
Author's Note: How the Beagle Brigade Works
I loved learning that the very qualities that make some beagles challenging to adopt (voracious appetite, sky-high energy, etc.) are considered assets to the Beagle Brigade. It's nice to think the Brigade has given otherwise unadoptable canines the opportunity for new, meaningful lives.
Related Articles
More Great Links
Sources
Amelinckx, Andrew. "Meet the Beagle Brigade: Protecting American Ag One Sniff at a Time." Modern Farmer. Oct. 12, 2016. (March 29, 2017) http://modernfarmer.com/2016/10/beagle-brigade/

Brisley, Rob. Personal and email interviews, March 27, 2017.

CBP.U.S. Customs and Border Protection. "Agriculture Canine." (March 29, 2017) https://www.cbp.gov/border-security/protecting-agriculture/agriculture-canine

CBP.U.S. Customs and Border Protection. "Agriculture Fact Sheet." (March 29, 2017) https://www.cbp.gov/sites/default/files/assets/documents/2017-Jan/700897%20-%20FY%202016%20Agriculture%20Fact%20Sheet%20Update_OFO.pdf

CBP.U.S. Customs and Border Protection. "CBP Atlanta Beagle Brigade Intercepts Foreign Plants, Seeds ... and a Whole Pig." Nov. 29, 2016. (March 27, 2017) https://www.cbp.gov/newsroom/local-media-release/cbp-atlanta-beagle-brigade-intercepts-foreign-plants-seeds-and-whole

Correa, Julio E. "The Dog's Sense of Smell." Alabama A&M University. Feb. 2016. (March 27, 2017). http://www.aces.edu/pubs/docs/U/UNP-0066/UNP-0066.pdf

Department of Homeland Security. "DHS Commends and Congratulates CBP Beagle Jasper on his Retirement." Sept. 30, 2016. (March 29, 2017). https://www.dhs.gov/blog/2016/09/30/dhs-commends-and-congratulates-cbp-beagle-jasper-his-retirement

Hansen, Zachary. "Abused dog to join Beagle Brigade at Hartsfield-Jackson airport." The Atlanta Journal-Constitution. March 20, 2017. (March 27, 2017). http://www.ajc.com/lifestyles/abused-dog-join-beagle-brigade-hartsfield-jackson-airport/72FKWgMH5WLkXmGKDoj5zJ/

Lade, Diane C. "Beagle Brigade to the rescue! Pound puppies grow up to work security at airport." Sun Sentinel. Feb. 24, 2017. (March 27, 2017) http://www.sun-sentinel.com/features/fl-rescue-dogs-work-airport-security-20170214-story.html

Powell, Abbey. Personal and email interviews, March 26, 2017.