A movie that kills off a child's entire family? Just a bummer. But kill off their pet? Psyche of viewer permanently ruined.
It's kind of a cheap trick, but in some movies, the kid's dog dies at the end. It doesn't have to be a dog — maybe it's a pet fawn. Regardless of whether this plot device bludgeons you over the head with symbolism regarding the passage into adulthood or the meaning of redemption, it reliably reduces 95 percent of viewers into quivering human husks with waterlogged faces.
Why this disconnect? Maybe it has something to do with our memories of our own childhood pets. No dog you'll ever live with will be quite as awesome as the one you had when you were a child. And new research published in the Journal of Applied Developmental Psychology finds that kids actually get more satisfaction from their relationships with their pets than they do from their siblings.
''Anyone who has loved a childhood pet knows that we turn to them for companionship and disclosure, just like relationships between people," says lead author Matt Cassells, a Gates Cambridge Scholar at the University of Cambridge's psychiatry department, in a press release. "We wanted to know how strong these relationships are with pets relative to other close family ties. Ultimately this may enable us to understand how animals contribute to healthy child development."
The researchers looked at a 10-year longitudinal data set from a larger study out of the Centre for Family Research at Cambridge. Part of this study looked at the relationships 12-year-olds from 77 different families had with their pets, and contrasted those with the relationship they had with their siblings. The children not only reported less conflict and more satisfaction in their dealings with their pets than with their household peers, they turned to their pets more often as a source of comfort during hard times.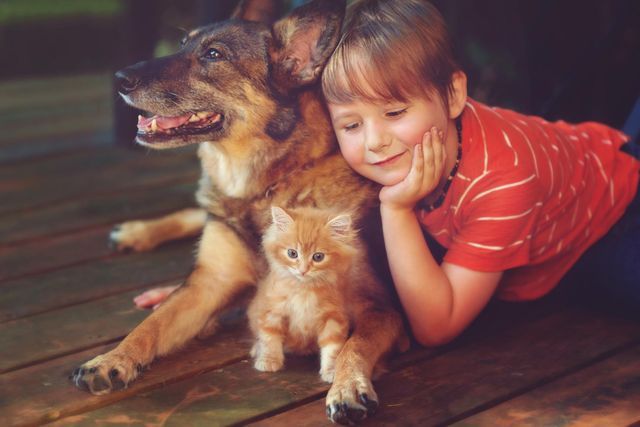 ''Even though pets may not fully understand or respond verbally, the level of disclosure to pets was no less than to siblings," says Cassels. "The fact that pets cannot understand or talk back may even be a benefit as it means they are completely non-judgmental."
And while previous research has suggested boys get more out of their relationships with pets than girls, the study found this not to be the case. Although boys and girls reported similar levels of satisfaction with their pets, girls engaged in more companionship, disclosure and conflict with them, suggesting they relate to their pets in a more nuanced way than boys do.
"Evidence continues to grow showing that pets have positive benefits on human health and community cohesion," says co-author Dr. Nancy Gee, a human-animal interaction researcher at the WALTHAM pet-nutrition center, who helped fund the research, in the press release. "The social support that adolescents receive from pets may well support psychological well-being later in life but there is still more to learn about the long term impact of pets on children's development."