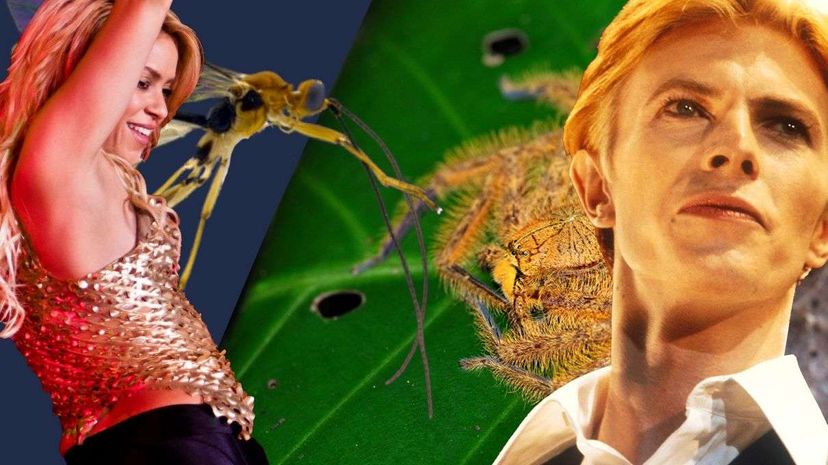 Getting an award or being written about in a magazine can get pretty old. How about getting an insect named after you? Insects (and other species) are often named after all types of artists, including actors, writers and singers.
Maybe the star in question sort of resembles the creature; maybe the scientist involved is a huge fan of its namesake. (In 1987, a scientist named a jellyfish after Frank Zappa in hopes of meeting him. It worked.) The International Code of Zoological Nomenclature doesn't decide who a species can or cannot be named after. The only rule is that if you're naming it after a man, the name must end with an "i", if a woman, then an "ae" and if a group, it should end with "orum."
Some experts are skeptical of the practice, claiming that it occurs merely to amp up publicity for a newly discovered species. But is there anything wrong with that? Let's check out some insects who are named after artists.
Butterfly Buddy
Author, TV personality and beloved natural historian Sir David Attenborough can add a butterfly to the list of creatures named in his honor, which already includes a type of grasshopper, a ghost shrimp, spiders and a genus of endangered plants. Euptychia attenboroughi (otherwise known as Attenborough's black-eyed satyr) hails from Brazil, Columbia and Venezuela, and is one of two newly discovered species of satyrid butterflies.
"Although we are a large team from several countries from across four continents and speaking different languages, we have all been deeply influenced and inspired by Sir David's fascinating and informative documentaries," Dr. Andrew F.E. Neild, one of the entomologists who discovered the species, explained to The Guardian.
From Singer to Spider
British rock star David Bowie is known for his eccentric musical and personal style, which has paid off in the form of albums sold, decades-long popularity and now his very own arachnid.
Heteropoda davidbowie, a spider found in Southeast Asia, was named after the rocker thanks to its reddish-brown body and legs, which match a 1970s hairdo sported by Bowie. Add to that the fact that he once led the rock band Spiders from Mars, and he was the obvious choice.  
Shakira Stinger
Singer Shakira's trademark voice and dance moves made her an international sensation, and now those hips that "don't lie" keep company with a namesake wasp! Aleiodes shakirae, an Ecuadorian wasp known for its ability to mummify caterpillars, was named after the songstress because of the unique way its host moves and undulates when under attack.
Love for Lopez
She sings, she dances, she acts. And she has a water mite named in her dubious honor. Litarachna lopezae, a tick-like bug found in the waters near Puerto Rico, was not named as such to belittle Jennifer Lopez. Rather, the researchers who discovered the mite appreciated her music's "muse-like" quality while writing up their findings. Don't be fooled by the bugs that she's got. She's still Jenny from the block.
Moustache and Markings
Frank Zappa was best known for three things: his innovative music, free speech advocacy and trademark black moustache. The latter inspired researchers to name an orb-weaver spider, Pachygnatha zappa, after him, thanks to the insect's interesting black markings. He's also been the namesake of choice for a genus of goby fish and a genus of jellyfish, as we said earlier.
Far Out
"Far Side" comic creator Gary Larson has been syndicated all over the place and sold untold numbers of calendars featuring his beloved strip, but the conservationist in him truly appreciated the naming of Strigiphilus garylarsoni, an owl louse (biting insect), calling it "an extreme honor." An outspoken conservationist, he has donated significant proceeds from calendar sales over the years to various environmental efforts.