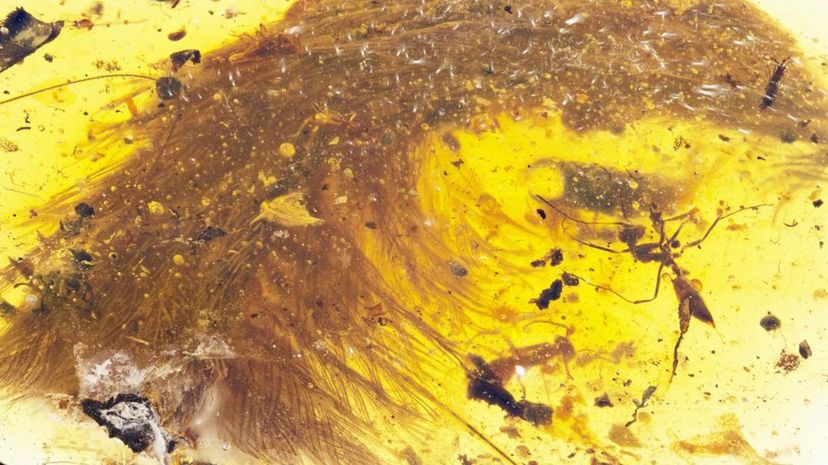 Among paleontologists, the feather is a sticky subject. General opinion holds that birds, and their flight-ready feathers, evolved from feathered, land-based dinosaurs. Yet dinosaurs had feathers millions of years before they started flying, suggesting feathers didn't evolve for flight. What purpose feathers served and where they originated has eluded paleontologists, who until now have had little hard evidence to go by.
But in 2015, scientists found hard evidence in Myanmar — a dinosaur tail. Dr. Lida Xing, a lecturer at China University of Geosciences in Beijing, and his colleagues visit amber markets looking for dinosaur-era specimens. A man offered Xing an amber-encased "plant" that turned out to be "the first glimpse of a dinosaur preserved in amber," Xing writes in an email. The amber held a 1.4-inch (3.6-centimeter) section of tail with feathers still attached, preserved since the mid-Cretaceous period.
Xing and Dr. Ryan C. McKellar, curator of invertebrate paleontology at the Royal Saskatchewan Museum in Canada, led the team that studied the amber-preserved tail, which Xing says contains eight vertebrae from a juvenile. The researchers described this unprecedented view of dinosaur anatomy in the journal Current Biology.
Amber Preserves
McKellar says in an email that the tail's flesh had turned to carbon, but the surface of the skin was visible in cross-section. The skeletal structure was entirely intact, with fluffy, perfectly preserved feathers still attached to it. "In the past," notes Xing, "feathers have been found in amber, but their source animals have been difficult to pin down." A dinosaur-era feather preserved without a dinosaur, for example, could have belonged to a prehistoric bird. 
Fossils of dinosaurs with feathers usually don't have fine detail, as the feathers have been compressed in the fossilization process. But this time was different. McKellar says, "We were able to observe the finest details of the tail and its feathers, including the 3D arrangement of feathers on the tail, and their pigmentation patterns."
The researchers used microscopy techniques, specialized CT scans and X-rays, ultimately achieving "a very detailed view of a small body region," McKellar says, "that shed some light on things like body colour (brown on top, white or pale on the bottom), feather evolution, and how feathers attached to the tail." 
The authors concluded the tail is about 99 million years old and belonged to a baby coelurosaur, a subset of the theropod dinosaurs believed to have evolved into modern birds. Coelurosaurs include Tyrannosaurus rex and Velociraptor, among other birdlike predators.
How'd this coelurosaur get preserved in amber?  One theory is that it was walking too close to some tree resin and got its tail stuck.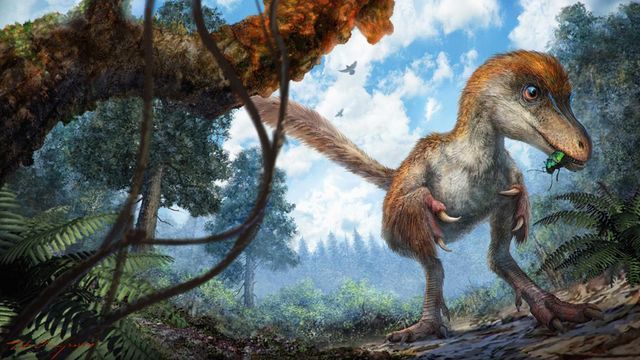 Sad for Dinosaur, Happy for Science
The specimen proved revelatory. For the first time, paleontologists observed the three-dimensional layout of dinosaur feathers and how they attached to the skeleton, and examined the plumage in micrometer scale. One discovery they made challenges a long-standing debate in the paleontology world.
McKellar says when he examined the specimen, he was surprised to see an unusual branching pattern. "This branching pattern," he writes, "seems to support the idea that the central shaft in feathers evolved after the side branches developed." A lot of paleontologists thought it was the other way around.
Dr. Thomas R. Holtz Jr., a paleontologist at the University of Maryland and the Smithsonian Institution, refers in an email to this surprising pattern as a "hitherto unknown particular feather form." Holtz was not involved in the study.
"The central shaft is weaker than in most other shafted feathers," Holtz writes, "and the little barbules (the tiny projections coming off the feather) are not just on the branches, but along the main shaft as well."
Modern bird feathers have barbules on their branches, but not on their shafts. The implication is the shaft evolved from the barbuled branches to become the rigid support structure it is today. The barbules, which would serve no purpose on a support structure, were discarded along the way.
But this specimen isn't quite proof of the branches predating the shaft. "We will need to see a wider range of samples in order to know if this feature is widespread among dinosaurs," writes McKellar, "but it is a tantalizing first glimpse."
Yet Holtz says the best part of the discovery may not be what it says about feathers, but about amber.
There's No Avoiding "Jurassic Park"
The preserved tail, Holtz writes, "hints at the possibility of maybe finding a head or foot of a small dinosaur in amber sometime." McKellar is thinking along those lines, too, but he says there's still more to learn from the specimen they've already found.
"We also hope to examine the finer details of chemistry and structure in these specimens," he writes, "so that we can gain a better understanding of things like original colours, and how much of the original material is actually preserved in amber."
Oh, right: The authors think the carbonized tail flesh may still hold traces of blood proteins, so researchers could gain even more insight on the chemical makeup of this specimen or future ones. McKellar writes, "Even a tiny glimpse of well-perserved material can tie a lot of existing work together."