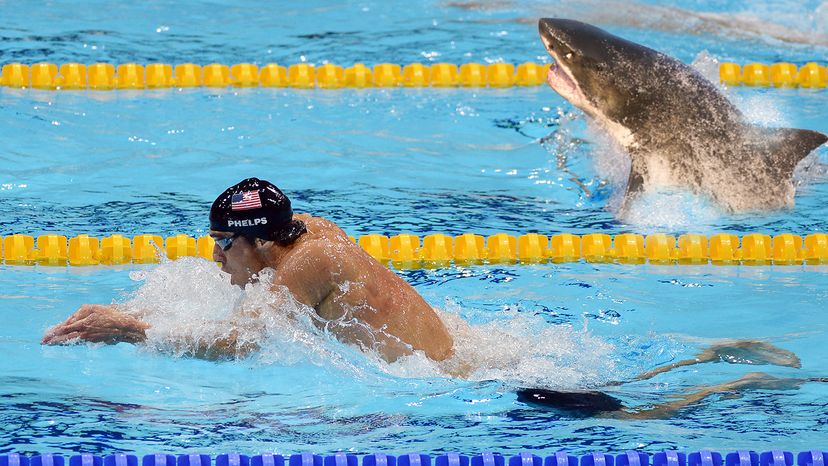 The Discovery Channel is upping its "Shark Week" antics on Sunday, July 23, with a much-hyped race between 23-time Olympic gold medalist Michael Phelps – arguably the fastest man in water – and a great white shark. Yes, a real, live great white, the largest and most feared predatory fish on Earth.
But how exactly does a human go head to head (nose to nose?) with a shark? Did they fill an Olympic-size pool with salt water and hope the great white stayed in its lane (and his trunks)? Did Phelps take to the open ocean with a chum bucket tied to his leg?
Discovery hasn't divulged many details about the prerecorded race, which will air July 23, but Phelps – who is alive and in one piece, thankfully – has been leaking some clues on the morning talk show circuit. So, here's what we know:
The race won't be happening in a swimming pool. It will be in the cold open ocean off the coast of Cape Town, South Africa, a migratory hot spot for great whites, which make the trek from Australia to feed on fur seals.
The shark and the human will not be swimming side by side. "We're not in the water at the same exact time," Phelps told the "Good Morning America" hosts. "I think that's the one thing we all wanted everybody to know – I was safe, which is number one." Phelps was chaperoned by 12 to 15 scuba divers in the water.
The contest was tweaked to make the race more even. A great white can swim up to 25 mph (40 kph) an hour while Phelps tops out at 6 mph (9.6 kph). Phelps swims the race with a monofin (a short mermaid-like fin attached to his feet) to give him extra speed – this pushes up his time to 10 or 12 mph. Further, Phelps mentioned to Jimmy Fallon that sharks only swim at their top speed in short bursts – say when charging for an attack – implying it would not sustain it over 100 meters.