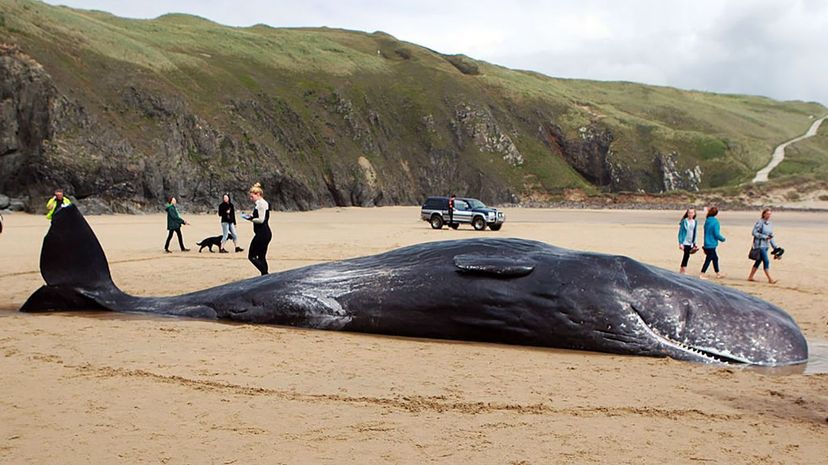 Each year, hundreds of otherwise healthy whales wind up stranded on coastlines across the globe. Most are still alive at the moment they get stuck, but then within a matter of hours die from distress: suffocating under their own weight, drowning in high tide or, conversely, dehydrating. Why does this happen?
No one has a clear answer, but researchers may be getting closer to deciphering the mystery of mass strandings — and they're looking to the sun for clues.
NASA heliophysicist Antii Pulkkinen, stationed at the Goddard Space Flight Center is working with the federal Bureau of Ocean Energy Management and the International Fund for Animal Welfare to parse years of data that may provide a link between solar flares and beached whales. Past research from 2005 suggested a link between the phenomena, but this new undertaking will be the first time quantitative research has been used to gather statistically significant data on the possible relationship.
Whales, like dolphins and porpoises, use magnetic fields for navigation. And when solar flares interrupt Earth's magnetosphere, cetaceans — the collective name for whales, dolphins and porpoises — may lose all sense of direction, leading to deadly directional mix-ups.
The hope is that by pulling data from years of whale beachings, scientists will understand the relationship between solar flares and whale strandings.
"If we understand the relationship between the two, we may be able to use observations of solar storms as an early warning for potential strandings to occur," says project collaborator Katie Moore, the director of IFAW's global Animal Rescue Program, in a statement. "This would allow stranding responders in global hotspots, and really around the world, to be better prepared to respond, thus having the opportunity to save more animals."