If you've seen Disney's "The Lion King" or HowStuffWorks's "Meerkat Manor," you're familiar with the celebrity meerkats. And whether your favorite is the animated Timon or one of the reality TV families, it's hard not to fall for these small mammals.
Mattias Klum/National Geographic/Getty Images
Meerkats are extremely social and practice cooperative breeding. Beta males and females pitch in to help tend the alpha couples' young. A meerkat making a meal out of a deadly scorpion is up next.
Meerkats have developed a technique for handling the venom found in scorpions they commonly eat. See a meerkat pup next.
One of three baby meerkats watches from its enclosure at Bristol Zoo in England. Next see meekats standing guard, watching for predators.
Mattias Klum/National Geographic/Getty Images
Meerkats stand guard as sentinels, on the lookout for danger. How do meerkat pups sharpen their skills? Find out in the next picture.
Mattias Klum/National Geographic/Getty Images
By wrestling with the other youngsters in the gang, meerkats may learn to better keep outsiders at bay. A speedy meerkat is up next.
National Geographic/Getty Images
A meerkat runs with its tail held high and eyes sharp. Meerkats live in communal groups, called gangs. See an example of this next.
Mattias Klum/National Geographic/Getty Images
A group of meerkats stands guard in a field as others forage. Next, see a meerkat who has taken the position of sentinel.
Copyright Discovery Communications, LLC
A meerkat stands sentinel, on guard for threats to the rest of the gang. Next up, see where a meerkat lives.
National Geographic/Getty Images
Two meerkats look out from the security of their underground burrow in the Kalahari Desert. Burrows are used for protection, sleeping and breeding. See a meerkat on defense next.
A meerkat growling and bearing his teeth would be a scary sight to come across. Up next, see Punk, an alpha female meerkat.
Punk is a meerkat from the Zappa group, who became the dominant female at the end of Animal Planet's "Meerkat Manor," season 3. See a mighty generous meerkat up next.
As the sun goes down in the Kalahari desert, a meerkat warms another group member. Next, see a group of playful meerkats.
These meerkats are playing at the Kuruman River Reserve in the Kalahari desert in Africa. Next see a daily ritual of the meerkat world.
Meerkats brush and clean each other's fur with their claws and teeth -- and they've even figured out that their claws are a good substitute for floss. A gutsy meerkat is up next.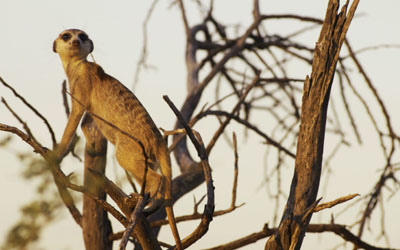 This meerkat is climbing in a tree, watching for eagles, snakes and other predators. See an up close of meerkat claws up next.
Meerkats use their claws for burrowing, defense, eating and more. Next see the most famous of all meerkats.
Flower, the leader of the Whiskers mob from Animal Planet's "Meerkat Manor," died while defending her pups from a cobra. Finally, see an image of a meerkat gang blending in with their habitat.
Meerkats are social, diurnal (active during the day) animals who live in gangs of about 2 to 50. Check out our suite of meerkat articles to learn more about meerkats.