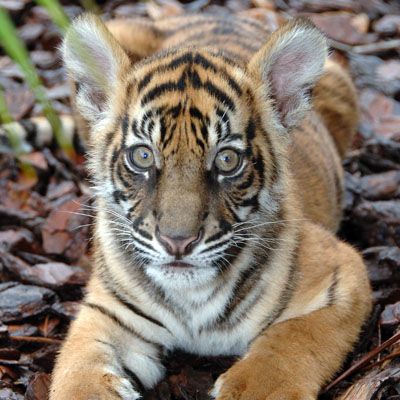 This Sumatran tiger cub from Indonesia was adopted by the Australia Zoo. Next up is a group of playful white tigers.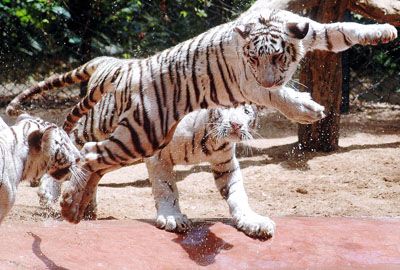 White Bengal tigers play in a water pond in their enclosure at the Nehru Zoological Park. Next, see a tiger's peepers up close.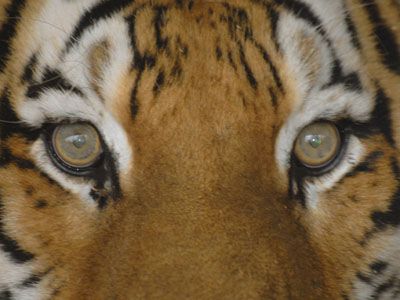 Most carnivores have eyes pointing forward on their head, which help when hunting prey. See three tiger cubs up next.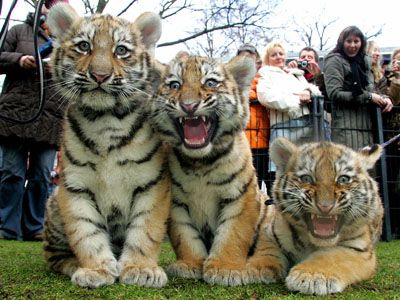 Three tiger cubs are presented to the public at the zoo in Hoyerswerda. The tigers were born in November 2007 at the zoo and have become the new stars of the eastern German town. Next up, see a white Bengal tiger cub.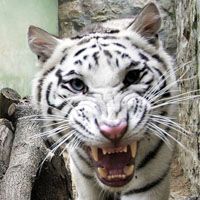 Less than 100 white Bengal tigers are thought to exist. See two adult tigers getting ready to mate in the next image.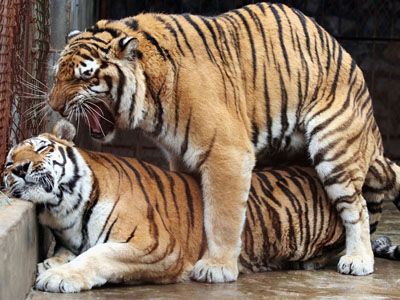 Mating occurs most frequently from November to April. Usually two or three cubs are born after a gestation period of about 100 days. See the rare snow white tiger next.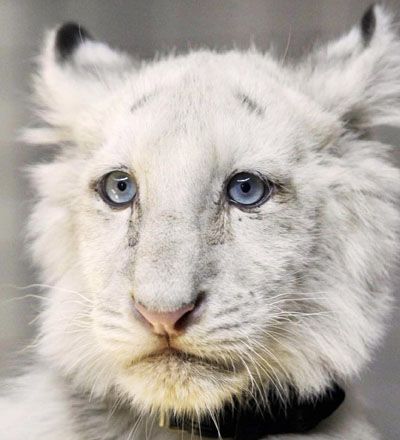 Aragorn is the first snow white tiger to be born in Germany. Snow white tigers have a genetic condition in which their coats are not the typical orange color. Up next, see two tigers from Indonesia.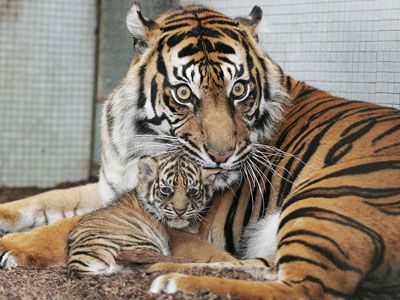 This Sumatran tiger, Duma, lays with one of her three cubs, born at the Wilhelma Zoo in Stuttgart. Up next, see a tiger who loves to swim.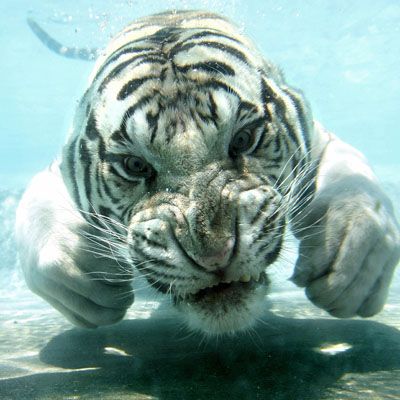 A 5-year-old white Bengal tiger dives into the water for a piece of meat, thrown to him by a trainer. See a full-length tiger shot up next.
Tigers range in length from about 5 feet (1.5 meters) to more than 9 feet (2.7 meters), excluding the tail, which can measure 2 to 3 feet (0.6 to 0.9 meters) long. See a sleepy tiger next.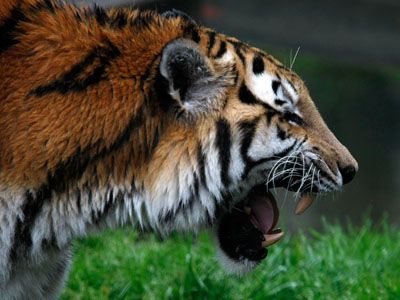 Tony, a Siberian tiger, yawns as he walks through his renovated big cat grotto at the San Francisco Zoo. Next, see a tiger using his big chompers.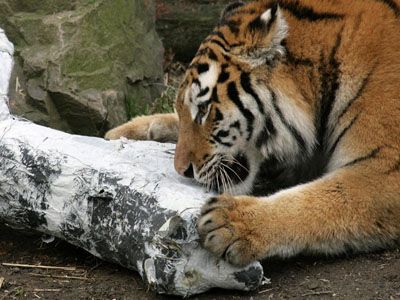 A tiger in this Dutch zoo grabs fake prey. The zoo offers the tigers fake prey to trigger their natural behavior. Want to get up close to a tiger? Keep going.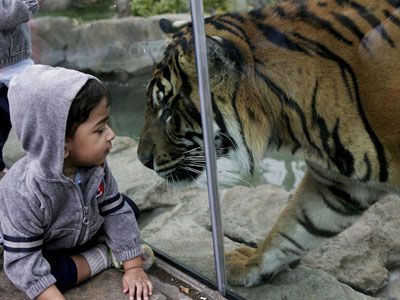 A Sumatran tiger takes an interest in the public through the viewing glass of his new home at the Auckland Zoo in New Zealand. See another tired tiger in the next picture.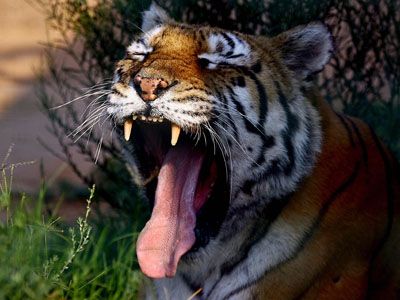 Tigers spend between 16 and 20 hours resting each day. See a Siberian tiger infant in the next picture.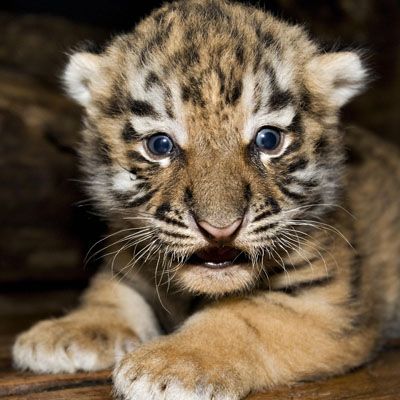 This photo features one of four newly born Siberian tiger cubs in Denmark. Siberian tigers are among the world's most endangered species. They're estimated to number less than 500 in the wild. Next, see a thirsty white tiger.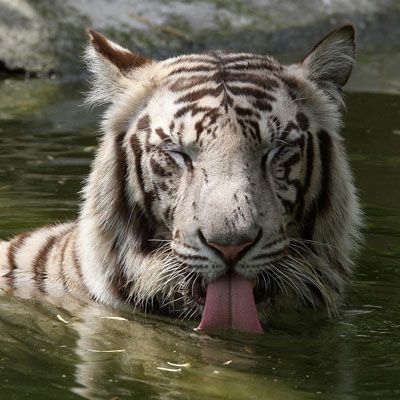 An Indian white tiger drinks water from a pond in its enclosure at the Zoological Park in New Delhi. In about 100 years, only a dozen white tigers have been seen in the wilds of India. See a Bengal tiger up next.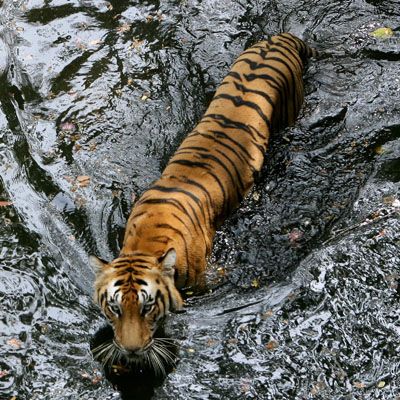 This Bengal tiger walks in a pool at a zoo. Up next, see two playful tigers.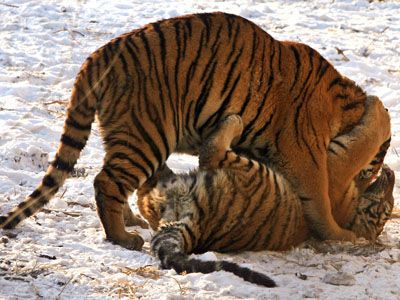 Among the world's 10 most endangered species, about 400 Siberian tigers are thought to live in China and Russia. See a baby orangutan and tiger cub in an embrace next.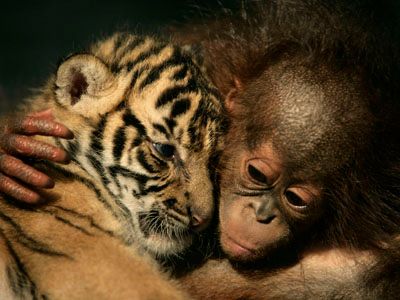 A 26-day-old endangered Sumatran tiger cub cuddles up to a 5-month-old female orangutan. Finally, see the hybrid tigon next.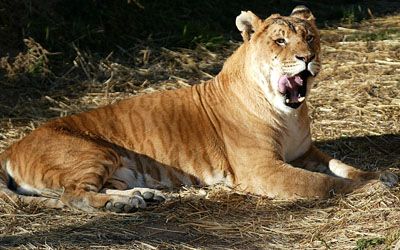 One of Australia's only two tigons, these man-made hybrids are created by crossing male tigers with lionesses. Bearing the stripes of a tiger and the physique of a lioness, tigons are usually infertile.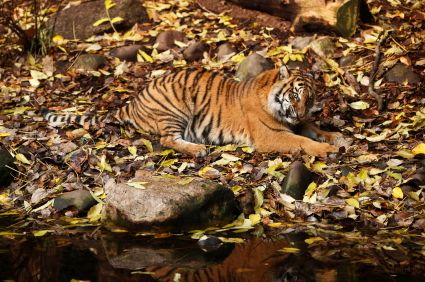 ©iStockphoto.com/Craig Dingle
Tigers, like this Sumatran, use their fur as a type of camouflage to hide when they are stalking their prey. Next, see a cold kitty.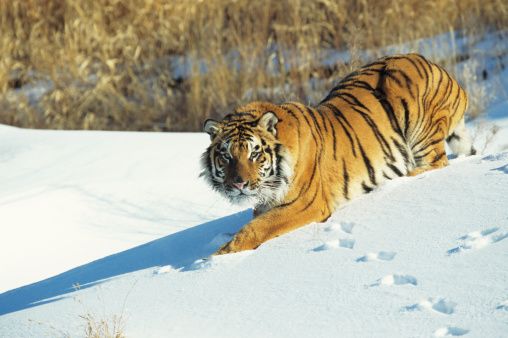 Tigers, like other mammals, are warm-blooded and have to work to regulate and maintain their body heat. Next up is a tiger mom helping her kitten.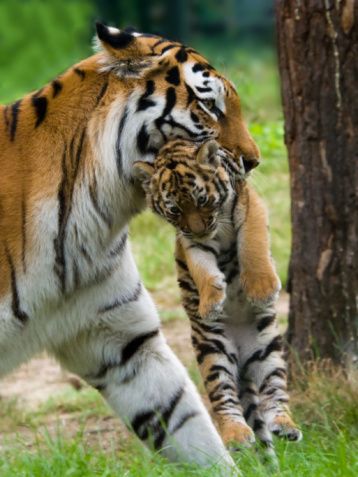 Tiger moms will carry their cubs before the cubs can walk or if they get tired. See another mom and cub next.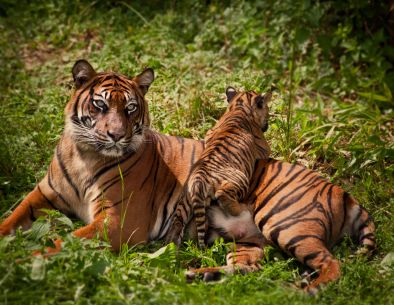 ©iStockphot.com/Auke Holwerda
Tiger cubs typically remain with their mothers for over 2 years. Be glad that's not you in the next picture!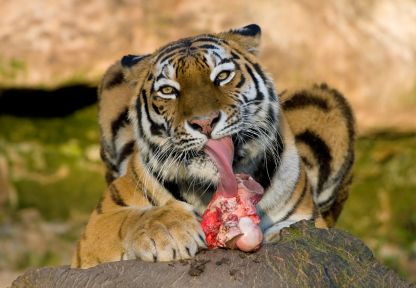 ©iStockphoto.com/Andy Gehrig
Tigers are carnivorous, mainly eating large to medium-sized animals, such as hoofed mammals. Tigers have also been known to eat crocodiles, snakes, monkeys and humans!