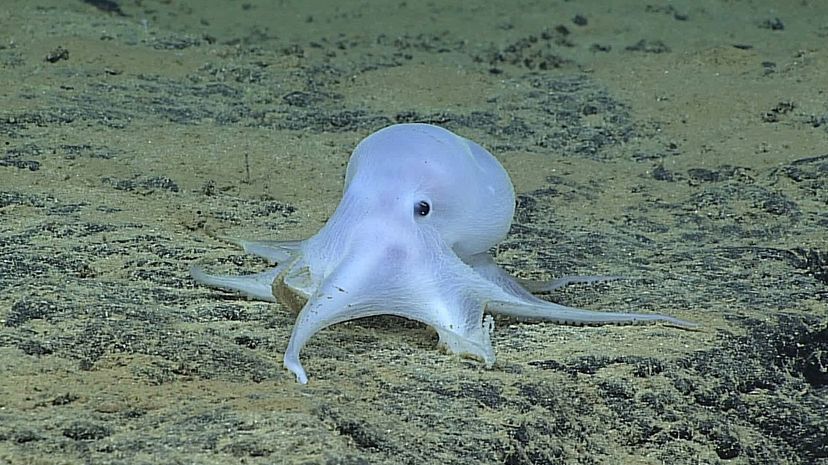 Right about the time the world fell in love with a ghostly deep-sea octopod nicknamed Casper, researchers realized our love of digital devices may ruin the sea creature's sex life.
In early 2016, scientists discovered a species of incirrate (meaning without fins) octopod tooling around the sea floor at an eyebrow-raising depth. Remotely operated vehicles (ROVs) deployed near Hawaii's Necker Island by the NOAA ship Okeanos Explorer filmed the nearly colorless cephalopod more than 4,000 meters (2.5 miles) beneath the ocean surface. By the way: octopod? Why not octopus? An octopod is any animal with eight legs, including the hard-shelled nautilus, for instance, while an octopus is a specific scientific definition. Since the Casper octopod hasn't been fully classified as an octopus, science is just sticking with the descriptive octopod for now. Check out this Stuff You Should Know podcast for a little more on that:
According to a paper published in the journal Current Biology, these ROVs were able to observe 29 deep sea octopods from 2011 to 2016, and only two of them were seen with eggs. The two parents-in-waiting were watchful guardians, a protective behavior octopi will carry out until their eggs hatch, something that could take years in the near-freezing temperatures of the deep sea. So what do cellphones have to do with it? And why do computers pose a problem?
It all has to do with where the octopi attach their eggs. In both instances, about 30 eggs ranging in size from 0.8–1.1 inches (2–2.7 centimeters) were adhered to stalks and branches of dead sponges. Those are in turn attached to turnip-sized clumps of manganese and other precious elements that have worked their way out of the sea floor over millions of years, forming nodules in a similar way to how a pearl forms within an oyster.
Manganese and other rare elements are used in the manufacture of cellphones and computers (batteries, mostly) and is difficult to come by on land, so mining companies are turning to the mineral-rich areas of the ocean floor — exactly the same areas the octopods appear to rely on for reproduction. The eggs can take years to hatch, and the female octopods may brood them for that entire time.
"As long-lived creatures, recovery will take a long time and may not be possible if all the hard seafloor is removed," says study leader Autun Purser, of the Alfred Wegener Institute's Helmholtz Centre for Polar and Marine Research, in a statement. "This would be a great loss to biodiversity in the deep sea and may also have important knock on effects. Octopods are sizable creatures, which eat a lot of other smaller creatures, so if the octopods are removed, the other populations will change in difficult to predict ways."