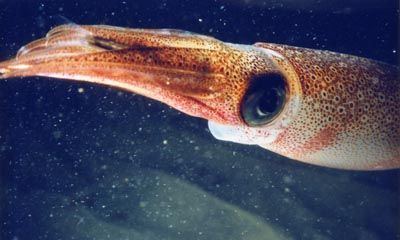 The squid has a soft, torpedo-shaped body surrounded by a mantle, a muscular protective organ. At the posterior end, the mantle has fins, which are usually held close to the body; at the anterior end, it surrounds the head like a collar. See a giant next.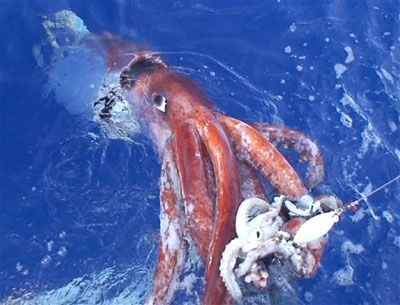 The giant squid was finally captured on film by biologists in 2005. Discover a squid also known as a 'dumpling squid' next.
Squid, like this Berry's bobtail squid (Euprymna berryi), have skin that is studded with pigment-containing cells called chromatophores, which are red, pink, brown, blue, or yellow, depending on the species. See the contrast of a squid's color next.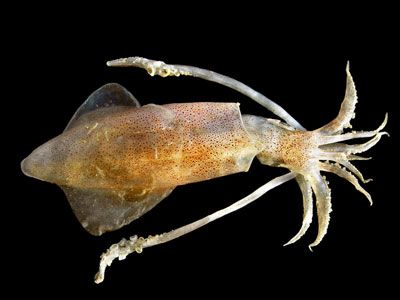 The squid moves by jet propulsion - as the mantle opens, water is taken in; as the mantle closes, the water is expelled through the siphon, a nozzlelike structure below the eyes. See a reef squid next.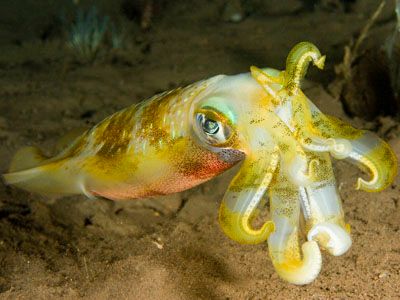 Squid have a beaklike mouth that is surrounded by 10 arms, which are lined with suckers. Two of the arms are tentacles and are used to seize prey, such as fish or crustraceans, and transfer it to the other arms. How are squid born? Find out next.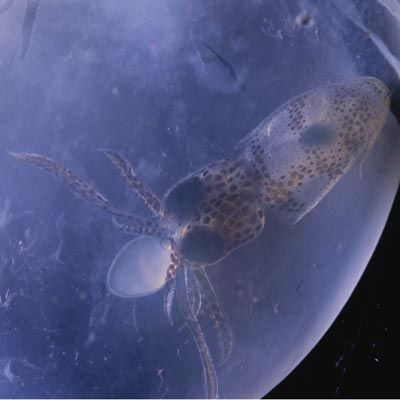 A three week Caribbean reef squid embryo will hatch in five more days. Check out the squid's most famous defense mechanism next.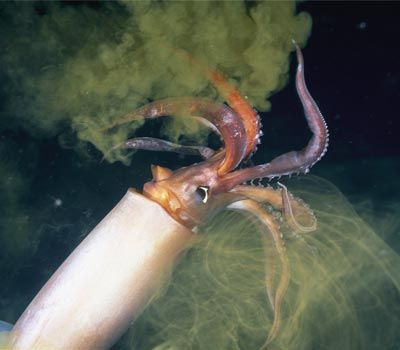 Like its relatives, the octopus and cuttlefish, the squid ejects an inky fluid, called sepia, to confuse predators as it escapes from danger. See a squid mating scene next.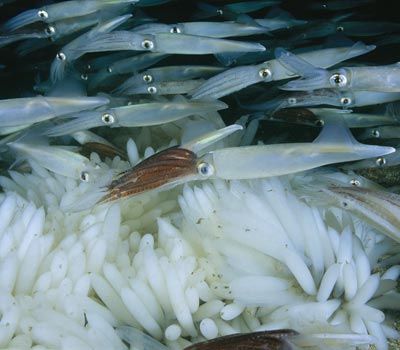 Opalescent inshore squid lay more than 50,000 eggs at a time. Most squid live for only a year or so, so they must reproduce quickly. A red-armed male embraces a female after mating. Uncover a hidden squid next.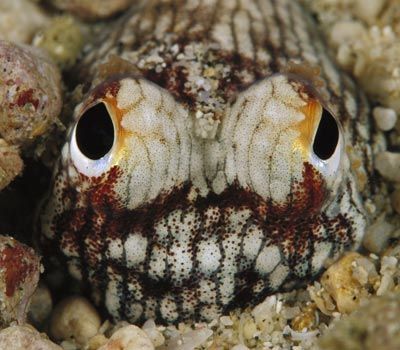 This bobtail squid (Euprymna tasmanica) is hiding from its many predators in the ocean floor at night. See a spawning scene next.
Hundreds of longfin inshore squid head to Cape Cod to spawn in May. Next up see two squid of the same species but with different colors.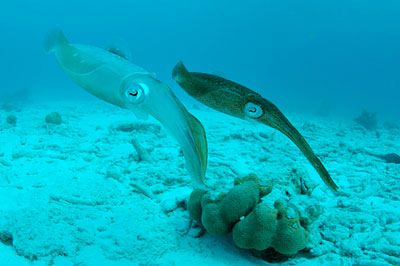 Squid can reach sizes up to six feet long and over 150 pounds. They are known by their eight arms and two long feeding tentacles. See the amazing colors that squid can have next.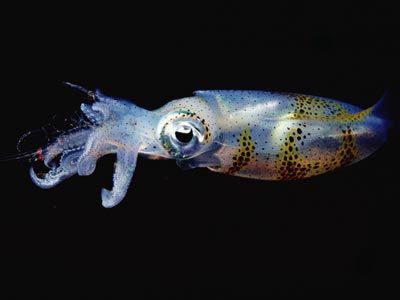 Squid are fierce marine predators that will attack anything -- from sardines to divers and they have sophisticated senses that can instantly alter their skin's color pattern. See a Pacific Ocean squid next.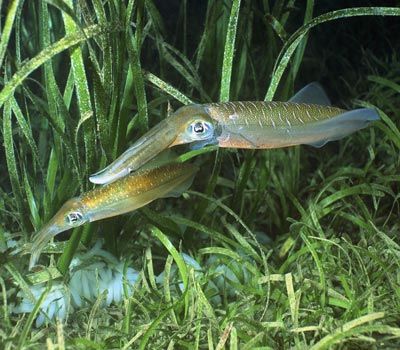 A pair of Big-fin reef squid (Sepioteuthis lessoniana) are laying eggs among a stand of sea grass. A female can produce thousands of eggs, which she stores in her ovary.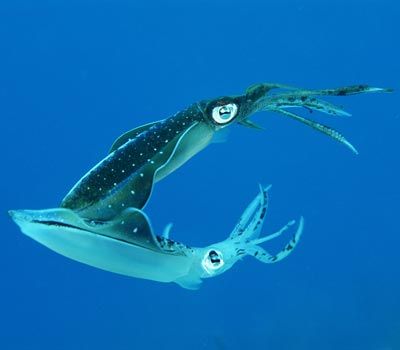 These Caribbean reef squid (Sepioteuthis spioidea) males are in zebra display, a mating behavior.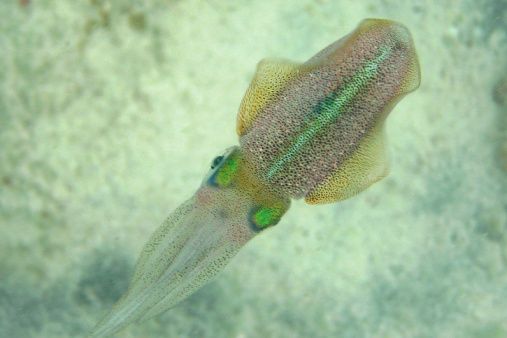 Some squids can swim up to 25 miles per hour.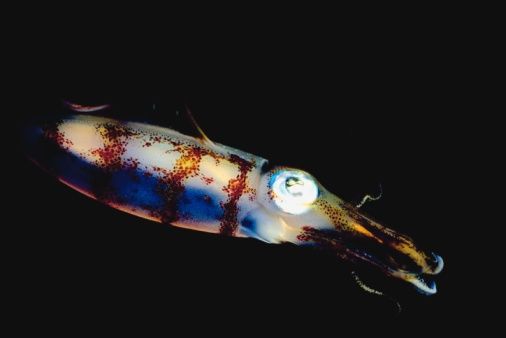 Squid are the most intelligent of the invertebrates (animals that lack a backbone), with a brain that is well-developed and larger in proportion to the animal's body than that of most fish and reptiles. They also have a sophisticated nervous system.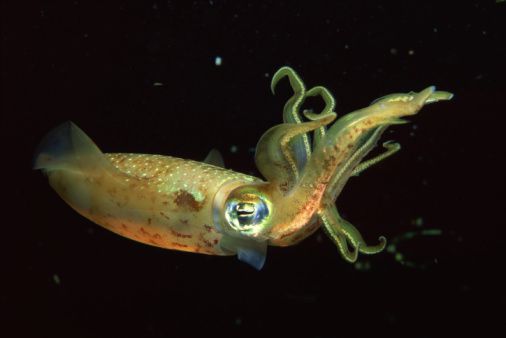 Squid are active swimmers that prey on fish and other marine animals.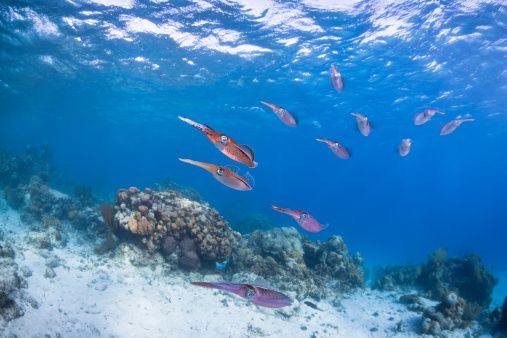 Many squid live fast and die young -- their entire life cycle takes just one year. After male and female mate, they usually die.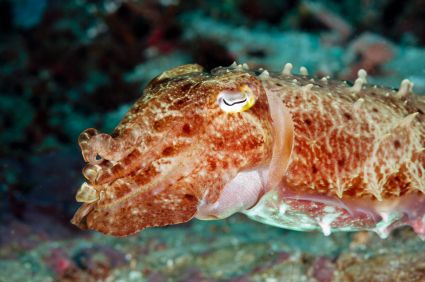 About 300 different species of squid exist.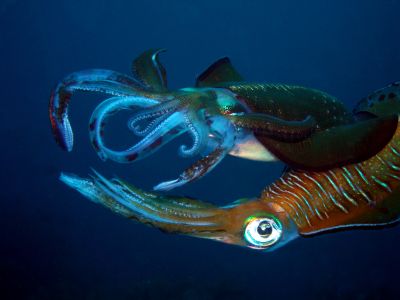 The skin is studded with pigment -- containing cells called chromatophores, which are red, pink, brown, blue, or yellow, depending on the species.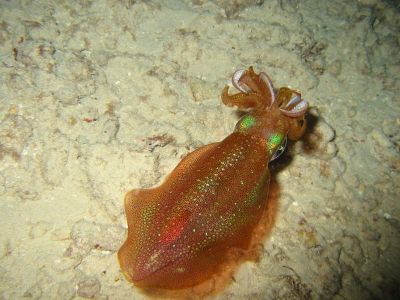 Squid are part of the class Cephalopoda, meaning "head-footed".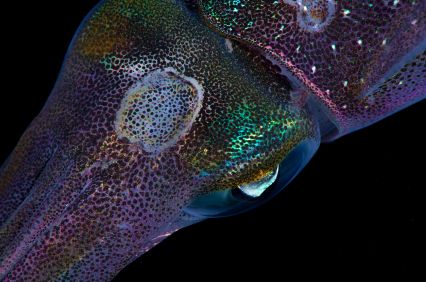 The squid emerged 500 million years ago during the Cambrian period.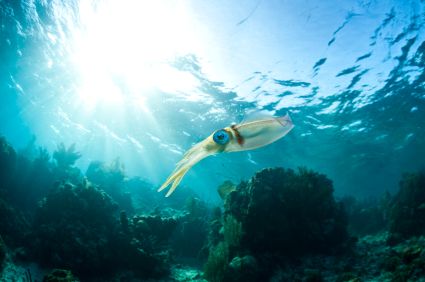 Caribbean Reef Squid (Sepioteuthis sepioidea), hovering over a tropical coral reef off the island of Roatan, Honduras.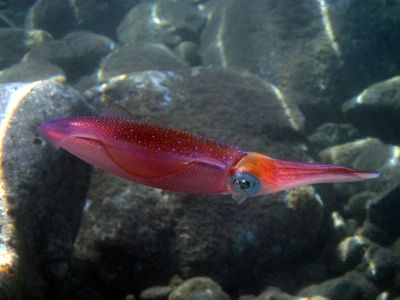 Squid come in a wide variety of sizes and appearances. They can range from an inch to more than 65 feet in length.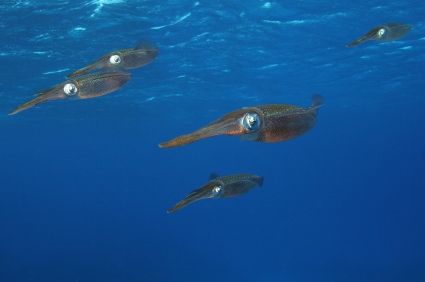 Squid are mollusks, like oysters, mussels, octopuses and snails. There are approximately 80,000 mollusk species.