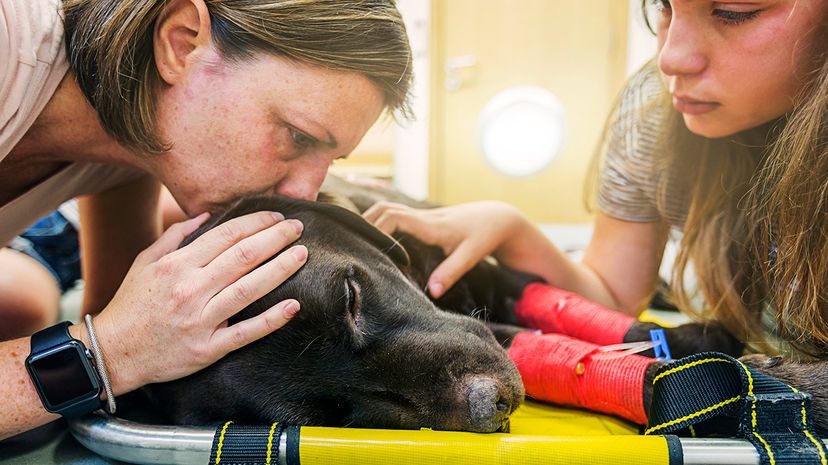 It was a dark April day in 2013 when I lost one Sophie Lou Who, my 12-year-old chocolate lab who had two marbles for eyes and a candy-kiss nose. Sophie collapsed at my feet and wouldn't get up. I didn't even know she was sick. She had gotten a clean bill of health only months before.
I sped her in the dark of night to the 24-hour emergency hospital some 30 miles away. The doctor feared a tumor on her spleen had burst, sending rivers of blood and possibly cancer cells coursing through her otherwise sturdy body. Her sister, McBeal, passed at that very same hospital, during the same week a year earlier, during a similar emergency run. The two were as thick as thieves and had spent nearly every day for more than 11 years with each other. It was fun to watch them love each other. When McBeal, who was 14, died, I knew Sophie would want to find her.
As I talked to the veterinarian that night, she offered a bit of hope. She said the tumor might be benign and an operation could save her life. An ultrasound would determine the extent of the carnage. Did I want them to do both procedures? They would be expensive, she noted, thousands of dollars on top of what I already spent that night, but if it was her dog ... she didn't need to finish the sentence.
Pet parents often have to make gut-wrenching choices when it comes to caring for sick animals. Such situations are stressful and depressing. A first-of-its kind study published in the September issue of the journal Veterinary Record, underscores those grim facts. The study concluded that the burden, stress, anxiety and depression of taking care of a sick pet are similar in many ways to taking care of a sick family member, especially those with dementia.
The study was co-authored by Mary Beth Spitznagel, a clinical neuropsychologist and associate professor at Kent State University. Spitznagel had what she called "pet-care burden." Her dog, Allo, had Cushing's disease and bladder cancer so Spitznagel started writing a blog about her experiences, and is using the blog to do additional studies with a veterinary clinic and pet disease support groups. But she also wanted to study the psychological impact caring for a sick pet has on a person. She created an online survey using validated information from human caregiver research. Spitznagel and a team of other researchers crunched the numbers.
"In the case of this study, burden is at a high enough level that for some people, it could be causing symptoms of anxiety and, more likely, depression," Spitznagel said in a statement. "Something striking in this study participant group of pet caregivers is that a good number of people feel stressed out but don't stop to think about why."
The researchers hope veterinarians will use the study to find ways to lessen the burden pet caregivers are under when their cats or dogs get sick. That burden is often complicated by economics. According to one 2010 survey, 62 percent of pet owners say even if the cost reached $500, they would likely pay for their pet's health care. Fewer than half said they would pay $1,000. Only 30 percent said they would pay $2,000.
But for other pet owners, money is never an option. That was the case for Courtney Silk and Bill Walter, who never considered it when treating their dog Sam's life-threatening heart condition. "Money was never discussed," Silk said in an email. "No decisions were predicated on the cost of how much medication, procedures or hospital stays would cost."
Sam got the best of care. Silk and Walter would sometimes drive late at night from their Connecticut home to Sam's canine cardiologist in Springfield, Massachusetts. Sam was on a bevy of medications. He even had his own pillbox. While Silk and Walter were away for hours at work, a dog sitter came in twice a day to give Sam his meds. "One of the medications was a diuretic, so additional walks, at all hours, were necessary to keep up with how this impacted his body," Silk said. "We had to be mindful of what he ate, so we began buying every flavor of baby food, baby cookies and baby treats."
Silk and Walter spent more than $20,000 taking care of Sam. It was expensive. It was stressful. "Sam was not just a dog. He was our furry child. We had him for 14 years. We tried everything and anything to keep him alive during the last year of his life."
But there comes a time in a pet owner's life where decisions have to be made. That day eventually arrived for Sam. "The doctor said there was nothing more that could be done after a particularly bad incident of heart failure," Silk said. "We were devastated and never thought we would get to that point. We chose not to be at the hospital when the doctor put him to sleep."
As for my dog Sophie, the call from my vet came the next morning. My hand shook as I held the phone. The ultrasound and other tests were completed. They could operate, but that would only buy her a few days, a month at the most. I raced to the hospital and took her home. I never left her side for the remainder of the day. Even though I was prepared to mortgage my house and max out my credit cards, steal if I had to, all the money in the world couldn't save Sophie Lou. The two of us spent her last night in the darkness of the living room, waiting for sleep and perhaps a miracle to arrive. Neither came.
Two hours past dawn, I took Sophie Lou to her vet. He examined her and read the report from the emergency hospital. He agreed with the prognosis. Time had come. I kissed her head and held her paw as he shaved a bit of her still shiny chocolate fur off and placed a catheter in a vein. I told her I loved her, kissed her snout and said that I'd see her again on the "flipside." They were the same words I used with McBeal a year earlier. The doctor then took a syringe, hooked it up to the catheter and pressed its contents into Sophie's once strong body.
As I stroked her head and kissed her one last time, Sophie went to sleep. I know her sister was waiting for her.