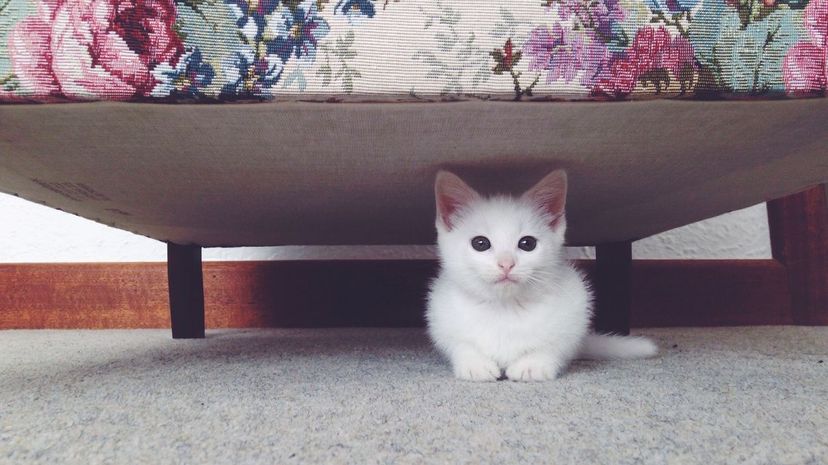 Most cat owners are unwittingly dishing up more than just kitty kibble to their feline friends, according to a recent study out of Stockholm University, published in the journal Environmental Science & Technology. In fact, cats are ingesting high levels of brominated flame retardants (BFR), by way of dust emitted from common household items.
"All [17] households [in the study] contained these compounds, which are leaking out from commercial products, such as furniture, textiles and electronics, where they are used to increase inflammability," explains researcher Dr. Jana Weiss in an interview with Medical Research. "All participating households had a mixture of the BFRs in their dust, and the compounds were also found in the blood serum of all cats."
This is a big deal because BFRs are known for wreaking havoc on the endocrine system and causing hyperthyroidism (overactive thyroid). The condition is quite common in older cats and can cause heart disease and hypertension. Hyperthyroidism was rare in felines until the 1980s, around the time that BFRs started being added to lots of household items.
This study piggybacked on a previous effort, which showed that cats with feline hyperthyroidism had higher levels of BFRs than their healthy kitty counterparts. The new study appears to confirm the suspicion of the dangers of BFRs because cat food, blood samples and dust samples were taken at the same time from households of participating healthy Swedish kitties.
"This is the first time a correlation between cat serum levels and household dust has been established, a finding that supports the hypothesis that dust is a significant exposure route for cats," the researchers explain in the study, also noting that serum levels and BFR concentration levels in cat food found in the home were also significantly correlated.
As much as we love our furry friends, the natural next question is whether or not BFR levels stand to impact humans. Unfortunately, the answer is likely yes, especially for tiny residents.
"We do not have any plans to study children themselves, but we believe that what cats are exposed to in our indoor environment also small children/toddlers are exposed to due to their behavior, i.e. licking and putting things in their mouth," says Dr. Weiss in an email interview. "This behavior [means] that cats and small children have a higher intake of dust than adults, and all compounds associated [with] indoor dust. Therefore, it is important to get an overview of which hormone disrupting compounds are available in our dust."