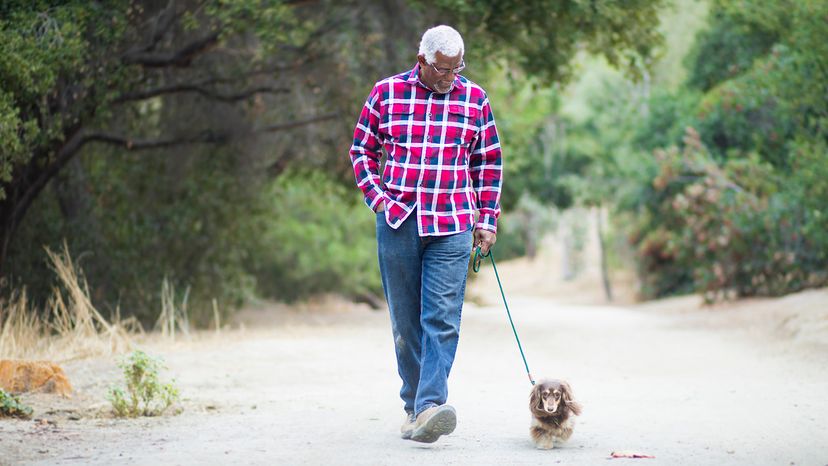 More seniors are walking their dogs as a way to improve health. But it can also be a quick way to injury.
adamkaz/Getty Images
When the weather is warmer, my chocolate lab, Loretta, and I, will take the new pup, Charlotte, for her first hike. I'm not sure how this will play out. Charlotte is an untrained cannonball with one speed — fast — and I'm not as young as I used to be.
There was a time when I routinely took my other dogs (all of whom have since passed) on such walks. The hikes were exhilarating and great bonding experiences. But that was when I was much younger, more coordinated, and my knees didn't scream every time I stepped on a rock.
As my vet likes to tell me, walking the dog is good for everyone. Dogs love it because it keeps them healthy and active. They sometimes get to meet other dogs, which can be hoot if everyone gets along. Plus walking is also good for my physical and mental health. It helps me connect with nature, which studies have shown, can help waning attention spans. These walks with the pups can also reduce loneliness and also lead to a better outlook on life.
Now, researchers at the University of Pennsylvania have thrown a monkey wrench of sorts into that idea. Walking a leashed dog, they say, can impart significant and rising injury risk in older adults. The researchers looked at 13 years of emergency room data compiled by the U.S. Consumer Product Safety Commission between 2004 and 2017. They found bone fractures associated with walking dogs on leashes more than doubled for Americans 65 and older. In 2004, 1,671 people were treated for dog-walking related injuries. That number skyrocketed to 4,396 in 2017. Nearly 80 percent of those who suffered injuries were women.
Most of the injured broke their wrists, hurt their upper arms and shattered fragile hips. Researchers are at a loss to explain the increase, but Jaimo Ahn, an associate professor of orthopedic surgery at University of Pennsylvania, suggests that today's seniors are more active than previous generations. Moreover, health care providers are suggesting seniors walk their dogs more often as a way to improve health.
The study published in the March issue of JAMA Surgery, also found that those older than 65 who had fractured their hips while walking the dog had a 20 to 30 percent chance of dying within 12 months. That number increased if that person had had a mild heart attack or diagnosed with "mild cancer."
If you love your dog and you love to walk, but are getting a little long in the tooth, don't be discouraged. There are ways you can walk your dog safely. Here are five of them.