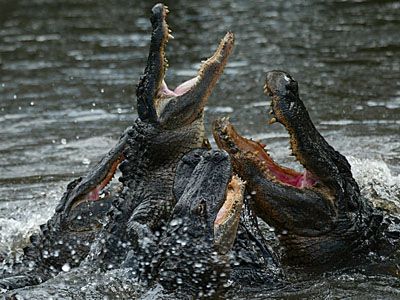 American alligators (Alligator mississippiensis) compete for prime position during a feeding frenzy. The alligators are exceptionally ravenous having just awoken after five months hibernation. Check out a mother alligator turning her eggs up next.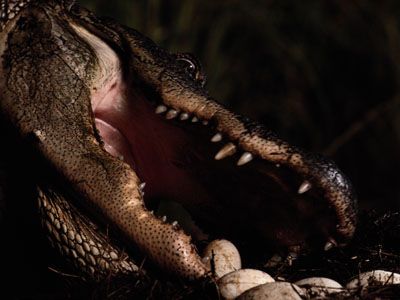 National Geographic/Getty Images
A female American alligator adjusts her eggs in a marshland nest. Next up is a baby alligator hatching from an egg.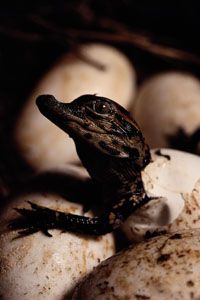 National Geographic/Getty Images
A newborn American alligator frees itself from its egg. Next, see a baby albino alligator, one of only a few in the world.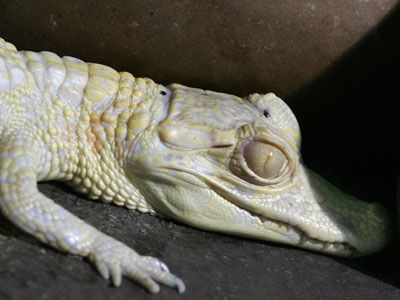 A tiny albino alligator rests inside its artificial habitat. These alligators are extremely rare. Next see a mother alligator carrying her babies in the safety of her mouth.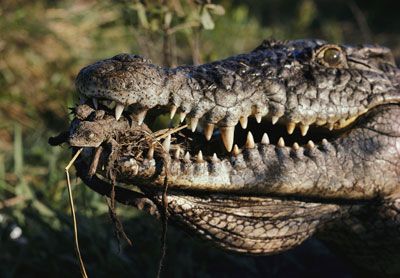 Jonathan S. Blair/National Geographic/Getty Images
An alligator mother is moving the babies to a nearby pond nursery. Next see baby alligators resting in unison on a log.
National Geographic/Getty Images
These American alligator (alligator Mississippiensis) babies are resting on a log in Texas. Next see a shot of the scales of an adult alligator.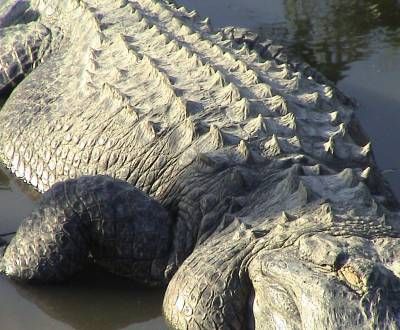 The bony plates inside the skin, called osteoderms or scutes, make the skin very hard to penetrate. Next see an even closer up view of this alligators' scales.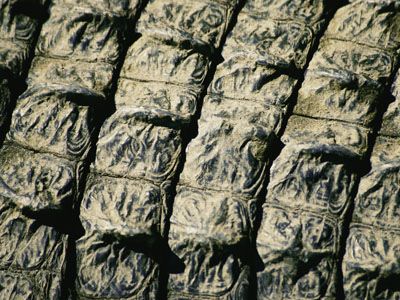 National Geographic/Getty Images
When you look at the ridges on the back of an alligator, each little spike is made by a piece of bone in that section of skin. Keep going to see a rare white alligator.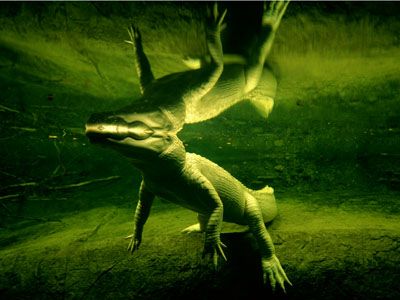 National Geographic/Getty Images
Underwater view of a rare white alligator. It is one of 18 known white alligators in the world. Next up see these cold-blooded creatures gathering some rays.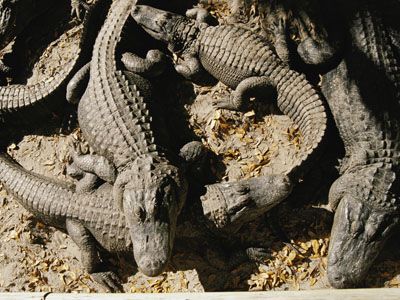 National Geographic/Getty Images
American alligators vying for position in the warm sun. Alligators are not a fan of cold weather and need to stay in warmer, wetter habitats. Next up, check out a turtle catching a ride on an alligator.
National Geographic/Getty Images
A yellow-bellied turtle hitches a ride on the head of an alligator. See the snout of an alligator next.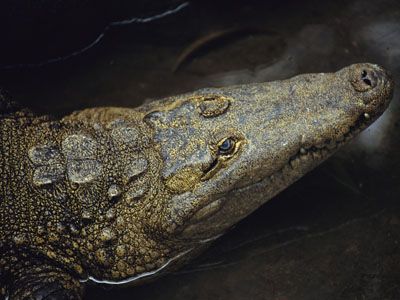 National Geographic/Getty Images
Alligators can stay underwater for quite a while. A typical dive might last 10 to 20 minutes. Up next, see a baby gator out on its own.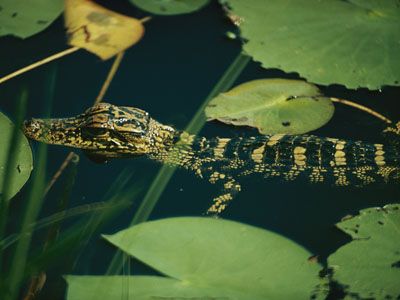 National Geographic/Getty Images
Alligators have vibration sensors on their skin that are extremely sensitive -- they can detect even the slightest vibration and get out of harm's way long before it arrives. Next see an alligator taking advantage of its green hue.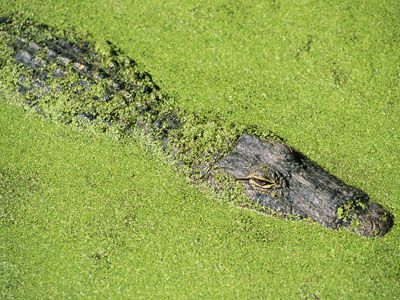 National Geographic/Getty Images
An American alligator glides through duckweed-covered waters. Finally, see an alligator's chompers up close.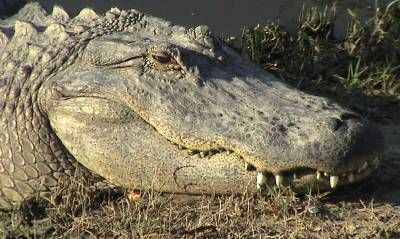 The alligator diet consists of anything they can capture, such as fish, turtles and small mammals.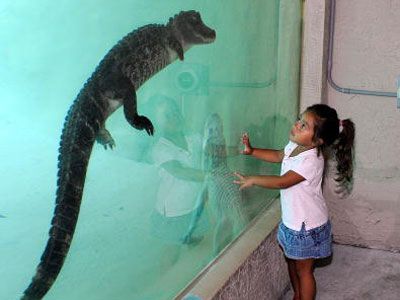 A child watches an alligator swim as part of the 'Gator X-treme' new ongoing exhibit at Jungle Island on October 24, 2008 in Miami Beach, Florida.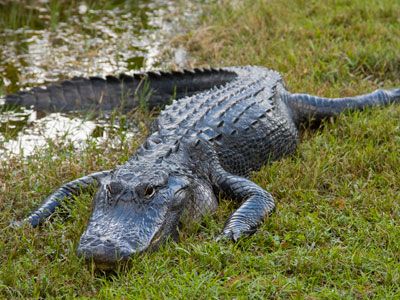 Alligators are more threatening in the water than on land, though when you see the next picture, you'll feel threatened either way!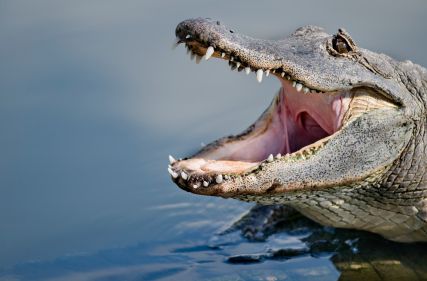 ©iStockphoto.com/Michael Phillips
Unlike mammals that get one shot to replace their teeth, alligators can grow a lifetime supply of these dangerous little daggers.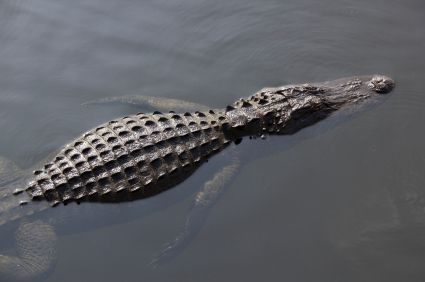 ©iStockphoto.com/Lisa Kyle Young
Aligators live mainly in freshwater swamps, lakes and slow-moving streams in the southeastern United States, South America and China.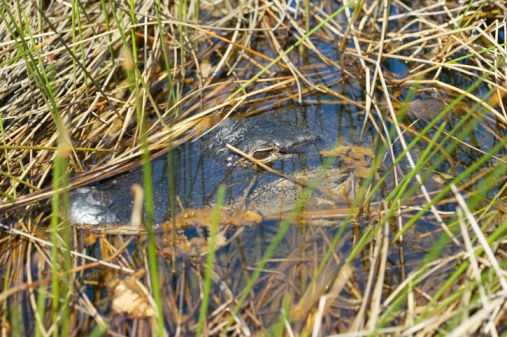 Alligators use their color patterns to high in tall grass. See another way they use camouflage to hide next.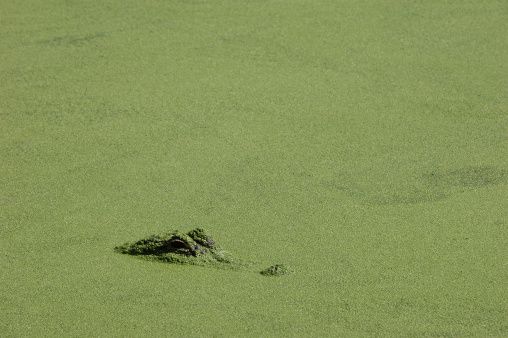 This alligator is popping his head out of the murky algae. If you didn't know what you were looking at, you might think it was a log in the water. That's what the alligator is hoping you'd think at least!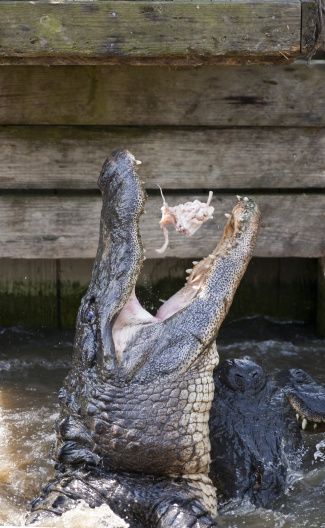 Alligators are top-notch hunters and will eat just about anything they can get their teeth on, from fish and turtles to monkeys and buffalo. See these teeth up close next.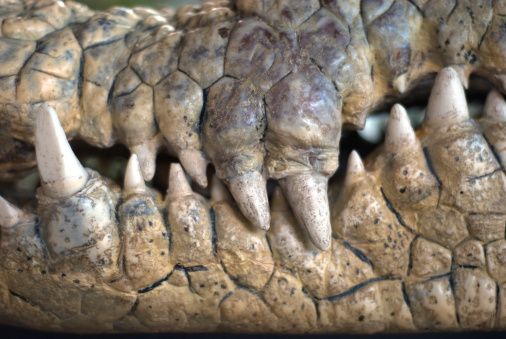 Because an alligator's lower jaw is slightly smaller than its upper jaw, its lower teeth are hidden when it closes its mouth. See gator eyes up close next.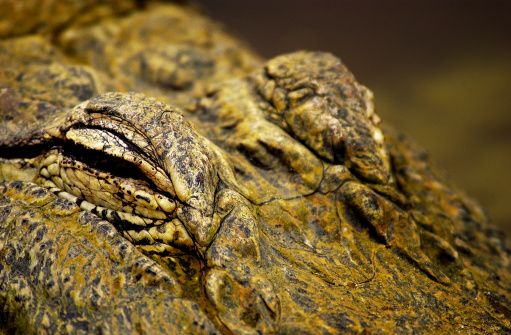 Alligator eyesight above water is excellent, and thanks to vertical pupils that can open up extra wide to let in additional light, they also have keen night vision.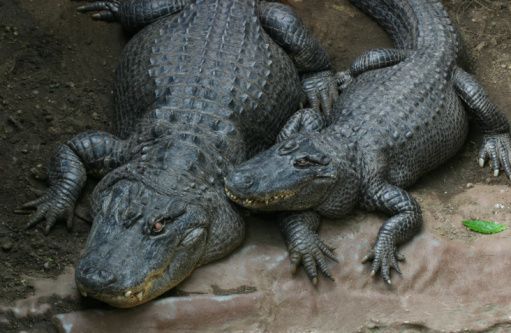 Though alligators can seem so menacing to us, these creatures have been around for over 240 million years and we hope they aren't going anywhere anytime soon!