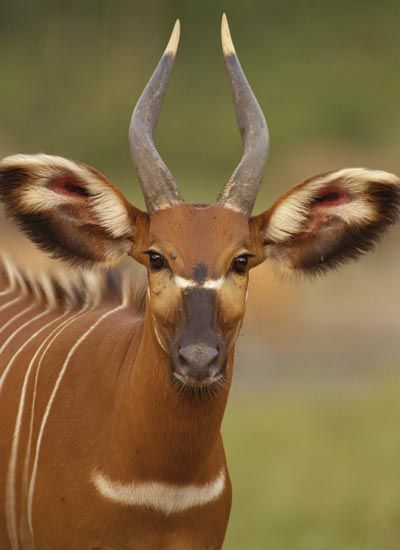 The bongo is a large antelope living in Africa. It has a reddish-brown coat with narrow white stripes. The pattern of the stripes looks something like a harness. Check out an eagle going after its prey next.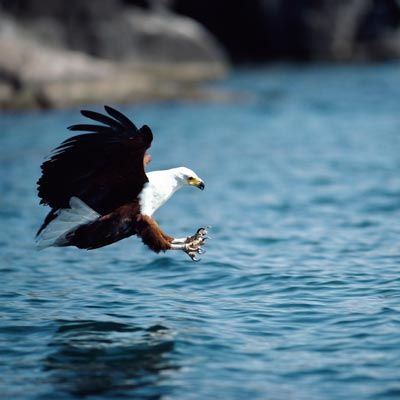 Bill Curtsinger/Getty Images
An African fish eagle swoops down to catch a fish. In mythology, the eagle has symbolized the sun. In modern times, the bird has been used as a symbol of power, courage and majesty. See two fighting "river horses" next.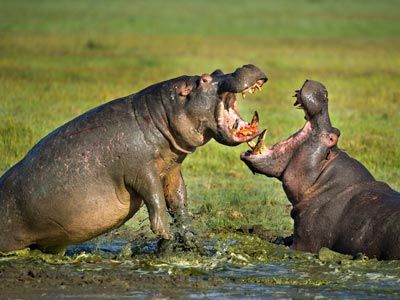 Hippopotamuses live in herds of 20 to 30. They're not aggressive but are dangerous fighters if frightened or attacked. Find out which animal is believed to be the most closely related to humans next.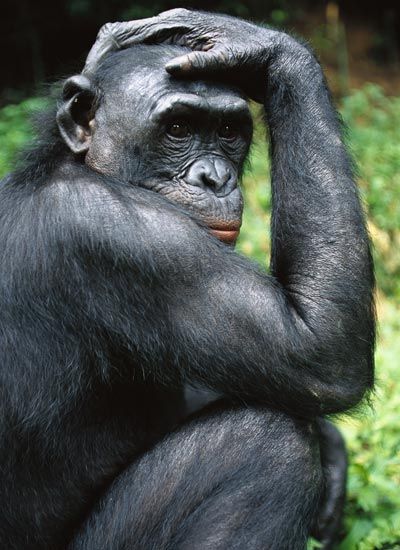 Cyril Ruoso/JH Editorial/Getty Images
Regardless of sex or status within their social groups, bonobos kiss to reduce tension after disputes, to reassure one another, to develop social bonds and, sometimes, for no clear reason at all. See two large African antelopes frolicking next.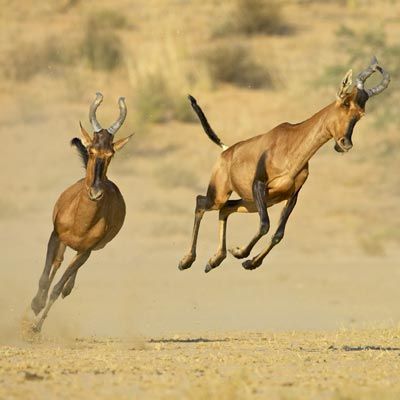 The red hartebeest, which once roamed in large herds from Zimbabwe southward, is now almost extinct. See which flesh-eating mammal has teeth that can crush the bones of an ox next.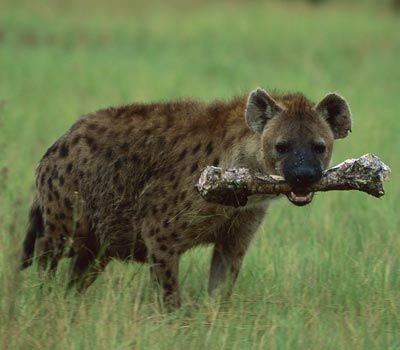 Richard Du Toit/Getty Images
The hyena is both scavenger and hunter. Hyenas communicate through a series of yells and growls; their cries resemble human laughter. Hunters regard the next animal as among the most dangerous of game.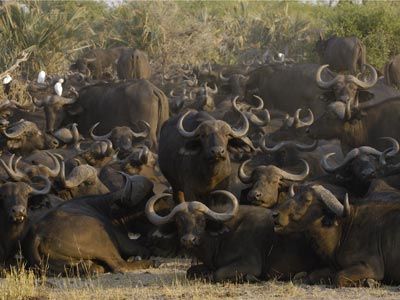 The African buffalo, or Cape buffalo, is found in swampy areas from South Africa to Ethiopia. Charging African buffalo can kill large animals with their horns. Discover which reptile makes the Nile River so dangerous next.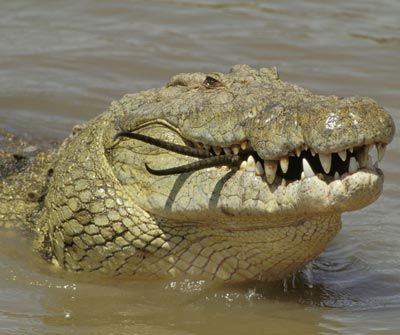 Fritz Polking/Getty Images
Nile crocodiles are blamed for the deaths of roughly 200 humans every year. The animal can grow to be around 20 feet (6.1 meters) long and weigh 11,650 pounds (5,284 kilograms). See an animal that may want to be on the lookout for these crocs next.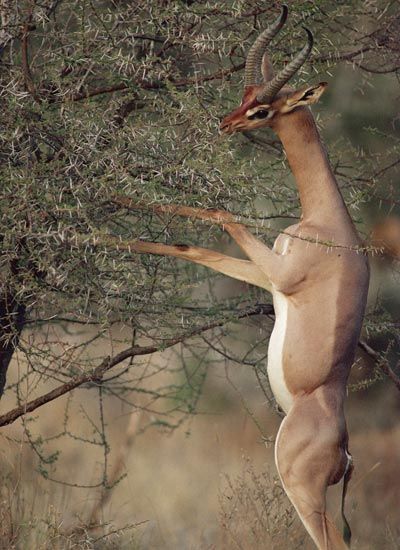 Gerry Ellis/Globio/Getty Images
The gerenuk or Waller's gazelle, seen here feeding in thornbush, is native to East Africa. Gerenuk means "giraffe-necked" in the Somali language. Which is the tallest living animal? Find out next.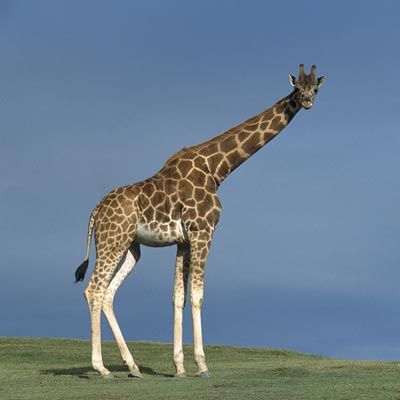 Minden Pictures/Getty Images
An adult male giraffe grows to be about 17 feet (5.2 meters) tall and weighs about 2,600 pounds (1,179 kilograms). Giraffes can also travel up to 29 mph (47 kph) and can usually outrun predators. See a small, spiny insectivore next.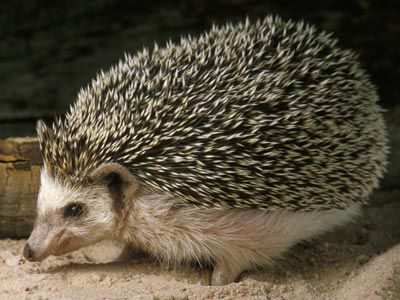 When attacked, a hedgehog rolls itself into a ball with its spines facing outward. In this position, the animal is safe from virtually all predators. Discover an animal whose name comes from the Greek word for "nose horn" next.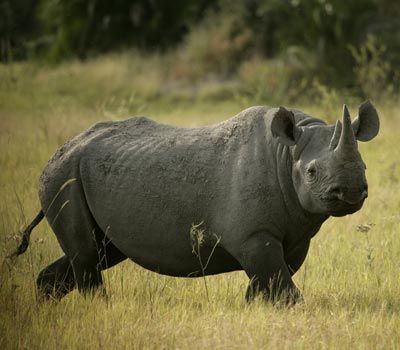 Beverly Joubert/Getty Images
The black rhinoceros, which actually has more of a dark brown hue, stands 5 feet (1.5 meters) tall at the shoulder and weighs 5,000 pounds (2,268 kilograms). Which African animal is known as the antelope king? See it next.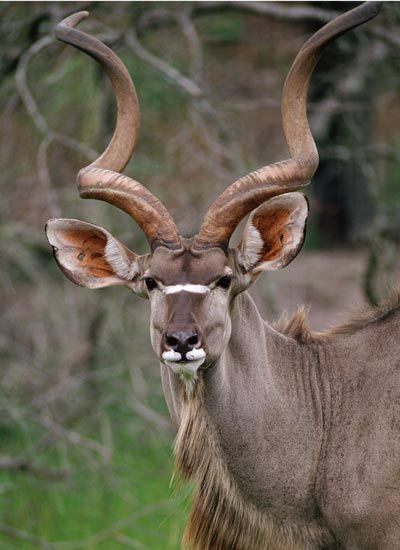 Male kudu antelope have spiraled horns that may reach 5 feet (1.5 meters) in length. Even though the kudu is a strong and quick animal, it should probably watch out for this next feline predator.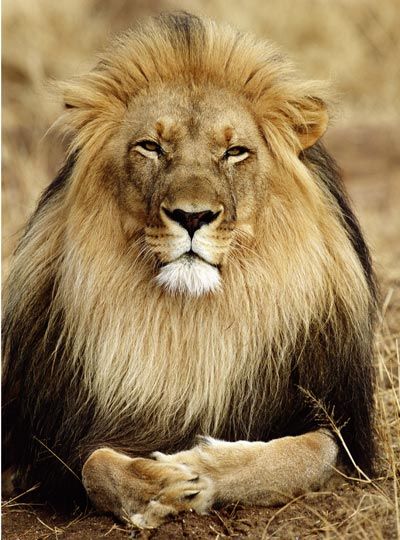 David Tipling/Getty Images
Most male lions are about 9 feet (2.7 meters) long and weigh 400 to 500 pounds (181 to 227 kilograms). Lions are the only large cats with manes. A lion's roar can be heard up to 5 miles (8 kilometers) away. Find two scavengers next.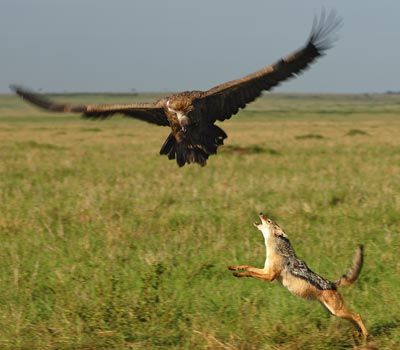 Federico Veronesi/Getty Images
A black-backed jackal is chasing a white-backed vulture, perhaps over carrion. A typical vulture feeds mainly on carrion, whereas jackals feed on insects, small mammals, plants and carrion. See a sweet animal scene next.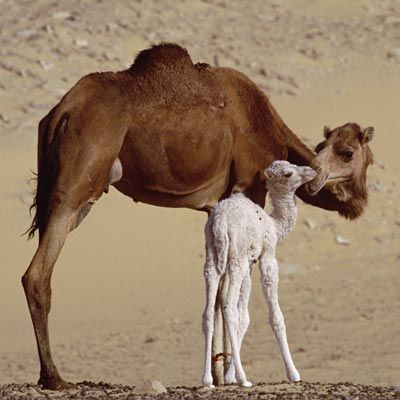 Camels, like this mother with her 2-day-old baby, are well adapted for life in the desert. They feed on desert vegetation and can go without water for up to three weeks. Next, see the largest of the great apes.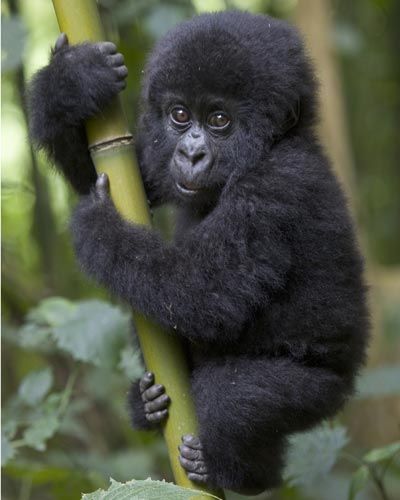 Suzi Eszterhas/Getty Images
The mountain gorilla inhabits the Virunga Mountains on the border of the Democratic Republic of the Congo, Rwanda and Uganda. Discover a venomous creature up next.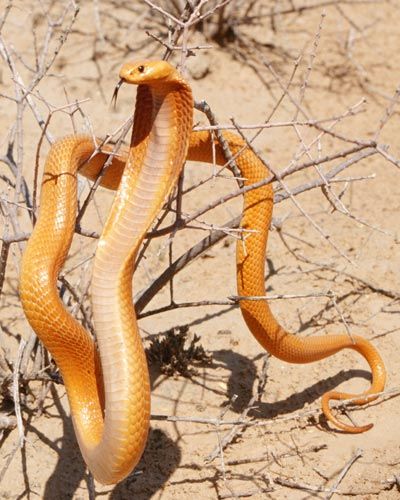 Rod Patterson/Getty Images
The name cobra comes from the Portuguese cobra de capello, meaning "hooded snake." When disturbed, the cobra, like this Cape cobra, raises its body off the ground and inflates its neck into a hood. See which animal is related to the elephant next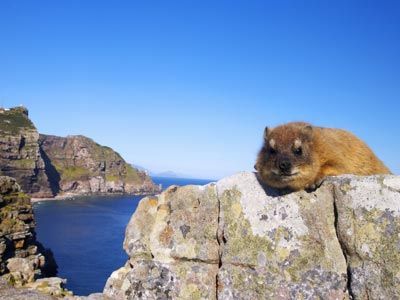 Heinrich van den Berg/Getty Images
The hyrax is a small, hoofed mammal of the Middle East and central Africa. Specialized pads on the soles of the feet give the hyrax traction, allowing it to climb rocks and trees. See which animal lends its name to a Chevy car model next.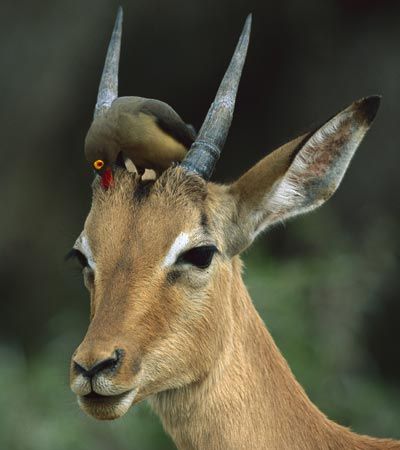 Richard Du Toit/Getty Images
This red-billed oxpecker eats insects off an impala. Oxpeckers spend a good portion of their lives riding around on other animals. Impalas sometimes cover 35 feet (10.7 meters) in a single leap, which probably helps when escaping this next predator.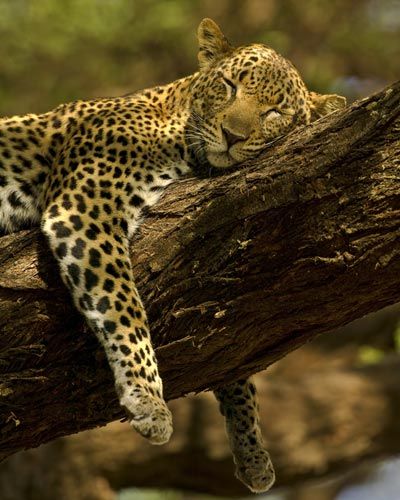 Most leopards are tawny, covered with rosettes, rosebud-like markings. The rosettes provide protective coloration set against forests and grasslands. Leopards feed mainly on antelope and deer, which is lucky for this next animal.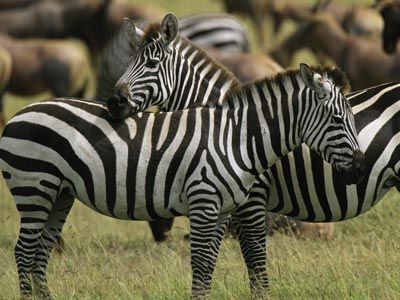 Michael Melford/Getty Images
A zebra's entire body is covered with stripes. A zebra's stripe pattern, like the giraffe's pattern, is unique. No two zebras have exactly the same stripe pattern. See another animal that relies on camouflage next.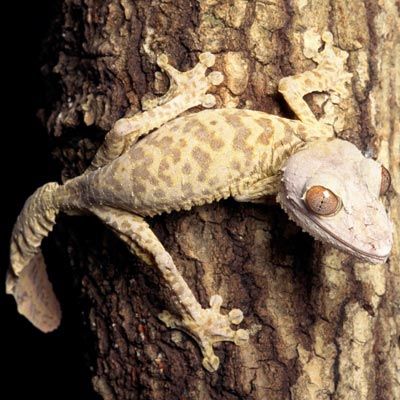 John Giustina/Getty Images
The Henkels leaf-tail gecko (Uroplatus henkeli) lives on the African island of Madagascar. See a wild pig found in Africa, south of the Sahara, next.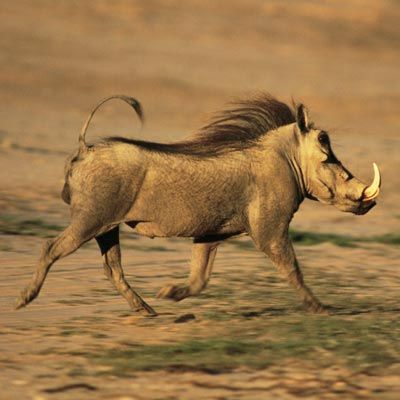 Image Source/Getty Images
The warthog has a large head and a flat face, on which warty bumps protrude. Long, upward-curving tusks grow outward from the sides of its mouth. Perhaps this warthog is running from the next animal?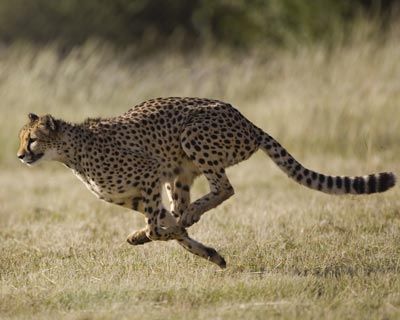 Suzi Eszterhas/Getty Images
The cheetah is the fastest land animal, achieving a top speed of about 70 mph (113 kph). Cheetahs are small and lightweight, usually less than 3 feet (1 meter) tall and about 4 feet (1.2 meters) long. Be careful not to sit on the next prickly creature.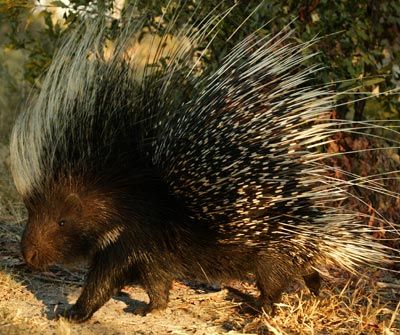 Beverly Joubert/Getty Images
The Cape porcupine is a large rodent that has sharp quills covering most of its stocky, short-legged body. This porcupine defends itself by thrusting its quills into the flesh of an attacking animal. See a tender-looking antelope next.
Andrew Parkinson/Getty Images
The dik-dik is a slender dwarf antelope found in the dry bushlands of East Africa. It stands about 14 inches (36 centimeters) high at the shoulder and weighs about 6 pounds (2.7 kilograms). Which is the largest land-dwelling mammal? Find out next.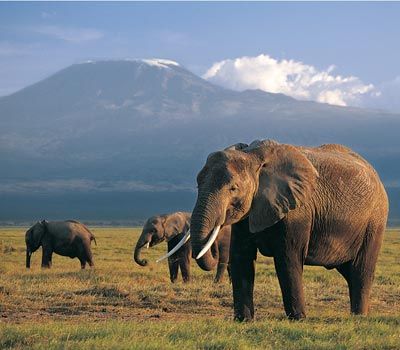 Elephants, like these African elephants that are standing near Mount Kilimanjaro, can weigh between 6,000 to 14,000 pounds (2,722 to 6,350 kilograms). Finally, see a breathtaking view of the African savanna.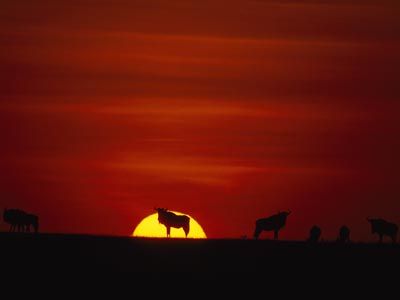 Medford Taylor/Getty Images
Silhouetted wildebeests and Thomson's gazelles graze at sunrise in Tanzania's Serengeti National Park. To learn more about Africa, check out the Geography of Africa.