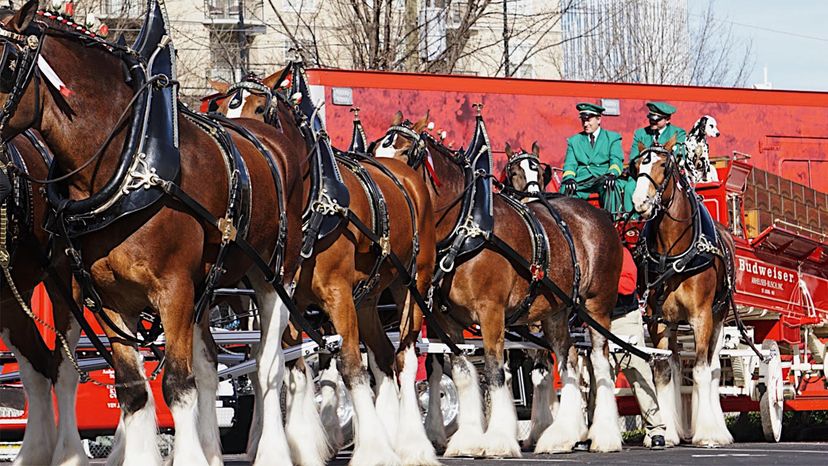 The Budweiser Clydesdales, along with their trusty Dalmatian sidekick, enjoy a long and storied history.
Khiry Clements/Howstuffworks
Few stars of American corporate marketing can match the power, majesty and effectiveness of the brand ambassadors for Anheuser-Busch's flagship beer. In the Super Bowl of commercial pitch-animals, the Budweiser Clydesdales romp all over insurance company lizards and ducks. Every time. It's almost unfair.
The iconic Clydesdales were first introduced at the end of Prohibition in 1933, according to Robert Thomas Jr., in the 1989 obituary for August Anheuser Busch, Jr. in The New York Times. Thomas writes that Busch, "recalled the draft horses that had once pulled beer wagons in Germany and pre-automotive America, and obtained a team to haul the first case of Budweiser down Pennsylvania Avenue for delivery to President Franklin D. Roosevelt at the White House." And a legend was born.
Since those early days, they have not only done TV commercials and print advertisements but appeared in thousands of parades and at sporting events all over the country and the world (including Russia for the 2018 World Cup and China for the year of the horse, in 2014). They've delivered beer to the White House. They've celebrated baseball's Opening Day. They do store openings and motorcycle rallies. They're huge at horse shows.
"If they come to your town, go see them," Cathy Behn, the executive director of the Clydesdale Breeders of the U.S.A., says from her family's horse farm outside of Rockford, Illinois. "We're four generations on this farm, and we still get goosebumps when we see the Budweiser Clydesdales, and we have a barn full of [Clydesdales]. It's just such a tradition."
Making the Cut
For Anheuser-Busch, breeding, training and showing off these animals is now a full-time, multi-million dollar operation. Budweiser cares for more than 150 of these gentle giants — dozens are born each year — breeding and foaling them at Warm Springs Ranch in Cooper County, Missouri. Many are moved to Grant's Farm in St. Louis for a kind of "prep" school. The best among them move back to Warm Springs when they're about 3 years old, for more training.
And at age 4, the top of the class hits the road.
When fully trained, 30 of the horses — based in St. Louis, home of Anheuser-Busch; Fort Collins, Colorado; and Merrimack, New Hampshire — criss-cross the country in souped-up 50-foot (15-meter) trailers as part of three teams called "hitches" that, when they're working, pull old-time beer wagons and strut for the public. Eight horses make up the team that pulls the wagon; two alternates are on site if needed. Often, a horse will make a public appearance solo.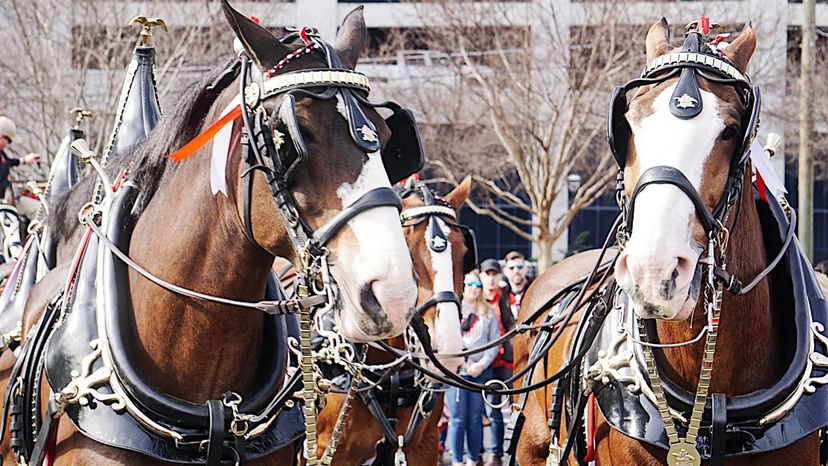 To the delight of the crowds, the massive Clydesdales hit the streets of Atlanta prior to Super Bowl LIII after the hitching up on Feb. 1, 2019.
Khiry Clements/Howstuffworks
Clydesdales were originally bred in Scotland for farm work. They used to be small and compact, but selective breeding through the years has produced the rather hulking horse that we know today.
To be selected as a traveling Budweiser Clydesdale, a horse has to be 18 hands high (about 6 feet, or 1.8 meters) at the shoulder, which means it usually weighs around 2,000 pounds, or 907 kilograms. The horses are all bays — a rich brown color, with black manes and tails — with a wide white stripe (called a blaze) between their eyes and down their face. They all have distinctive white "feathering" that covers their hooves.
The traveling Clydesdales are all male, too, all gelded, bred and trained to have an even temperament during traveling and harnessing and while they're literally paraded in front of sometimes tens of thousands of people.
"Clydesdales are a very gentle breed. When they're young, they're like any other horse — skittish and more like a kid, more rambunctious," John Soto, the former breeding supervisor at Warm Springs, told CNN back in 2016. "As they get older and more mature — the more you handle them, the quieter they become."
Gentle Giants
Behn is part of an organization that welcomes more than 500 newly registered Clydesdales every year. The reason the horse is popular among breeders, horse lovers and the public — many of whom wouldn't know a forelock from hemlock — is the temperament that Soto mentioned.
"When we hear the term 'gentle giant,' that is completely true. The Clydesdale is a big horse, but it's a very kind, willing-to-please, intelligent horse," says Behn, who has about 27 Clydesdales on her farm, including a foal born Jan. 31, 2019. "They're very, very gentle. Very smart and trainable. My grandchildren can handle most of them. They're just very trainable, pleasant horses to be around."
The Budweiser Clydesdales are the perfect spokeshorses for the trainability of the breed. In various commercials, they have exhibited their skills, among many other ways, by bowing down in a 9/11 tribute and jumping fences to get to a puppy friend (#BestBuds). The 2019 Super Bowl commercial focused tightly on the horses moving across an all-American plain, then pulled back to reveal the surrounding wind turbines with the tagline, "Wind Never Felt Better."
Cool and Calm Ambassadors
Perhaps their biggest trick and best attribute — as they're shipped all over the world, harnessed and re-harnessed, paraded in front of thousands of screaming humans and reached for by countless kids and adults — remains their ability to stay cool and calm.
"They're a very social horse, for one thing. I can't represent that they're all 100 percent that way. I do think it takes a special individual to be in front of mass crowds, constantly," Behn says. "But, for the most part, they're easy to condition. They're so easy to train.
"A lot of people who get into our industry, who come from a different breed, they say they cannot believe the trainability and the disposition of these horses. It's just in the breed for them to be so, which makes them a wonderful icon for Budweiser, 'cause they're beautiful and athletic, but they're social enough to accept the outside world."
Originally Published: Feb 1, 2019