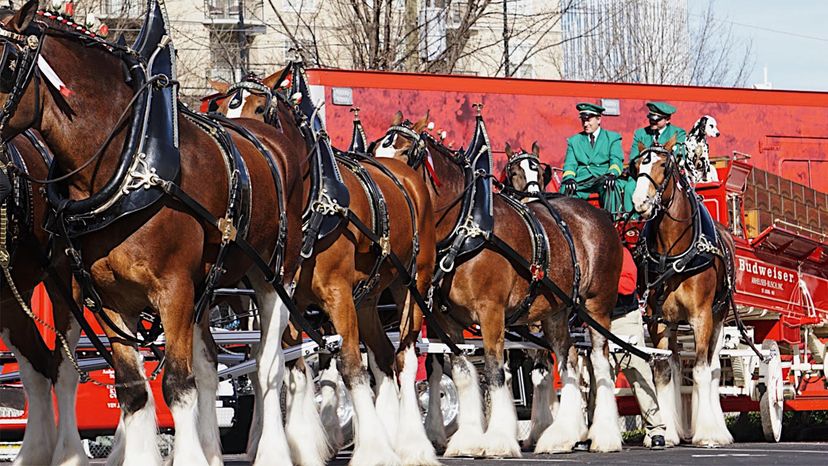 Few stars of American corporate marketing can match the power, majesty and effectiveness of the brand ambassadors for Anheuser-Busch's flagship beer. In the Super Bowl of commercial pitch-animals, the Budweiser Clydesdales romp all over insurance company lizards and ducks. Every time. It's almost unfair.
The iconic Clydesdales were first introduced at the end of Prohibition in 1933, according to Robert Thomas Jr., in the 1989 obituary for August Anheuser Busch, Jr. in The New York Times. Thomas writes that Busch, "recalled the draft horses that had once pulled beer wagons in Germany and pre-automotive America, and obtained a team to haul the first case of Budweiser down Pennsylvania Avenue for delivery to President Franklin D. Roosevelt at the White House." And a legend was born.
Since those early days, they have not only done TV commercials and print advertisements but appeared in thousands of parades and at sporting events all over the country and the world (including Russia for the 2018 World Cup and China for the year of the horse, in 2014). They've delivered beer to the White House. They've celebrated baseball's Opening Day. They do store openings and motorcycle rallies. They're huge at horse shows.
"If they come to your town, go see them," Cathy Behn, the executive director of the Clydesdale Breeders of the U.S.A., says from her family's horse farm outside of Rockford, Illinois. "We're four generations on this farm, and we still get goosebumps when we see the Budweiser Clydesdales, and we have a barn full of [Clydesdales]. It's just such a tradition."