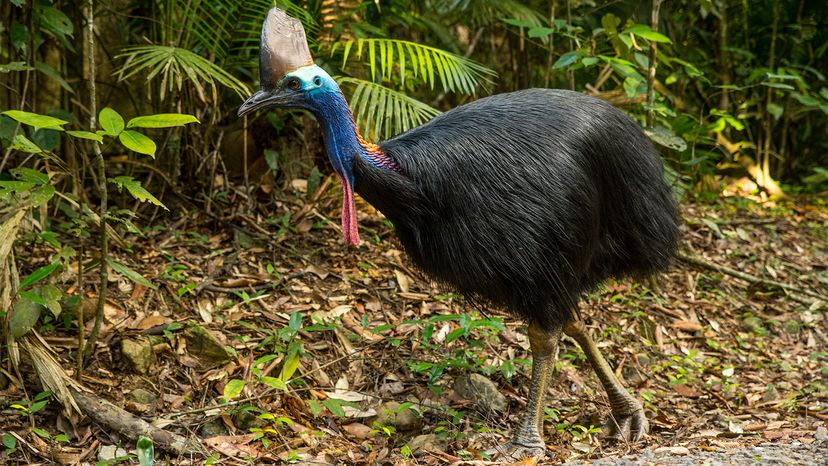 This massive, flightless emu-like creature has been called "the most dangerous bird in the world." The reason is that this exotic bird can seriously injure or kill a human or dog in an instant with its deadly claws. In fact, cassowaries are listed as Class II animals (along with alligators and wild cats) in Florida due to the risk they pose, which means anyone who wishes to own one must pass numerous tests and get a special permit from local authorities. And even then, tragedies still can occur, as happened to the 75-year-old Florida man a cassowary killed. He was attacked by at least one of the birds he rears on his properties and later succumbed to his injuries in the hospital. They're quick too, cassowaries have adapted those powerful legs to run fast at about 31 miles per hour through dense forest underbrush.
So, what exactly is a cassowary? Like their cousins the emu, they are ratites, or birds that have flat breastbones and are unable to fly, native to tropical forests of Australia and Southeast Asia. As far as this striking bird's appearance, it boasts bristly feathers, a vivid blue face, two red wattles hanging from its neck and a prominent helmet (or casque) atop its head. Although size varies across the three different species of cassowaries — the Southern, Northern and Dwarf — they can stand up to 6 feet, 6 inches (2 meters) tall and weigh as much as 132 pounds (60 kilograms). For a comparison, you can think of one as being the equivalent of six swans.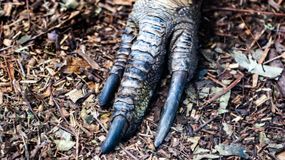 The portion of their body that makes them so dangerous? Muscular legs with three claw-tipped toes that can pack a pretty powerful punch, including lethal wounds to internal organs and severe bleeding. "The claw on the inner toe of each foot is what is so impressive," says Rick Schwartz, a global ambassador for California's San Diego Zoo, which currently houses several Southern cassowaries in its Safari Park, in an email interview. "Between the three species, that claw is very sharp, and can range from 3 to 5 inches (7 to 12 centimeters) long. The cassowary will use these sharp claws and their powerful kick to defend themselves. It is often stated that they can eviscerate a human in a single kick, though there is no record of this happening."
The good news, according to Guinness World Records, is that you're far more likely to suffer a snake bite or even an infection transmitted by a dog than you are injury by one of these birds. In fact, the most dangerous animal of all is no bigger than a thumb nail. By transmitting disease-causing pathogens, mosquitoes are estimated to be responsible for between 725,000 and 1 million human deaths per year, making them far and away the most lethal animal on Earth.
Now that you know you probably shouldn't provoke a cassowary — or a mosquito, for that matter — here are 10 other interesting facts about this unusual bird.