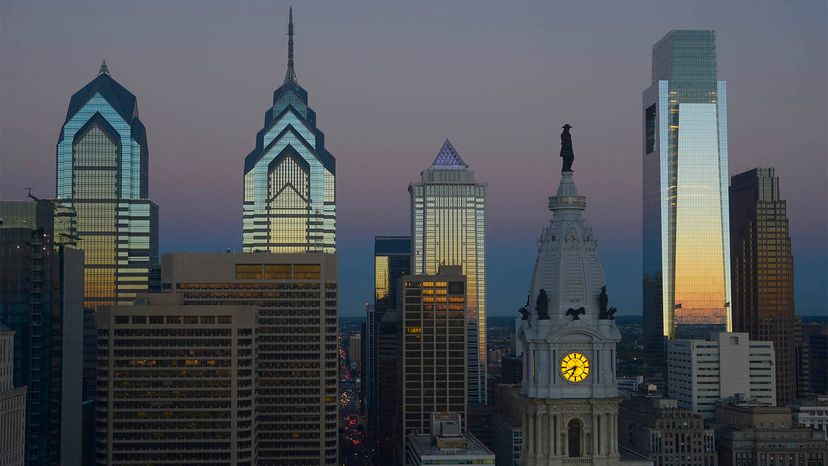 The skyline of Philadelphia is a much less menacing sight to migrating birds when the lights are out.
V. GIANNELLA/Getty Images
Buildings and windows kill roughly a billion – that's 1,000 million – birds in the United States every year, thanks, in part, to the artificial lights that disorient them and cause them to crash. In 1999, in order to prevent these deaths and help save bird populations, the National Audubon Society and its partners began the Lights Out program, which works to convince building owners and managers to turn off unnecessary lights when birds are migrating. This year, Philadelphia joined 33 other cities with Lights Out programs including New York, Boston, Chicago, Atlanta, Baltimore and Washington, D.C.
Why Are Lights so Dangerous to Birds?
After feral cats, buildings and windows are the second-greatest killer of American birds, especially during the two times a year when they migrate, flying between breeding and wintering habitats. Attracted by the bright, artificial lights at night, birds fly into buildings and glass windows and are often killed by the impact. If they aren't killed, their flight patterns are disrupted, causing them to become disoriented and circle in confusion and interfering with their daytime cycle of resting and refueling.
Lights Out works on mitigating this problem by getting building owners and managers to turn lights off during the migration season from midnight to 6 a.m. each morning. To create bird-friendly buildings, Audubon recommends to "turn off exterior decorative lighting, extinguish spot and flood-lights, substitute strobe lighting where possible, reduce lobby and atrium lighting wherever possible, turn off interior lighting especially on upper floors, substitute task and area lighting for workers staying late or pull window coverings, down-shield exterior lighting to eliminate all light directed upward and horizontal glare, and install motion sensors and automatic controls wherever possible."
The Situation in Philadelphia
Philadelphia is the latest city to join the program, and began its first migration season on April 1, the peak of spring migration. It ran through May 31 and will start again on August 15 until November 15, which is when birds travel south.
Philadelphia is located along a migration corridor for birds and each year, tens of millions of birds pass through the city while migrating, making it potentially dangerous for birds if too many lights are left on. Bird Safe Philly, a coalition of nonprofits, joined together with the City of Philadelphia and its building industry to help lessen the problem of birds getting killed while on their journey.
Lights Out Philly is the result of a group effort led by the Academy of Natural Sciences of Drexel University, the Delaware Valley Ornithological Club, Audubon Mid-Atlantic and two local Audubon Society chapters. In addition, Lights Out Philly is supported by the Building Owners and Managers Association (BOMA) Philadelphia, the Building Industry Association of Philadelphia, Comcast, which owns the two tallest buildings in the city, and dozens of building owners and operators, including Brandywine Realty Trust, the city's largest landlord.
"You get a bunch of people together with a cause and make something happen," says Jason Weckstein, the curator of ornithology at the Academy of Natural Sciences of Drexel University, who is very involved in the Lights Out Philly program.
What's Next?
Along with continuing the Lights Out Philly program for migration seasons to come, Weckstein and the Academy of Natural Sciences are increasing monitoring of the number of birds who are killed through impact with buildings and windows.
This increased monitoring will involve the general public as well. Using the iNaturalist community science app, regular people can document any dead birds they find. In addition, there is a freezer near the front of the museum where these members of the public along with volunteers can tag and leave the birds for the researchers to collect and study.
In the summer, they will be doing a lot of planning to see what they can ramp up and change. This will help them prepare for the fall, which is bigger than the spring because all the baby birds migrate too.
"It's a way for us to figure out what other parts of the city cause problems, and which other places are big problems," Weckstein says. "Then we can advocate doing something in those places."
While birds are facing a lot of challenges – along with the buildings, there's climate change, feral cats and habitat destruction – Weckstein is optimistic that we can figure out how to help them.
"We've done a lot of good things in the past to fix our problems," he says. "The key is investing in these things and working to fix the problems we've created."