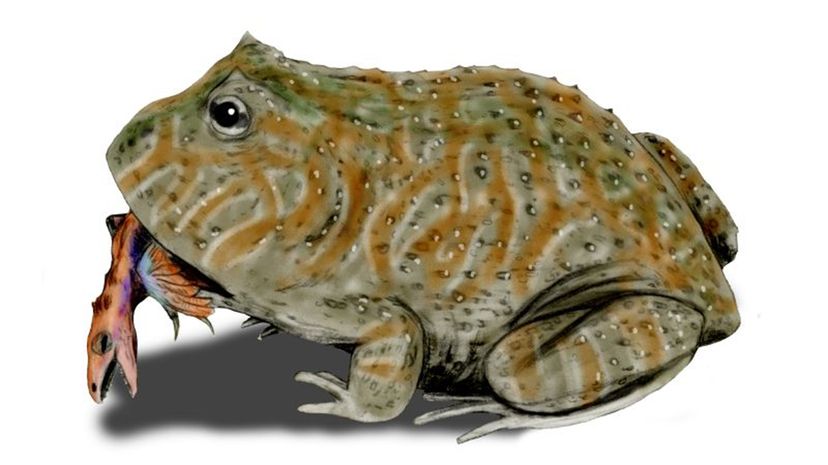 In 1993, the year "Jurassic Park" hit theaters, scientists uncovered the first known remains of an amazing predator that might've eaten the occasional dinosaur. At the time, a team of fossil-hunters led by paleontologist David Krause was exploring Madagascar. There, they discovered some isolated bones and fragments from a gigantic, 70 million-year-old amphibian. "We knew [the fossils] belonged to a frog because of their morphology," Krause says in an email, "but we were stunned by their size."
Clearly, the material represented a new species. Out in the field, Krause's group gave their critter an informal-but-fearsome nickname: "The frog from hell." It fit.
Since '93, a trove of new remains from this plus-sized hopper has come to light, including a partial skull and skeleton. We now know that the animal could measure up to 16 inches (0.4 meters) long from the tip of its nose to the end of its spinal column. Also, some estimates put its maximum weight at 9 pounds (4.08 kilograms) or more. By comparison, the biggest living frog — the so-called "Goliath frog" of west Africa — is about 4 inches (0.1 meters) smaller and 1 to 2 pounds (0.45 to 0.9 kilos) lighter.
Nowadays, the creature goes by an official, scientific moniker: Beelzebufo ampinga. Translated from Greek and Latin, Beelzebufo means "devil toad." Meanwhile, ampinga is the Malagasy word for "shield" — a reference to a set of armor plates on the creature's back.
Experts believe the frog had a varied diet. Madagascar's fossil record shows us that birds, lizards, snakes and small mammals were all readily available in Beelzebufo's day. Furthermore, given the opportunity, it would've almost certainly eaten small crocodylians and even baby dinosaurs. But how did Beelzebufo overpower such prey? Jaw strength no doubt played a major role. Indeed, according to some recent research, the "devil toad" had one hellish bite.