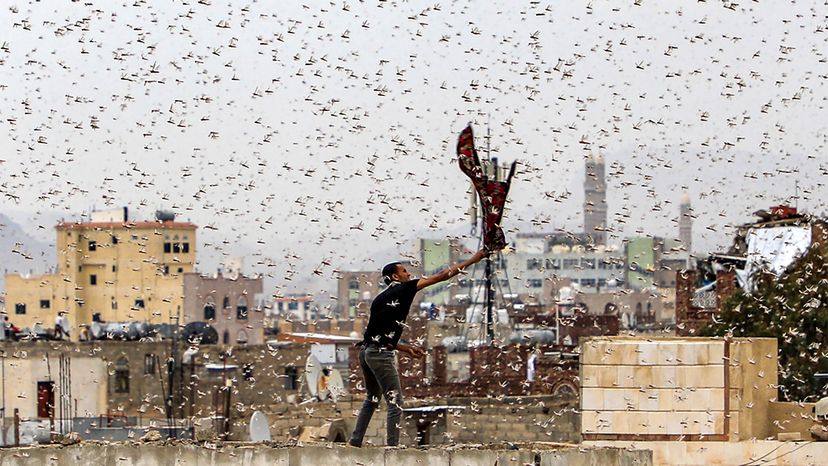 In the ancient world, nobody liked locusts. Some of the earliest literature produced in Egypt, China and the Near East describe invasions of the grasshoppers, carried in on the east wind after the rains. They could decimate the year's crops in a matter of hours, bringing famine in their wake.
The desert locust (Schistocerca gregaria) is a species of grasshopper with breeding and habitat areas extending from West Africa (Senegal, Mauritania and Morocco), east to the Horn of Africa, the Near East, and all the way to western India. They're able to live solitary lives, but they're also capable of swarming, collecting in large groups and acting in unison like a school of fish or a pack of dogs.
Physical contact with each other triggers the instinct to forage for vegetation together, and their bodies actually change as they do this. Gregarious desert locusts change color (from tan to yellow and black) and grow more muscle mass when this happens. They even start eating toxic plants, which they would never have done solo.
A swarm of locusts can reach astonishing sizes: 150 million locusts per 0.3 square miles (1 square kilometer), with a pack that size eating as much in one day as around 35,000 people. Because desert locusts eat vegetation, they've historically been the scourge of anybody who eats plants or grazes animals in the same general area of the locust swarm.
They're also alarmingly efficient breeders — between two and five generations of locusts can be produced each year, depending on weather conditions.
"Unusually good rains or severe weather events such as cyclones maintain favourable breeding conditions for up to six months," Keith Cressman, senior locust forecasting officer for the Food and Agriculture Organization of the United Nations (FAO), says in an email. "These conditions can be sufficient for two generations of breeding, giving rise to about a 400-fold increase in locusts — a generation is about three months, and with each generation there is a 20-fold increase in locust numbers."