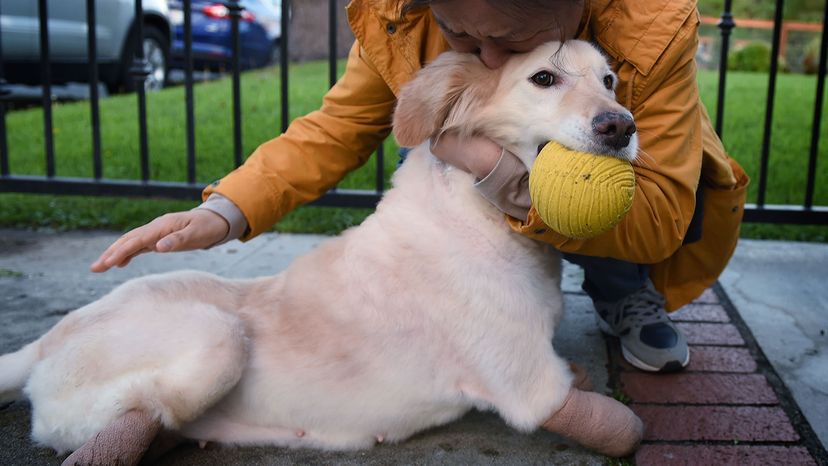 South Korean veterinarian Dr. Lee Mikyong says goodbye to Chi Chi, a golden retriever, after she was brought to Los Angeles for adoption. Chi Chi had all four legs amputated after she suffered irreparable damage from being bound and hung upside down in a dog meat market in South Korea.
MARK RALSTON/AFP via Getty Images
Times are uncertain, so more people are adopting pets for comfort, companionship and the satisfaction that comes with offering them a better life. So, it's kind of a bummer when you totally "click" with a pet online, only to find out that it has already been adopted. This is a fairly new problem, thanks to the COVID-19 pandemic of 2020, which really threw the pet adoption process into a tailspin.
"The ASPCA did see an initial spike in adoptions in early March, although overall, we saw a decrease in adoptions amid the COVID-19 pandemic," explains Kelly DiCicco, manager of adoptions promotions at the ASPCA Adoption Center in New York. "This is partly due to the fact that out of an abundance of caution related to the COVID-19 crisis across New York City, we closed the ASPCA Adoption Center to the public.
The initial spike has yet to taper off for Atlanta-based Angels Among Us Pet Rescue, Inc. (AAU), largely thanks to an ultra-involved network of volunteer fosters, who brought the animals into their homes since on-site adoptions became more difficult to conduct safely. The group reports a 30 percent uptick in adoptions from April to August 2020 compared with the same period in 2019.
Adopters are also being less choosy, which is benefiting pets on the whole. "It's safe to say that pets who may have been overlooked in the past due to age, health, breed or even something like needing to be the only pet in the household, are getting more interest now than ever before," says Jackie Spett, development and events director with AAU.
Fortunately, there are some easy measures you can take to hopefully ensure that the next pup or cat doesn't slip through the cracks. Representatives from AAU gave us the inside scoop on making a seamless, successful pet adoption match.
1. Go Ahead and Get Your Application Approved
Whether you're in the beginning stages of searching for the perfect companion or ready to bring one home, start the application approval process sooner rather than later. This is because these applications, which are standard with rescue groups, take time to process, especially during high-volume periods. Doing so, "might save a whole week," says Spett. "Maybe pick a few rescues you're interested in and put an application in," she advises, adding that AAU applications, once approved, are good for one year.
Applications are typically easy to fill out and submit online, and ask for information such as age of people in the home (some pets don't do well with kids), if you have other pets (and if so, what kind), whether or not you have a fenced-in yard, where the pet will sleep and how many hours per day you think the pet will be home alone. They also ask for contact information for your current vet, if you have one, so that they can ensure that other household pets are up to date on vaccines and flea/tick/heartworm preventive treatments. Many will also request a personal reference, and if you rent, be prepared to provide landlord contact information to make sure you're allowed to have a furry friend inside in the first place.
2. Set Up Some Pet Alerts
Sites like PetFinder and Adopt-a-Pet will allow you to set up custom daily searches, tailored to notify you if an animal of a certain breed(s), age and location become available. You can pay extra to have such a search run multiple times a day, otherwise you'll get a free email once per day if a pet matches your parameters.
3. Check Rescue Sites Daily
As great as compilation sites like PetFinder and Adopt-a-Pet are, pups and kitties often don't appear there until a week or more after they join a rescue. As a result, many are claimed before those handy alerts even show up in your in-box. Spett suggests that would-be adopters check individual rescue sites once or more per day, as there's no set time that new pets are added. "We rescue and load new pets every day," she says. You can then inquire directly with the rescue and cut out the middle-man.
4. Follow Social Media
Facebook isn't only for political posturing or cute kid pics. In fact, social media is a great way to see animals before they're even put up on the rescue site. "If you watch social media you get a heads up of who we're getting," Spett says. Then, if your application is already approved you can go ahead and proclaim your interest in that particular pooch to the powers-that-be at the rescue.
5. Adopt in the Summer
Time of year can also make an impact on how easy it is to find and adopt a pet. Mid-summer and holidays are typically the slowest periods for AAU. "Whenever people are going to be vacationing is always a slow adoption time," Spett says. "People are traveling, don't want to commit to getting a pet right then." Adoptions also dip in January and February, probably because people are hunkered down and the idea of walking a dog isn't so tempting.
6. Be Breed-Flexible
Maybe you want a bulldog just like the one you grew up with or a border collie because you've heard they're just so smart. While it certainly is possible to find dogs with such lineages, it can take a bit longer to find exactly what you're looking for. So, either start following some breed-specific rescues and settle in for a bit of a wait or be flexible and welcome any old slobbery friend into your home. The list of breeds most commonly found in shelters and rescues is topped by American pit bull terriers, and followed by chihuahuas, Labrador retrievers and German shepherds, according to data from Rescuegroup.org.
Size matters, too. "The little dogs and the puppies go in seconds. If you're looking for a larger dog those are a lot easier," says AAU operations director Kim Kay. "Anything over 50 pounds we're going to have more of; they don't get adopted as quickly."
7. Be Totally Honest
An adoption application or home visit is not something you want to fudge on. "Be as honest as you can be. These volunteers know if you're trying to get around something," Spett explains. "They want to see if this dog or cat is going to be happy and healthy and safe in your home."
Before you even go ahead with a home visit for a foster animal make sure everyone in the household is on board. "At meet and greet the foster can tell when one spouse is in disagreement or a kid is afraid. That doesn't make the foster feel very comforted," she says. Ahead of time, "Have honest conversations with family about expectations and responsibilities and also that it's not all going to be fun and games. A new pet requires training and consistency and work. But a lot of joy as well."
It's also vital to be up-front about past pet habits. "We call and check pet references, so if they've left off a pet that hasn't been vaccinated (but has been seen by the vet), the vet will tell us," Kay says. Another area of concern is whether a potential adopter has ever surrendered another animal in the past. AAU is understanding that sometimes animals do need to be surrendered for certain reasons, like aggression. "If you moved or had a baby, we're a little less understanding," she says. "We're OK if we understand the reasoning. You don't have to hide it, we just need to understand the reason."
Also, make sure that you can handle another pet. Maybe you're working from home now, but how long is that going to last before you're back in the office for 12-hour days? This is especially important when considering a puppy that will need to be trained and exercised consistently in order to keep him and you happy.
Note, if you're turned down by one shelter or rescue, you could try another. Some practice "open adoption," which means removing some of the barriers to adoption: for instance, there might not be a home visit, although you might still be vetted in other ways.
8. Be Patient
If you're looking for immediate turnaround on a new animal a rescue probably isn't the route for you. Instead, go directly to a shelter, particularly in a more rural area, which often has more inventory. "Shelters have too much traffic," Spett explains. "They're there to save lives. [They believe] it's better to go to a home than to be put down."
However, if you're OK with moving more slowly, a reputable rescue is a fantastic option, as they take the time to get to know the temperament and needs of each individual pet, and also get them up to date on shots and other veterinary needs. "If you can commit to the process and be patient it can definitely pay off," says Spett.