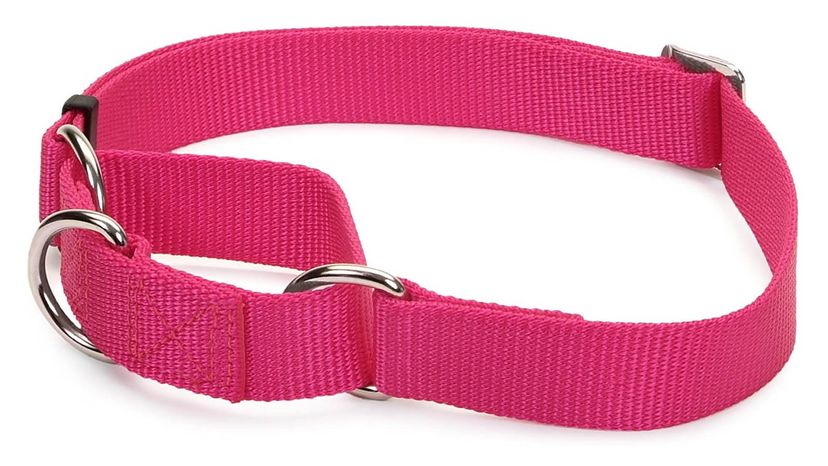 In humankind's enduring journey to grow closer to the animals who've stood loyally by our sides for millennia, we cannot forget to factor in the concept of change when deciding what's best for our dogs, cats and, well other four-legged friends.
Animal care now is a completely different ballgame than it was even 10 years ago. From bespoke subscription boxes filled with themed toys and gourmet treats for your pooch to spectacular custom paintings that will turn your furry friend into a "Renaissance masterpiece," we are officially living in the golden age of pet ownership.
Sometimes, though that progress takes shape in the simplest way. Case in point: The martingale collar. It's a safe and effective dog collar that is designed to keep your pup in control without being dangerous like some collars that can cause harm to their larynx and thyroid gland.
Martingale collars are also referred to as "no-slip collars, limited-slip collars or greyhound collars," and the design is simple. The main length of the collar is typically about two-thirds the measurement of your dog's standard collar size. The rest of the collar is made up using a second, smaller loop.
So, how does the martingale collar work and how easy is it to fit one on your dog? We talked to dog lover, Lana LoPresti — founder of Neon Dog, a pet supplies shop in shop is located in Norwalk, Connecticut, and owner of a tiny white Shih Tzu mix named Isabella.
"A martingale collar is a type of dog collar that can provide a greater degree of control and safety than traditional collars for certain breeds," LoPresti explains. "When pressure is applied to a martingale collar (i.e., your dog lunges toward a scurrying squirrel), the loop closes securely around your pet's neck. Unlike slip collars or 'choke' collars, there is a minimum width that prevents the martingale collar from closing too tightly."
Here's how it works: The larger loop — the main collar — slips over your dog's neck. But you clip the leash to the smaller loop. Hence, the harder the dog pulls, the tighter the tension on the smaller loop; this makes the main collar tighten around the dog's neck. If it's fitted properly, it will only tighten to the size of the dog's neck, which will prevent it from slipping off and from choking the dog. Unlike a chain choke collar, which doesn't limit how tight it constricts around the neck, the martingale collar fits loosely and comfortably when the dog is walking normally.
LoPresti goes on to say that martingale collars are particularly beneficial for breeds whose heads are a similar width as their necks — think greyhounds, whippets, etc. — because these dogs are notorious for being able to slip out of traditional collars.
To find the right size for your dog, measure around the base of your dog's skull just behind the ears. (This length will be the same whether the collar is fully tightened or not.) Then choose the smallest collar that will comfortably fit your dog based on that measurement. LoPresti says to also follow the "two finger rule." That means you should always be able to stack two fingers (one on top of the other) between any collar and your pet's neck.