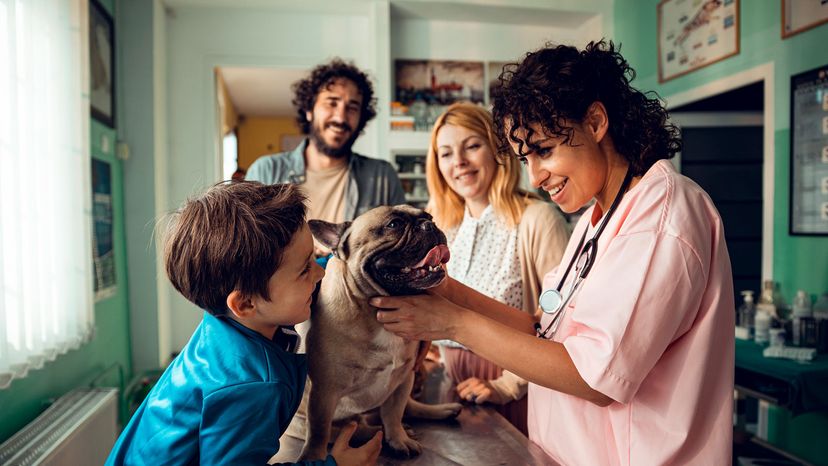 Pet insurance can help with the doctor's bills, but unlike insurance for people, it is not regulated by the government.
Marko Geber/Getty Images
Jade the Rottweiler's two ACL repair surgeries racked up $5,500 worth of bills for Renee Look. Heather (last name withheld on request) forked over $6,000-plus to buy her beloved miniature schnauzer, Jack, an extra couple of years as he battled lymphoma. Then, insult was added to injury when Alissa Taylor's dog Sue, had to go to the emergency vet suffering from bloat. She died there, and then Taylor was billed a whopping $7,000.
Clearly, there's little that devoted pet owners won't do for their furry friends, even if it costs a bundle. Enter, pet insurance, an industry that's been around since 1982. People like Renee Look, who've been burned in the past, are often first in line to buy. "I absolutely will look into pet insurance for our next dog," she says.
There are a lot of people out there who are wary of pet insurance policies, however. What if there are coverage loopholes? What if the pet never gets seriously ill or injured, so the monthly payments are wasted? Much like human health insurance, it's confusing subject matter, and many people opt to take their chances.
Pet insurance is made even more confusing because it's not regulated by the government, as is the case with home or auto policies. Instead, this is handled on a state-by-state basis by the departments of insurance that govern each one based on the state's laws.
"Because of this, coverage is less standardized and varies from one provider to another," says Kristen Lynch, executive director of North American Pet Health Insurance Association (NAPHIA) in an email interview. "While this sometimes makes it difficult to compare 'apples to apples', it does result in a wider range of options for pet owning consumers to choose from."
Options are a good thing, but the pet insurance marketplace is a lot to take in. Here are some things to consider, if you're planning to get a policy:
1. There Are Several Different Types of Insurance
Lynch explains that most coverage is sold in a combination of an Accident/Illness (A/I) plan. This would cover costs if a dog, for instance, was hit in a car accident, ingested a foreign item or was poisoned (the accident part), but also covers illnesses like cancer and infections. (All this of course depends on the policy terms.) "Some of these A/I plans have 'embedded wellness' benefits that are preventive in nature, and that provide for the expected, such as dental treatment," she says.
She notes that "a very small percentage of plans in effect (about 1 percent or less) are Accident Only (A/O)plans. Some plans have no embedded wellness features, but offer optional wellness benefits as riders/endorsements that you can add on top of your coverage for an additional premium."
2. Preexisting Conditions Aren't Covered
If your pet already has a condition, like a knee injury or diabetes, no insurance company is going to cover it and related expenses. Unfortunately, this is the industry standard, but they do it for a reason. "In this way the policy continues to cover the unexpected, and costs can be kept affordable," says Lynch.
This doesn't mean that you can't get coverage, though. Bekah Champy of Roswell, Georgia, has coverage for three dogs. Her German shepherd and shepherd mix both have whole pet coverage, but her pit bull rescue is only approved for an injury policy with wellness coverage, because he has preexisting conditions (heart surgery and allergy testing before adoption). That limitation hasn't put her off pet insurance however.
"It pays for itself by covering their annual/semiannual visits, covers the $1,500 of prevents [heartworm and flea prevention medication], and has saved us a few thousand in one-off visits and a dog fight," she says.
3. Costs Varies Widely
For reference, Kari Miyamoto with Nationwide says that plans start around $35 per month for puppies, and roughly $25 per month for kittens. "Plans will be more expensive for older pets, and premiums increase based on the amount/type of coverage selected," she says.
The North American Pet Health Insurance Association said in a 2020 report that the average monthly premium for dogs was $18.17 for accident insurance only and $49.51 for accidents and illness. For cats, the monthly premium for accident only was $11.13 and $28.48 for accident plus illness. The report also noted that the pet insurance market was experiencing "double-digit increases," growing 24.2 percent between 2016 and 2020. Prices are also going up rapidly. During that same period, A/O premiums for dogs increased 30 percent and A/I premiums for dogs increased 15 percent.
Jenna Mahan, director of claims and underwriting for Embrace Pet Insurance cautions people not to get too caught up in monthly cost, however, since it can wind up backfiring. "Look for a comprehensive policy that doesn't sacrifice coverage for cost," she says via email. "Some companies don't cover the exam fee – which can be upward of $100 each time you see a specialist or have to visit an emergency clinic."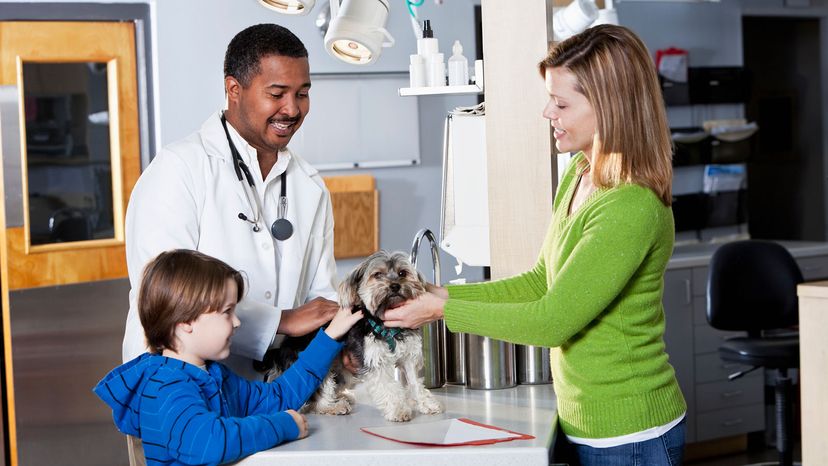 Pet insurance costs can vary depending on breed, age of pet and location.
kali9/Getty Images
4. Insurance Is Usually a Reimbursement Plan
The vast majority of pet plans require the customer to pay the bills first, then get reimbursed by the insurance company. Understand it fully before proceeding. "Make sure the company reimburses based on a direct percentage of the vet bill," says Mahan. So, if you get a bill for $100 and have an 80 percent payback, you should get $80 back.
However, "some reimburse based on a benefit schedule that limits what they'll pay out per condition based on national averages – which will mean you get a lot less back if you live somewhere like California or New York where veterinary care is more expensive," she says.
5. Cheaper Is Not Always Better
Here's where things tend to get sticky. It's vital to understand the terms of the policy that you select. "While a less expensive plan can look appealing, buyer beware," says Mahan. "You sometimes get what you pay for and may discover later that you're missing coverage for things you thought would be covered."
So, if you want a policy that covers all the things, choose a whole pet coverage policy. Monica Kimbler of Lilburn, Georgia, has insurance for her two current dogs (Chubbs and Darlie) with Embrace, since her previous pooch "cost a ton of money." She selected a plan that includes accidents, illness and annual vet visits. Her annual deductible is $250, with an 80 percent payback.
"I had to make a claim this year with Chubbs having both a spinal stroke and Horner's syndrome," she says via email. "They paid within three weeks of getting all the paperwork." All told, the insurance policy saved her just over $1,900, and covered an emergency room visit, an overnight stay, an MRI and four follow-up visits. She was only responsible for the deductible and her 20 percent, a far cry from the total bill.
There are some limitations, however. Whole pet insurance at Nationwide, for example, doesn't cover baths/grooming or cruciate ligament problems that pop up in the first year of enrollment. Make sure to fully understand any exclusions, so you don't get caught by surprise.
6. What's Your Deductible Type?
Pretty much all insurance plans come with a deductible, a set amount that the consumer has to pay (in this case, toward a pet's medical care) before they start kicking in any funds. Be aware of your specific deductible type before proceeding, however. "Once the annual deductible is met, eligible veterinary expenses are covered," says Miyamoto with Nationwide. "With a per-condition deductible, a new deductible would need to be paid for every new condition presented, which could lead to considerably more out-of-pocket expense for the pet owner." In other words, the deductible is paid every time a new thing goes wrong, which adds up quick.
There are a lot of ways to adjust a pet insurance policy to help it fit a specific budget. So, talk to an agent about the annual deductible amount ($250 is Nationwide's most popular), reimbursement percentage and the annual limit. Tell the agent what you're most concerned with covering, and make sure that's included.
7. Location, Age and Breed Determine Premiums
The younger the pet, the cheaper the policy is going to be. The type of pet matters, too. Cat coverage is less expensive than dogs. Also, some breeds are more prone to expensive illnesses or injuries, so if you have one of those, pet insurance might be a good choice.
More expensive areas net pricier insurance coverage. "The cost of premiums for a pet living in downtown Manhattan would typically be higher than coverage in Fargo, for example," says Lynch with NAPHIA.
8. Pet Insurance Is Not for Everyone
Pet insurance can be expensive, but so are vet bills. The average dog owner annually spent $424 on routine visits and $458 on surgical visits, according to the American Pet Products Association, The Washington Post reported. Many plans exclude routine care and preexisting conditions. So, you'll need to weigh the pros and cons, the age of your pet and how sick it may get, before deciding whether to buy coverage.
"Some pet owners simply don't visit the veterinarian outside of life-threatening emergencies or end-of-life treatment," says Nationwide's Miyamoto. "Pet insurance is best suited for pet owners who see their veterinarian as a partner in achieving and maintaining their pet's best health."
Originally Published: Feb 2, 2009