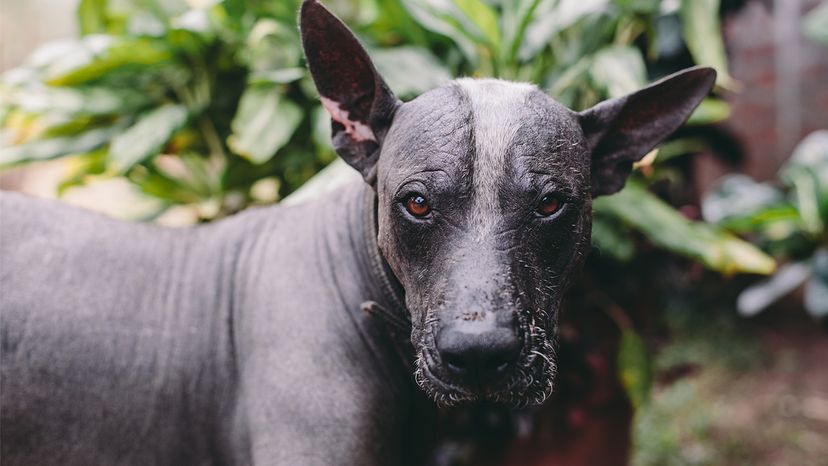 Also called the Mexican hairless dog, the xoloitzcuintli (pronounced "show-low-itz-QUEENT-ly," and called "xolo" for short) carries a storied history that goes back 3,500 years to the pre-Columbian era — before Italian explorer Christopher Columbus colonized the Americas in the early 1490s and indigenous cultures were conquered or significantly influenced by Europeans. One of the most ancient of dog breeds, according to the Xoloitzcuintli Club of America, Aztec and Mayan civilizations looked to this hairless, ugly yet cute dog not only as a healer (their fur-free bodies are excellent heat conductors, making them a kind of ancient hot-water bottle for the ill and the elderly), but also an occasional food source (along with turkeys, xolos were one of the only domesticated animals eaten by ancient Mesoamericans).
The xolo (pronounced "sho-lo") even was considered as a symbolic guide to the underworld — hence its name, which is derived from two words in the Aztec language: Xolotl, the god of lightning and death, and itzcuintli, or dog. According to Aztec belief, the Dog of Xolotl was created by the gods to guard the living and guide the souls of the dead through the dangers of Mictlán (the underworld).
"Xolos are still, to this day, a national treasure in Mexico, with a long and respected history in the country," says Nicole Ellis, a certified professional dog trainer with Rover.com, in an email interview. "Despite the xolo's long history, however, they are still quite a rare breed in the U.S. That doesn't mean you won't see someone with one though, as they have slowly been gaining popularity in the past few years."