Miss Lucille was a sweet little pullet (young hen), who found a cozy home in the chicken coop of Kristi Allen's (not her real name) Powder Springs, Georgia backyard. Initially, things appeared to be status quo with the young exchequer leghorn cross. After observing her for a time, however, Allen noticed Miss Lucille was growing a comb. Although both sexes of the breed can have them, Allen's instincts told her that perhaps something wasn't quite standard, so she sought the help of a local farmer.
"The farmer did all of the checks to confirm Miss Lucille was a 'miss,'" Allen recalls. "She had no saddle feathers [pointy feathers at the base of the tail], no aggression, didn't jump or react in the presence of other hens/roosters, and when she was laid back in the farmer's hand, she stuck her legs out straight and just laid there. All are old timers' tricks to identifying roosters since there's no definitive way to tell until they mount another chicken or crow, aside from lab testing."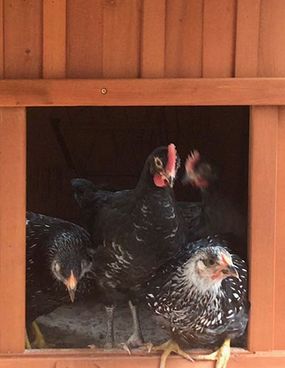 Miss Lucille had "failed" the rooster test. However, later on, Allen arrived home to a mess of feathers in the backyard, an unusual event because hens don't usually molt until around 18 months. "She began acting more temperamental, but I attributed that to her molting, as it can be quite uncomfortable for chickens," she says. "I was worried about her health."