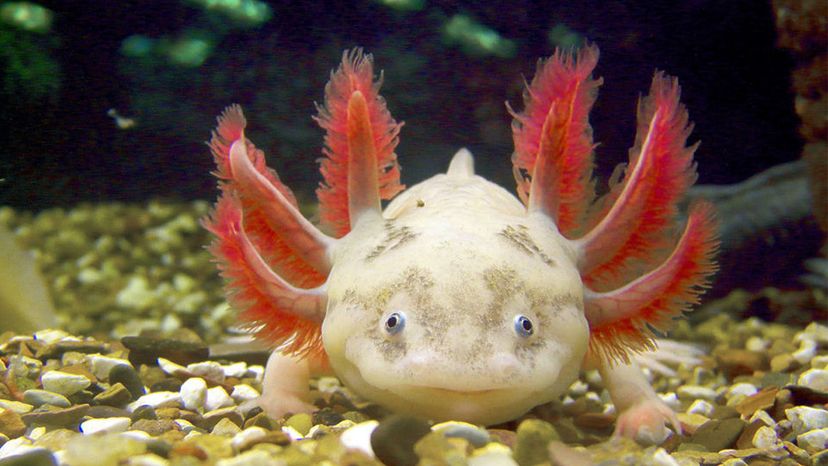 In Julio Cortázar's short story "Axolotl," first published in 1954, a Latin American man living in Paris becomes infatuated with the axolotls living at the zoo, to the point that he eventually transforms into one. With their "pink, Aztec faces," "eyes of gold" and "rosy little bodies, translucent ... ending in a fish's tail of extraordinary delicacy," the narrator observes an "absolute lack of similarity between axolotls and human beings." In considering these feathery, pinkish salamanders, "It would seem easy, almost obvious, to fall into mythology."
Cortázar's narrator is, on the face of things, correct in his estimation of the axolotl (Ambystoma mexicanum) or Mexican walking fish. For starters, the axolotl fell into mythology centuries ago — the Aztecs believed that the first axolotl appeared in the lake system around modern day Mexico City when the powerful underworld god Xolotl transformed himself into a small, feathery amphibian to escape capture.
In ancient Mesoamerican culture, these close relatives of the tiger salamander species were considered a food source supplied by Lake Xochimilco for the good of humanity.
And Cortázar was right about the axolotl's similarity to humans — our last common ancestor probably roamed Earth around 360 million years ago, and at first (or even 50th) glance, they're excessively different from us.
Among the first modern zoo animals, 34 axolotls were brought from Mexico (along with three deer and three wild dogs) to the Jardin zoologique d'acclimatation in Paris in 1864. And although they weren't as interesting to 19th-century zoo goers as the larger, more charismatic animals, scientists quickly realized these unassuming little animals were strange — almost mythological, in fact.