Housefly Life Cycle
The housefly life cycle closely mirrors that of most insects: a basic cycle that begins with an egg, then develops through a larva phase, a pupa phase, and finally, into an adult. During a warm summer -- optimal conditions for a housefly -- the cycle, from fertilized egg to adult, spans a mere seven to 10 days.
After a male housefly chases down and fertilizes a female counterpart, she's ready to lay her eggs. Houseflies are solitary creatures. Like the rest of the insect world, males and females do not stick together after mating and, unlike nesting insects, females do not care for or protect eggs. Females simply leave the eggs where they will be safe from predators and have plenty to eat upon hatching.
The female housefly deposits her eggs in the crevices and corners of the same kinds of decaying organic matter adults feed on. Within a day, the first larvae begin to emerge from the eggs. Also known as maggots, these worm-like creatures are little more than fleshy, sectionless tubes with hooked mouth parts used for feeding.
The maggots grow rapidly. In less than two days they've doubled in size and therefore must molt. Molting is a process common to many invertebrates through which a growing insect sheds its former exoskeleton and grows a new one. A maggot will molt twice more, emerging larger and more developed each time.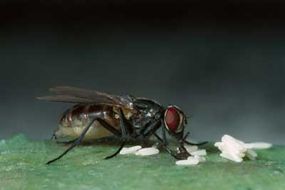 Following its third molt, larvae will burrow deep into the substance they've been feeding on. Their skins will darken and harden as they enter the pupa stage. Inside this protective shell, the larva will fully develop the body segments and appendages of an adult housefly.
The only visible addition to the emerging housefly is a swollen bump on the fly's head, used to break through the shell. Since the housefly doesn't have teeth or jaws to chew its way out, it uses this fluid-filled pouch to break through the pupae shell. Once fully emerged, the bump deflates back into the fly's head.
A new adult housefly has, at most, three months to reproduce before it dies. With so many predators, a housefly's average lifespan is even shorter: 21 days. Luckily for the housefly, the phrase "breeding like flies" isn't just a figure of speech. Each female can lay up to 900 eggs during her brief life.
The very thought of a housefly infestation may prove too disturbing for many homeowners. However, the next page will describe how a manageable amount of houseflies helps regulate the local ecosystem.