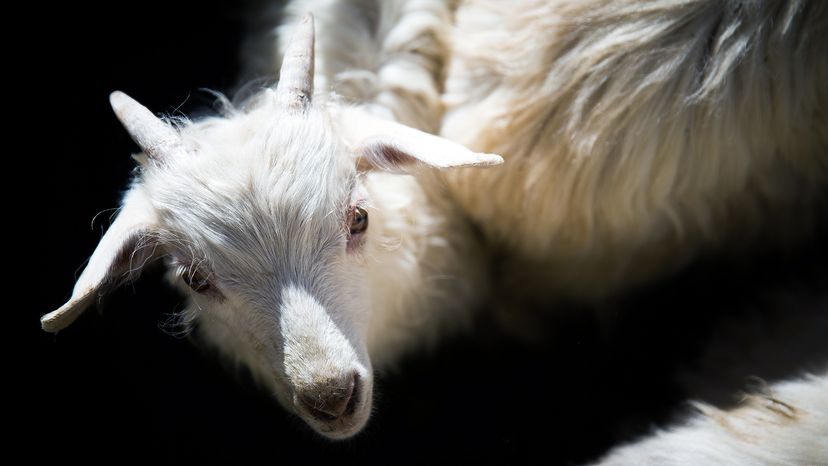 It can take up to four cashmere goats like this little guy to produce enough fibers for one cashmere sweater.
Photography taken by Ivan Dupont/Getty Images
Ask Wendy Pieh, a goat farmer in Bremen, Maine, to name what she likes most about her work, and she'll tell you it's the individual personalities of the goats for which she cares. "Think of the word 'capricious,'" she says. "That comes from the word 'caprine,' which is Latin for 'goat.' They're like that. They'll jump and dance ... and they'll climb on anything. They're affectionate."
Pieh's particular type of goats — 40 to 80 of them, depending on the year — are also some of the providers of a valuable product for humans: cashmere. Yes, in case you didn't know, your favorite, softest (and probably most expensive) sweater comes from the fur of the cashmere goat. And once you know what's involved in making a cashmere sweater, the price might not seem so exorbitant.
Goats are one of at least 11 wool-producing animals. The list also includes sheep, rabbits and llama. There are several varieties of cashmere goats, and a number of farms, factories, and conglomerates around the world using various production methods to make cashmere. The first goats purported to be used by humans to keep warm are said to be the Pashmina goats. They're found in the super-high-altitude regions of western and northern Tibet. The goats' soft and dense underfur is built to withstand extreme temperatures as low as minus 40 degrees Fahrenheit (minus 40 degrees Celsius).
The wool from these bucks and nannies — favored by British royalty — eventually came to be processed in Kashmir in northern India; hence the name.
Various bloodlines of cashmere goats have, with human help, spread around the world. Australia has a particular breed that provides luxuriously soft threads. North American cashmere goats are found in the colder regions of the U.S. and Canada.
Farming Fur
North America is where Pieh and her husband, Peter Goth, come in. They have run Springtide Farm since 1997. Pieh bought Goth 11 goats for his birthday — in part, to help clear their farmland. It has been a learning experience since then.
Pieh estimates Springtide is one of 200 to 300 cashmere goat farms in North America. Most cashmere goat farms in the U.S. are small in size — less than 60 goats, says Pieh, who is also president of the Cashmere Goat Association (CGA), a nonprofit whose website claims it brings together breeders, fiber artists and others interested in these charming animals and the fiber they grow.
March and April (spring) is when the goats start to naturally shed their winter wool, and production begins on the farms. Few U.S. farms sheer these cashmere goats, though, because of production loss and the high cost to weed out the valuable downy undercoat. Instead, most facilities hand-comb the wool. That means workers — often the farm owners themselves — sit with each animal and slowly tease out with a dog rake the fur that creates the fine wool for cashmere. Pieh says she spends up to an hour and a half with each of her goats, and each one is different.
"When you look at these goats, you see the long, draping fur," Pieh says. "That's the guard hair. The cashmere hair is under that. The crimp in cashmere is three-dimensional. And that's part of what makes cashmere so incredibly soft."
An average goat provides just 3 to 4 ounces (85 to 113 grams) of cashmere. Pieh, who says she has an "outstanding herd," gets about 5 to 6 ounces (141 to 170 grams) per goat. That means it typically takes about four goats to make enough fiber for just one cashmere sweater. Cashmere goats that produce quality fur, by the way, can live up to 10-15 years of age. When they are no longer producing, or are just too old, they are commonly harvested for their meat.
Once the cashmere fur is separated, Pieh sends samples of it for quality testing to one of two labs in the U.S. — one in Texas, one in Colorado. Most legitimate U.S. cashmere farmers, Pieh says, have made a commitment to provide only high-quality fiber, outlined in the CGA standards and backed by organizations like the Cashmere and Camel Hair Manufacturers Institute (CCMI). That means "consistency or uniformity in the fiber" — each follicle should be at least 1.25 inches (3.2 centimeters) in length in a "relaxed" (unstretched) state, and no bigger than 19 microns in diameter.
Cashmere that fails to meet these standards inevitably creates quality problems in the end product. "It causes cashmere to pill," Pieh says. "It doesn't have the strength to work with other fibers when it's spun up."
Problems in the Industry
There are plenty of examples of "bad cashmere" out there. And while the Federal Trade Commission (FTC) enforces the Wool Product Labeling Act in the U.S., it gets murky on the international market. Even the FTC says "routine testing of fiber contents by a qualified, independent testing lab is the best way to assure accurate labels."
That means it's hard for consumers to determine where the cashmere they're buying comes from — and specifically how the goats are treated. Cashmere demand is one of the problems; it reportedly far exceeds how much goats can produce each year.
The China cashmere industry has a notable reputation, for many reasons. "One Chinese conglomerate could produce twice the fiber our whole country does," Pieh says. And PETA has accused China of inhumane production of cashmere, mainly for sheering the goats midwinter when the animals need the fur to keep warm.
Pieh says that some Asian farms, to save production costs, have even experimented with restricting goats' diets. But aside from compromising the animals' health, it also directly affects the quality of the cashmere. "If you starve your animals, the hair will get finer and shorter and more brittle," she says. "You can't spin it. They call it 'hunger fine.'"
Buying the Real Deal
So if you wear cashmere, Pieh recommends buying directly from the source, or choosing very carefully. Cashmere will consist of about 1 percent of a goat's total wool production for apparel, so the fabric — and those sweaters — should have a price to reflect this scarcity.
But even for farmers like Pieh, who sells her cashmere online and at fairs and festivals, it's difficult to tell if it's the real deal. Pieh has even been fooled. She recalls a time when she found a cashmere sweater at a store for less than $100. She bought it. It turned out to be acrylic.
Another time, she and her husband were visited by a group of people who said they were interested in getting into the cashmere industry. They brought with them samples of cashmere they had bought at trade shows in Italy. The quality was poor.
"They had this one shawl," Pieh recalls. "It was shiny, and cashmere isn't shiny. So we had to say to them, 'You know, this is really nice. I don't know what it is, but it's not cashmere.'"