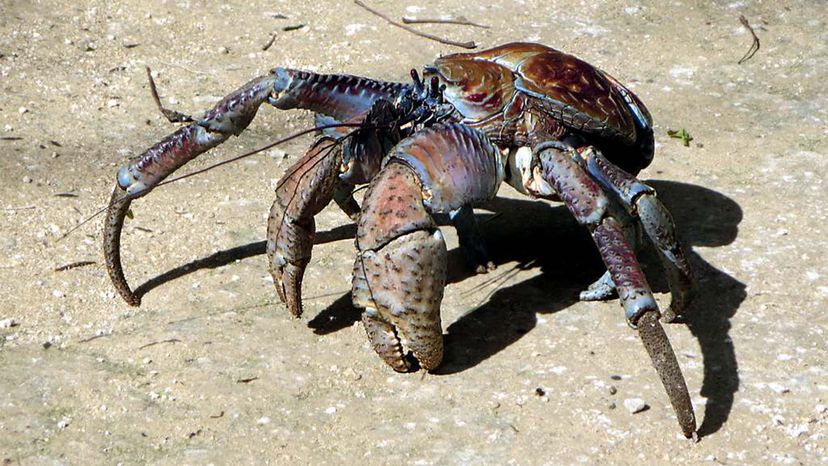 As a child, you may have had a pet hermit crab. Maybe you got it on the boardwalk in New Jersey and took it home, gave it a variety of gaudily-painted shells to slip in and out of and a sponge full of water to drink, and forgot about it. Maybe it nipped you with its claws a time or two. Is that hermit crab still alive? You have no idea because it was small, boring and mildly dangerous. Possibly your mother cared for it for many years without your knowledge. Maybe she's still caring for it.
Well, a close cousin of your hermit crab — the coconut crab (Birgus latro) — would not have been so easily ignored. Native to the islands in the Pacific and Indian oceans, coconut crabs are the world's biggest land-dwelling arthropods. The Japanese spider crab (Macrocheira kaempferi), the biggest arthropod, skitters around on the bottom of the ocean without bothering anybody, but coconut crabs hang out on land, and therefore are able to startle us with their size: They can weigh up to 9 pounds (4 kilograms), with a leg span of around 3 feet (1 meter). And although coconut crabs are close relatives of hermit crabs, they have been known to eat kittens, rats, chickens and even each other. Coconut crabs have even been proposed as a possible culprit in the disappearance of the body of Amelia Earhart.
"The coconut crabs have no shell as protection from enemies, so they have powerful claws and a large body to protect themselves," says Shin-ichiro Oka, chief research scientist at the Okinawa Churashima Research Center in Japan and the co-author of a 2016 paper about the strength of the coconut crab's claws. "In addition, their mighty claws let them monopolize the terrestrial hard foods, including coconuts, which other animals are unable to get into."
How strong are the claws of a coconut crab?
"We could find that coconut crabs can generate the pinching force of 90 times of their body weight," says Oka. "The calculated pinching force of the largest coconut crab is almost equal to the bite force of the adult lions."
So, these overgrown, coconut-smashing, kitten-eating crustaceans are basically hermit crabs on steroids, but they actually do spend some of their life cycle in the same manner as their daintier cousins.