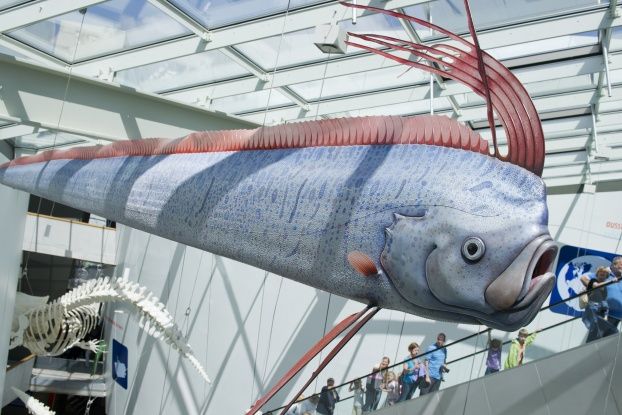 Giant oarfish certainly are creatures of mystery, especially if you prefer mysteries featuring bloated, gigantic sea serpents that have been known to reach 56 feet (17 meters) and weigh 600 pounds (270 kilograms). Oarfish made the news for washing up on several shores in October 2013 -- quite alarming, if you believe the folklore that says the beaching bony fish foretell earthquakes.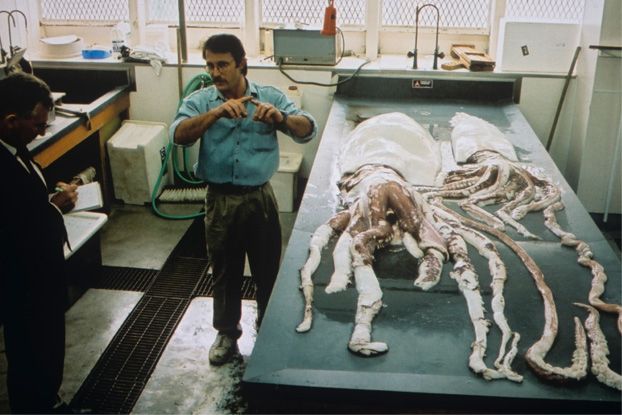 We can't pretend. A lot of the mystery surrounding giant squid is -- duh -- due to their size. But it's also a little spooky that for squid that can reach more than 40 feet (12 meters) in length and weigh a ton, they're rarely seen. (The first live recording of one came in 2006.) But the giant squid live way down deep, so these guys are hard to spot.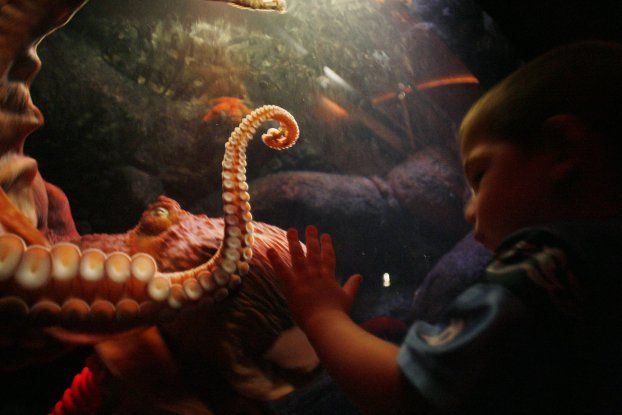 Quick lesson on octopus versus squid: Squid typically have an inner shell (called a pen) and two feeding tentacles along with eight arms, while octopuses don't have a pen or feeding tentacles, but do have eight arms. And the giant Pacific octopus has its own shadowy stories: Using pigment in its skin to change colors and textures to match its surroundings, this intelligent marine animal can hide its roughly 16-foot (5-meter) body a lot better than you'd think.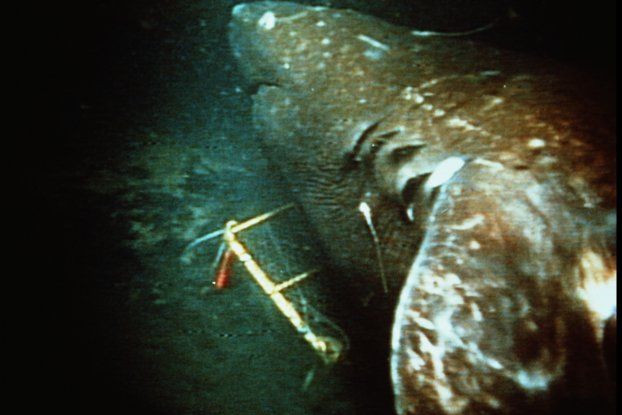 Sleeper sharks are so named because they were thought to hang out at the bottom of the ocean, lazily feeding on flounder and octopus. But it turns out that these sharks had a trick up their sleeve: They actually move quite easily through the water, and now are thought to be greedy hunters. Not so hard to do when their mouths can suction food in like vacuums, after which they can use their little rows of teeth like a food processor to chop up the chosen prey. The one in this photograph was thought to stretch 30 feet (12 meters). Its bulky body is smushing a bait cage in this pic.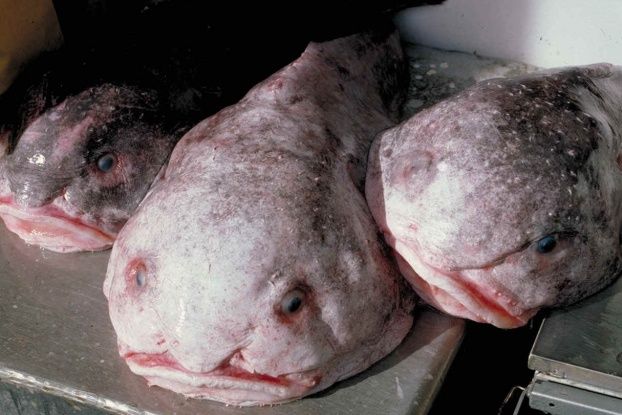 Ah, the blob sculpin -- a fish whose name sounds like the wacky neighbor on a crappy sitcom. But ol' blob is actually a lot more furtive than the guy you share a fence with. Resembling a gelatinous ghost, it's about 2 feet (0.6 meters) long and rarely spotted. But when you do, you'll see that it indeed has the unfortunate globular features that portend its name.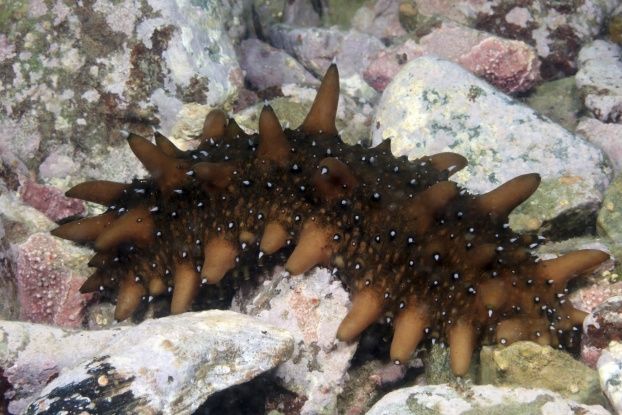 Sea cucumbers may seem more run-of-the-mill than run-to-the-hills, as bizarre and scary sea creatures go. But keep in mind this innocuous looking creature may grow to about 6 feet (1.8 meters) long feeding on algae and the like, while also being able to shoot its internal organs out of its anus as a defense mechanism. (Oh, don't worry -- they regenerate them. Phew.)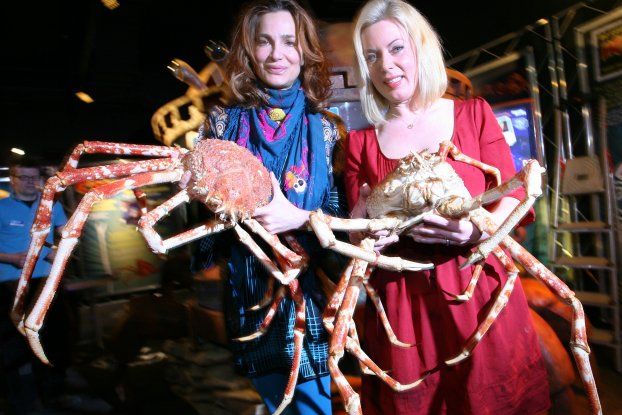 A lot of us seafood-loving folks would love a crab with a 15-inch (38-centimeter) body diameter and a leg span of 15 feet (4.6 meters). Just think of all the butter that thing could soak in. And indeed, the Japanese spider crab -- the largest species of crab -- is a delicacy. But these suckers are prized because they're not easy to find, even if they do live for 100 years. Not only do their rough shells blend in to the rocky ocean beds, but also their colonies seem to be diminishing.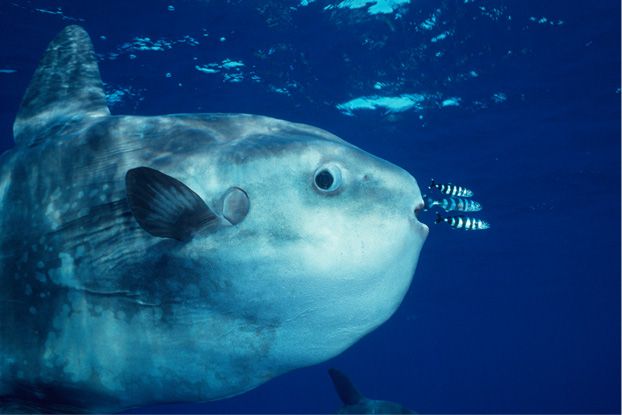 Looking at a picture of the ocean sunfish (sometimes called mola or mola mola), you might think you're looking at a regular old fish. Not cute, but nothing special. But consider the fish you're looking at could be nearly 14 feet (4 meters) tall, yes, tall, and 5,000 pounds (2,268 kilograms). Suddenly, that languid sunfish is downright terrifying. One of the most mysterious things about the mola? These guys start out as tiny eggs and increase 60 million times as they grow to their full size.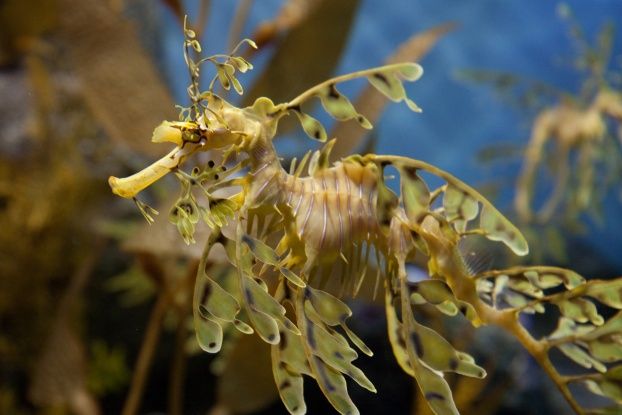 Sea dragons come in variety of shapes and sizes, but leafy dragons (pictured) tend to be brown and yellow, with little, darker appendages. Weedy dragons might have more detectable snouts and tails, and are a little less ornately gilded with "branches." But both these fish are quite beautiful, like floating chandeliers. A funny dragon fact? The male receives the female's fertilized eggs on his tail, and bears the sea dragon babies.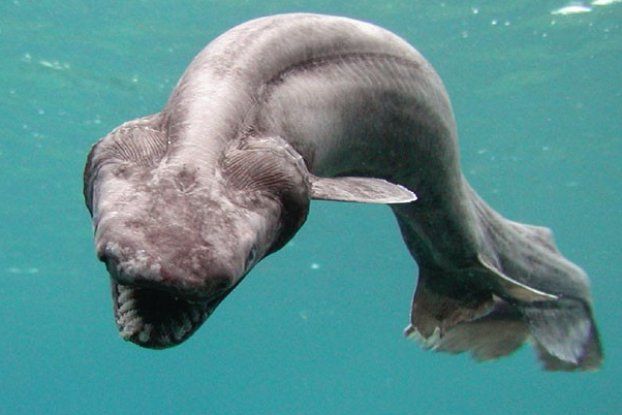 What do you get when you cross a shark with a snake? Probably an empty bladder. But also the elusive frilled shark, a prehistoric species of shark that still haunts waters around 3,000 feet deep. The frilled shark has the requisite nasty razor teeth of a
It's always fun to find a long-lost relation. And the nautilus -- which has a hard, chambered shell -- is one of the oldest pals we have on the planet. It's the oldest living representative of a group of shellfish that lived more than 400 million years ago. That's 265 million years before dinosaurs, and the nautilus ruled the seas before fish rose up and usurped power in their bloody coup (that probably didn't happen like that).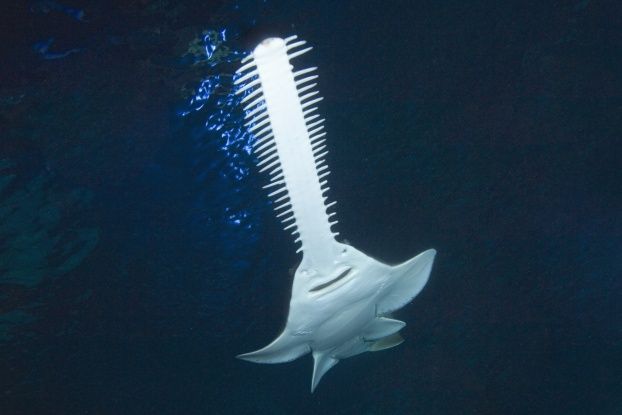 The first thing that may intrigue you about the sawfish is that it has a saw on its face. Which you'd think is cool enough -- a fish that could saw its enemies in half. And while it does split smaller fish with swiping motions, it also seems to be able to detect electric fields from prey, so it knows when prey approaches, even at a distance or in murky waters.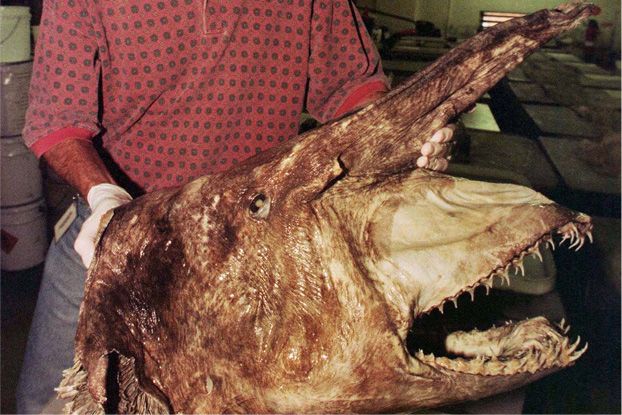 Goblins are traditionally seen as sneaky little devils. And the goblin shark is no exception, except that instead of pulling mischievous pranks it wants to eat you. And how it does is frankly frightening; it can drop its stupendous upper jaw down and thrust it out, making a kind of spring-loaded trap for its prey. (If you want to see it in action, watch the video on Discovery. It's awesome.) The mouth also likely provides suction, as if its prey weren't dead on arrival already.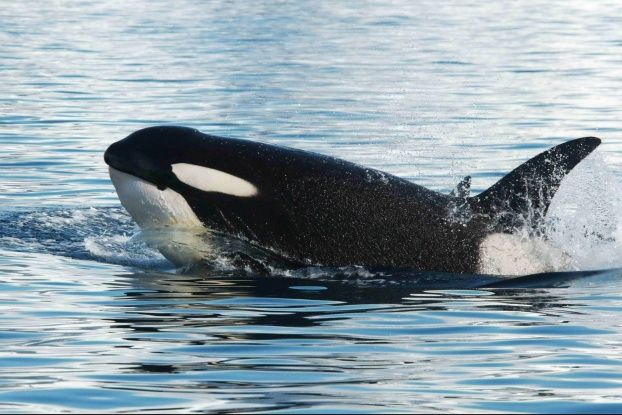 Once upon a time, scientists came upon some orcas that didn't quite look like the rest. Their white eye patches were smaller, and their heads more rounded. They figured these killer whales were just a genetic mix-up and chalked it up to anomaly. But in 2013, nearly 60 years after the sightings, they started to wonder if there were more orcas like this. Researching an older skeleton, they found that these whales might qualify as a new subspecies of killer whale, just like the types A, B and C before them. If you want to brush up on identifying the various types, you'll want to check out this poster from the Southwest Fisheries Science Center. The one pictured here is thought to be a type A.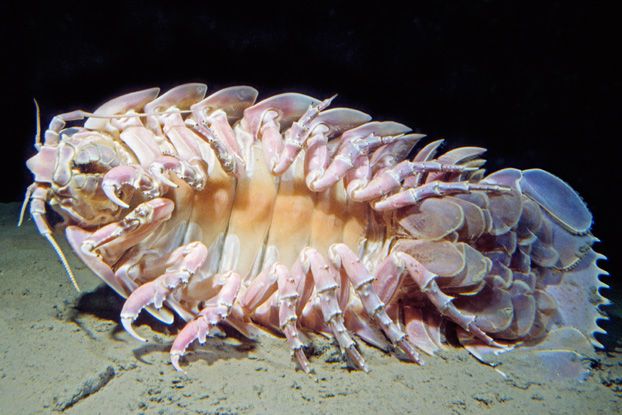 If you think giant crabs are a force to be reckoned with, check out the giant isopod. Also a crustacean, this roughly 14-inch (36-centimeter) creature resembles a flatter pill bug … on steroids. Although it has four mouths -- which seems like overkill -- they can go for years without food, perhaps because the pickings are slim for these bottom dwellers. Like most of us, when they have a big quantity of food around, they gorge themselves silly.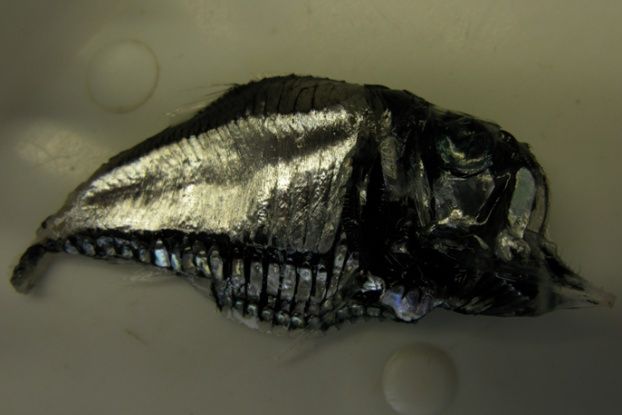 If you're looking for a creature that truly looks mysterious, the giant hatchetfish is a good bet. While it's just a little thing, measuring about 5 inches (11 centimeters) long (which makes one a little wary of what scientists think is giant), it has bioluminescent organs that glow eerily in the dark water. The lit-up insides confuse predators that prey on dark shapes flitting about.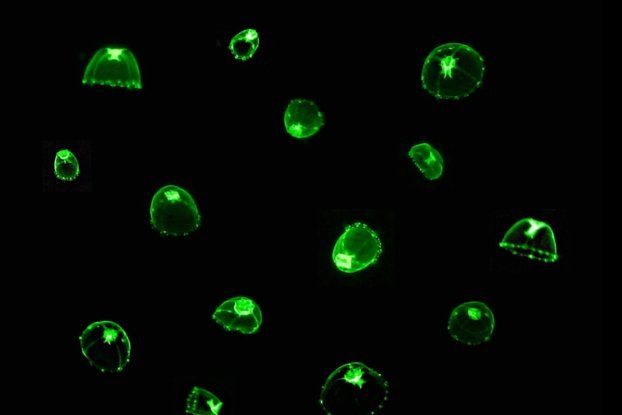 If you're into bioluminescence, then you've probably heard of Aequorea victoria. This enlightened animal contains luminescent proteins that have been cloned. Scientists use A. victoria's green fluorescent protein (GFP) as a way to identify when proteins are made and where they go in all sorts of organisms. You may think the jellyfish just drifts around lighting up all the time, but the pictures you see of the creatures often just reflect the light of a camera flash. In fact, scientists still don't know when jellyfish naturally glow or flash at each other, and they rarely witness it without human stimulation.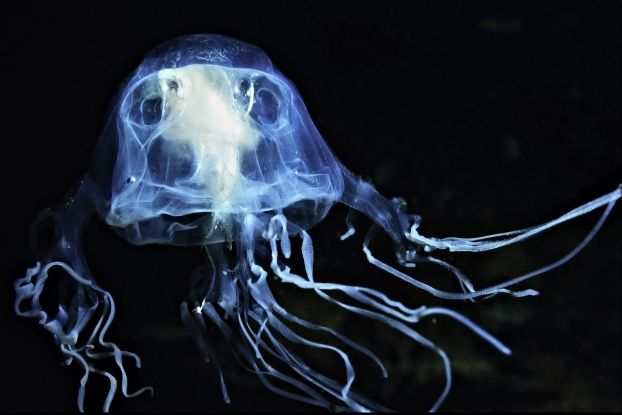 We thought the box jellyfish deserves a spot, if only due to its general scariness. After all, this creature's venom is so fast-acting and powerful that it can kill human swimmers before they can make it to shore. But beyond scaring the jelly out of us, this invertebrate to be reckoned with still maintains an air of mystery. Unlike other jellyfish, they can propel themselves around at decent speeds, and also have an advanced vision system -- even though scientists have no idea how they can process what they see.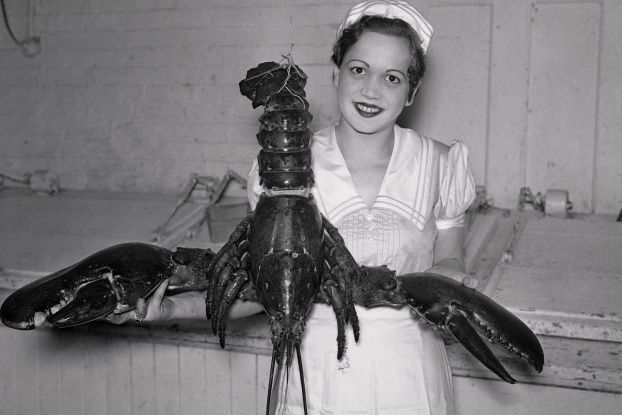 Disappointingly, lobsters are not immortal, as some have reported. While they don't fall into senility or get osteoporosis, they do in fact die -- although it's true they don't weaken, lose reproductive ability or even stop growing in their "old age." And lobsters can get huge. The largest ever recorded was caught in Nova Scotia and weighed 44 pounds (20 kilograms). But there's still a shroud of the unknown to these guys: Scientists can't figure out a good way to tell their age, since their molting process includes shedding nearly every hard part on their body. In other words, all ages are just estimates, and the real answer to how old lobsters can be is a mystery.