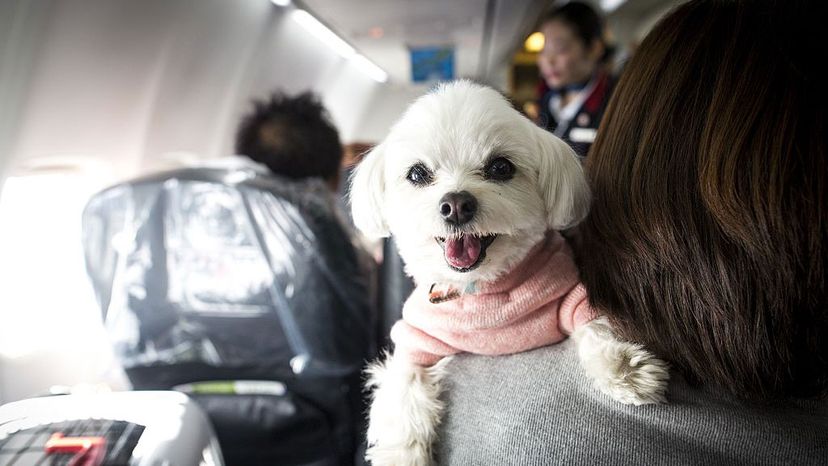 In a long-awaited ruling, the U.S. Department of Transportation (DOT) announced on Dec. 2, 2020, that "carriers are not required to recognize emotional support animals as service animals and may treat them as pets." The DOT also said that airline carriers could limit service animals to just dogs. This ruling came after a skyrocketing number of pets flying as service and "emotional support animals" (ESAs) — up 150 percent between 2015 and 2017, according to Delta — had prompted the airline and others to enact more stringent requirements for on-board animals.
ESAs occupy a different category from service animals who are highly trained to perform specific, potentially life-saving tasks for people living with a disability. "Emotional support animals are companion pets ("ordinary" house pets) that are recommended by an individual's mental health professional for the alleviation of symptoms of an emotional disability," emails Beth Zimmerman, founder of Pets For Patriots, an organization that matches shelter dogs and cats with veterans. "They do not have to be task-trained or have any unique training at all; their mere presence is assistive."
ESAs don't even have to be dogs. Snakes, rats, even pigs can be used as ESAs — and passengers had brought them on-board, or at least tried to. But this new ruling says that airlines don't have to accommodate these more unusual pets, reported the Washington Post. This means that passengers will likely have to pay to bring them in the cabin. Airlines could also require that the animals be kept in carriers that can fit under the seat.
"The research on the positive impact that emotional support animals have on people who are struggling with mental illness is pretty plentiful," says psychologist Tanisha Ranger, who works mainly with veterans. "They have a calming effect, lowering stress levels in the owner. They offer companionship and help to lessen isolation. ... They offer a sense of security and protection for those who struggle with PTSD."
Ashley Jacobs, CEO of Sitting for a Cause and resident of Newport Beach, California suffers from hereditary hemochromatosis, which requires her to have regular phlebotomies. "Needles are my biggest fear in the world, so my ESA comes with me to all my phlebotomies. Having her with me keeps me from panicking during the procedure," she says of her golden retriever, Diamond.
Yet Jacobs wouldn't take Diamond with her on a plane. For one, she doesn't need her dog for traveling. Also, "while she is a very well-behaved dog ... it's hard to guarantee she wouldn't get a little antsy/anxious about the new sounds/smells/environment on a plane. She's also about 70 pounds and takes up a bit of space, so for the comfort of other passengers and to avoid giving ESAs a potentially bad rep, I figured it's best to leave her at home," she says in an email interview.