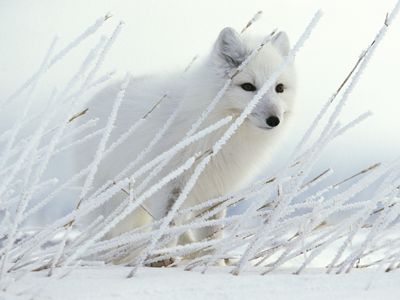 Arctic foxes have the largest litter size of any fox - normally 6 to 12 young, sometimes as many as 20. Next see a Pagophilus groenlandicus.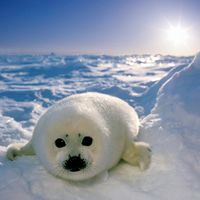 Harp seals reach a length of about 6 feet (1.8 meters) and a weight of about 400 pounds (181 kilograms). See a large arctic animal also known as a "sea cow" or "sea horse" next.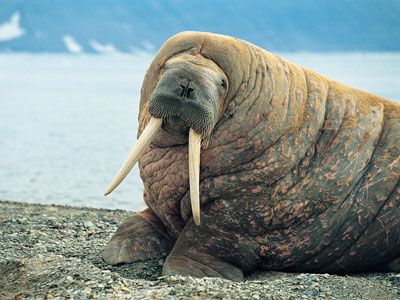 Walruses are protected from the cold by a thick layer of fat called blubber and by thick, wrinkled, almost hairless skin. See two fighting arctic hares next.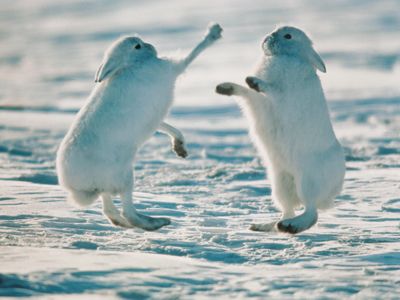 Arctic hares mainly feed on woody plants, but they'll also eat other things, like moss and seaweed. They inhabit the tundra of Canada, Greenland and some arctic islands. Find out what the largest member of the deer family is next.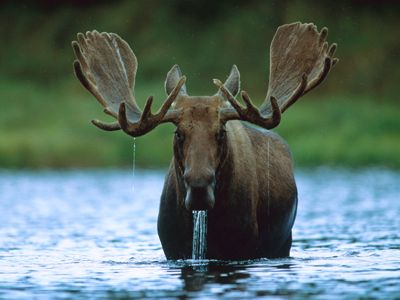 Moose shed their antlers each winter; new ones are grown in the spring and reach their full growth by late summer. Up next is an animal that can weigh up to 1,600 pounds (726 kilograms).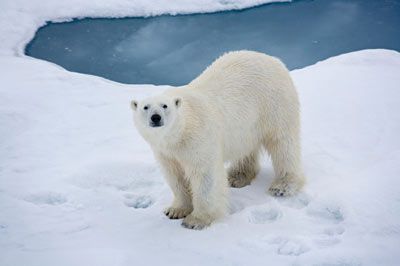 Polar bears' whiteness, ferocity and sheer size make them icons of purity and power. Next see an animal that racks up more than 500,000 migration miles (804,672 kilometers) in a lifetime.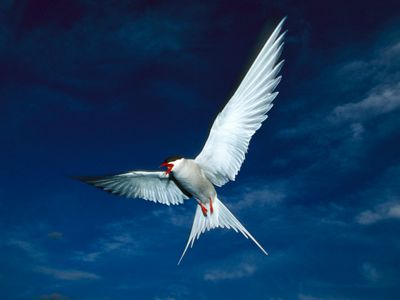 The arctic tern is famous for its long migratory flight. After breeding near the North Pole, it migrates to Antarctic regions, where it spends the winter - a round trip of about 22,000 miles (35,406 kilometers). See a wintery canine next.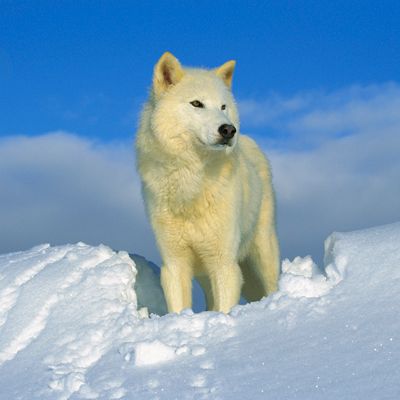 The white fur of the arctic wolf blends in with the snowy background. This makes it difficult for the wolf's prey to see it coming. See the arctic animal also known as a reindeer up next.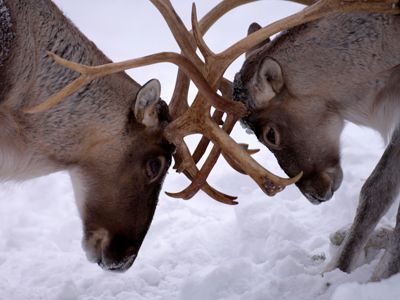 With the exception of the musk ox, the caribou ranges farther north than any other hoofed animal. See a showdown between a polar bear and walrus next.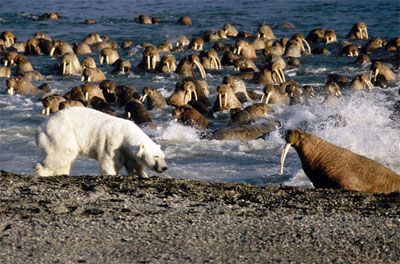 Polar bears can eat up to 100 pounds (45 kilograms) of blubber in one meal. This polar bear looks a little outnumbered though. See a bird also known as a sea parrot next.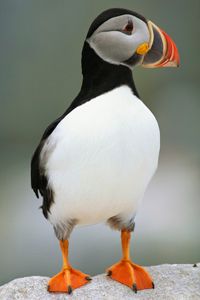 The puffin sometimes is called the sea parrot because of its large, triangular beak, which is marked with red and yellow during the breeding season. Find a "true sheep" next.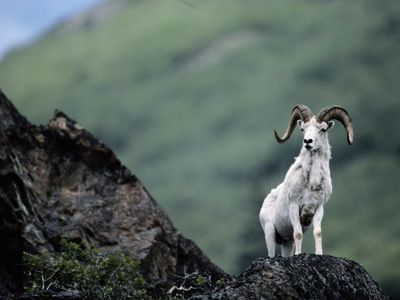 The dall sheep is usually all white, although gray individuals are found occasionally. Find a Nyctea scandiaca up next.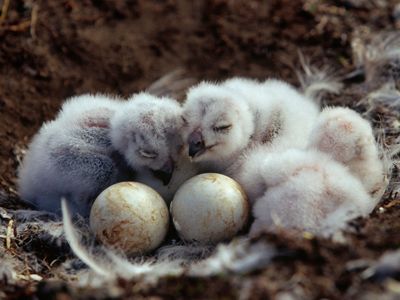 These snowy owlets will grow to be 20 to 27 inches (51 to 69 centimeters) long. See an adult snowy owl next.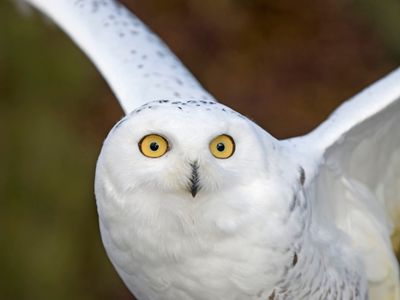 Snowy owl are as white as the snow in their home in the arctic. Because of their color and silent flight, prey may not see or hear these owls coming. See a jumping orca up next.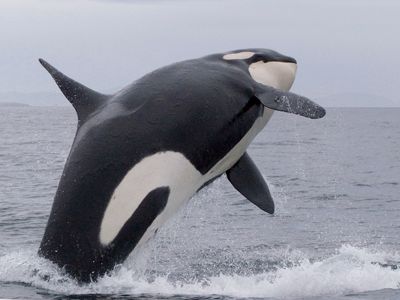 A killer whale's coloring helps to camouflage the animal as it hunts for food in the ocean. See an arctic animal that's named for its smelly coat up next.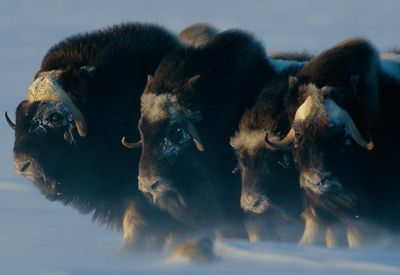 Musk oxen huddle together in a protective formation during a blizzard. Musk oxen are named for the musky odor emanating from their fur. See wha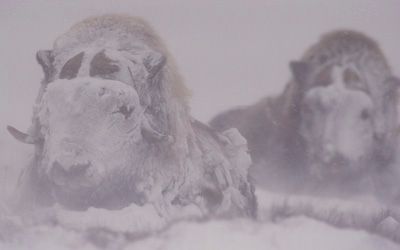 Two musk oxen (Ovibos moschatus) lie covered in ice and snow. Musk oxen provide both food and clothing for Eskimos in some areas. Do you know what animal may have inspired unicorn tales? Find it next.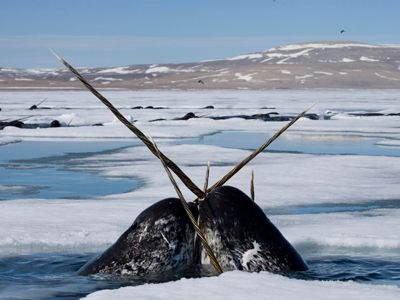 Two narwhals rise out of the water in order to catch a breath. Narwhal tusks were once commonly believed to be horns from the legendary unicorns. A royal weasel is up next.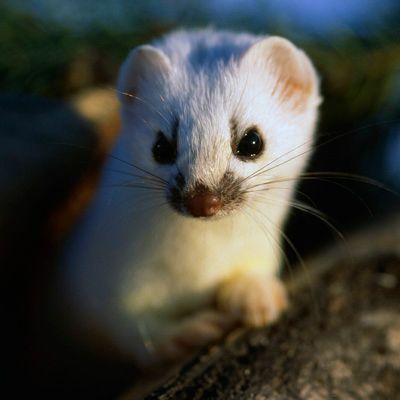 Ermine fur is valuable and was once reserved for royalty. As a symbol of purity and honor, the fur was used to line the robes of judges. See an animal with the same name as a popular computer game from the 1990s.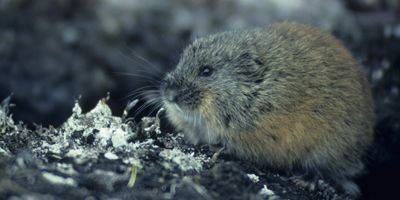 When snow falls and cold winds blow, some lemmings lie flat on the ground. The snow helps block the wind and holds the warmth near their bodies. See an animal with the same name as a comic book hero next.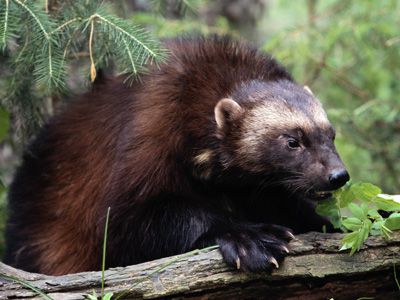 The wolverine is a strong, intelligent animal. It's more powerful than any other animal of its size. See a blubber-filled scene up next.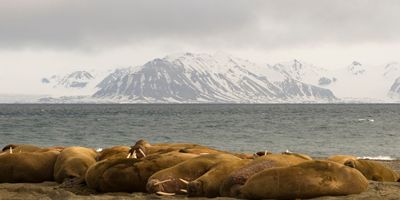 During their lifetimes, male and female walruses live apart, in separate herds. Finally, see an animal also known as a sea canary.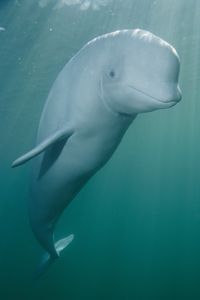 Belugas are white when they are fully grown. The name beluga comes from a Russian word that means "white." Because of its color, the beluga is sometimes called the white whale.