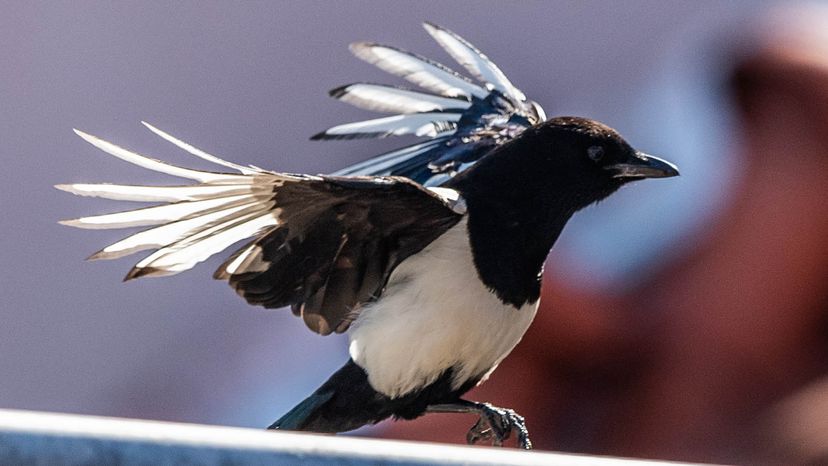 It's a sure bet that the person who coined the term "birdbrain" never dealt with a magpie.
Tim Birkhead, emeritus professor of zoology in the department of animal and plant sciences at the University of Sheffield, Great Britain, is author of the book "The Magpies: The Ecology and Behaviour of Black-Billed and Yellow-Billed Magpies." Birkhead has studied both species in the field, in Europe and the United States, and notes that people who deal with magpies on a regular basis have a keen understanding of how smart they are.
"Every gamekeeper will tell you how clever magpies are — avoiding people carrying a gun — as if they know," he says, via email. "The magpies' most impressive trait is knowing themselves in a mirror. Very few animals can do this. Magpies can also be taught to speak. They hide food and can relocate hidden food with incredible accuracy."
With regard to their intelligence, magpies are very much like fellow corvids – jays, rooks, ravens and crows, says Walt Koenig, a senior scientist with the Cornell Lab of Ornithology. Koenig has studied magpies in the past and is currently studying the social behavior of acorn woodpeckers and patterns of acorn production in California oaks in the Carmel Valley of California. (It also happens to be the only place in the world where yellow-billed magpies live.)
"For a time, yellow-billed magpies were the only North American bird that was endemic to a single state in the continental United States," says Koenig. "A yellow-billed magpie has never found its way over the Sierras (Sierra Nevada mountain range) into the Great Basin. Any magpie you see on the east side of the Sierras is always a black-billed magpie. And I don't know if there's ever been a black-billed magpie on the west side of the Sierras. Yellow-billed magpies don't make it up past the Cascade Range. They're purely in the Central Valley and they come out here toward the coast in a few of the larger valleys."
The yellow-billed variety is described as a year-round, sociable bird. They nest in pairs by the dozens fairly close to each other — within hundreds of yards. In one colony Koenig and other researchers studied, they found 15 to 20 nests in one canyon.
"We referred to yellow-billed magpies as semi-colonial," says Koenig, "They make big domed stick nests with entrances on the sides that can be a couple of feet across. The nests sometimes end up in mistletoe clumps which made them hard to find sometimes."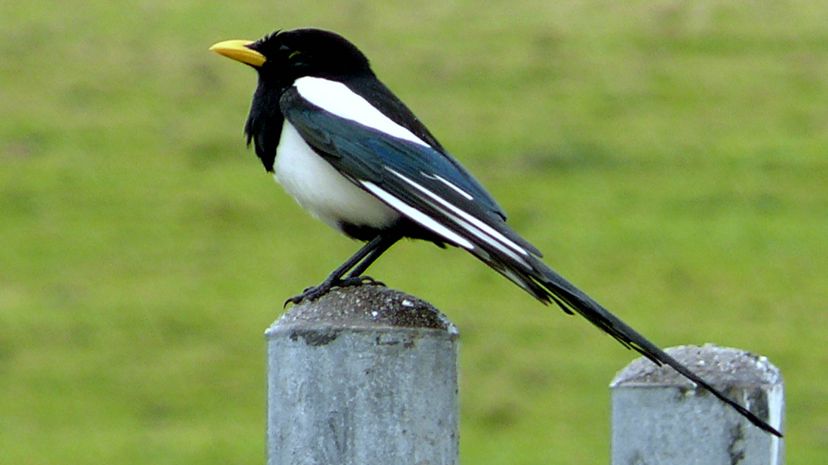 It appears that both yellow- and black-billed magpies are monogamous and mate for life. Magpie pairs build their nest together, the male gathering sticks for the exterior while the female works on the interior, lining it with mud and grass. The female lays a clutch of eggs (the number varies according to species), usually one brood per year.
Their plumage is eye-catching — black and white overall with black and blue-green iridescent flashes on their wings and tail. Their wings are short, but their tails are long — as long or slightly longer than the rest of their bodies. Their bills are strongly pronounced, like a crow's and — true to their name — either yellow or black. They are typically between 17 inches (45 centimeters) and 23 inches (60 centimeters) in length and weigh 5 pounds (2 kilograms) to 7 pounds (3 kilograms). The average magpie wingspan is 22 inches (55 centimeters) to 24 inches (61 centimeters).