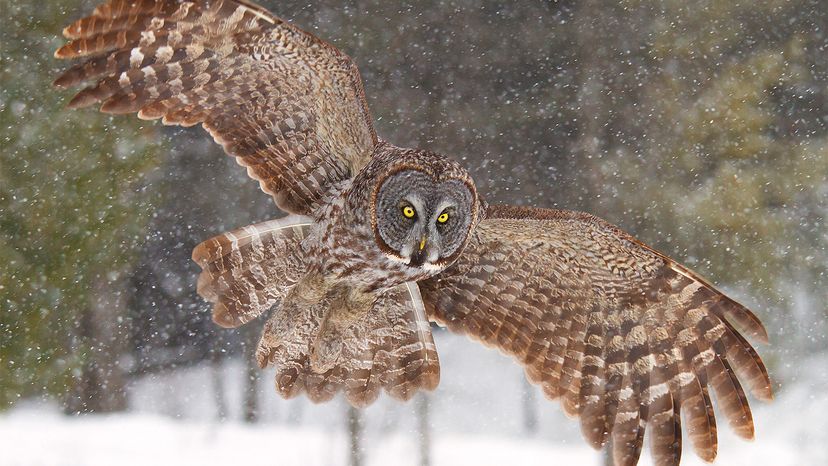 Owls are birds of prey that hunt at night. We hardly ever see them because when the hawks and falcons of the world clock out, the owls clock in. On silent, fluffy-edged stealth wings, they hunt small, nocturnal animals while it's dark, occasionally hooting or screaming at each other through the night. Then, when the sun shows up again, they repair to their favorite roost and let the other raptors go about their business eating day creatures.
And yet! We humans — notorious day-dwellers — pay a lot of attention to these night birds.
"Owls are probably one of the most widely recognized groups of animals in the world," says Denver Holt, the founder and lead researcher of the Owl Research Institute based in Charlo, Montana. "They're in all cultures — no matter how far back you go, there's always art or myths or stories about owls. They're on our corporate logos, sports logos, products use them to advertise, they're on castle walls and churches. I have a Greek coin that dates back to 400 B.C.E. with an owl on it."
Even the Chauvet cave in France, which includes Pleistocene art dating back around 30,000 years, contains an etching of an owl.
So, what is it about owls? They're not super conspicuous birds — just like moles aren't super conspicuous rodents — but you don't see us going around smearing a mole's face all over Tootsie Pop wrappers and Trip Advisor billboards.
Well, they are pretty cool. Although they're birds of prey, they're more closely related to mousebirds and kingfishers than eagles, hawks or falcons. However, they also fill the exact ecological niche as these other hunting birds — they just evolved to be terrifying night killers instead of terrifying day killers (which is, arguably, more unsettling, no?).
Owls are masters of camouflage — even though they share an ecological niche with other raptors, the day shift sees owls as a food source just as much as a rabbit or squirrel. They use their feathers to help them blend in with their surroundings and hide from predators.