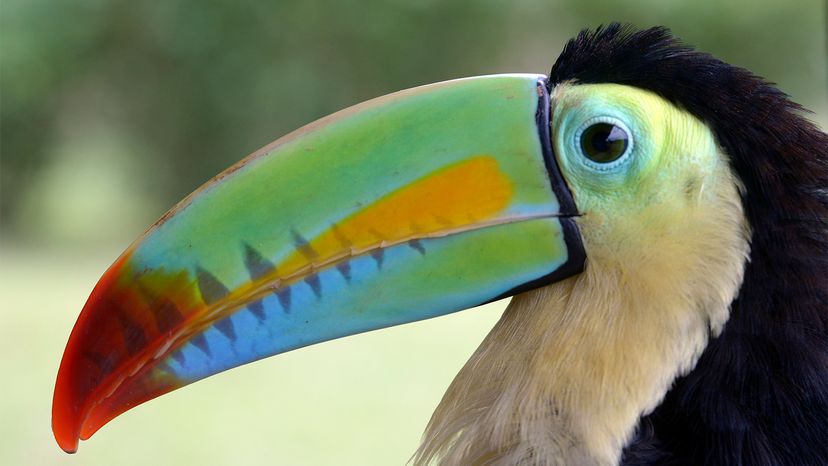 Toucan Sam, that bird with the horn-shaped, rainbow-striped bill on the Froot Loops cereal box, made the toucan recognizable to generations of people who have never even been to the neotropics. The toucan's undeniable graphic appeal led to its dramatic profile gracing advertisements decades before Toucan Sam began following his nose. Toucans have been used to promote everything from Guinness beer in the 1930s to the Brazilian Social Democracy Party in the 1980s. Which is why advertising legend Peter Lohmeier chose the bird to represent a fun, colorful, exotic (at least by the standards of the early 1960s) cereal.
But toucans, in actuality, don't have anything to do with beer, democracy or cereal, although they definitely concern themselves with fruit.
Toucans are a group of social birds native to Central and South America. They spend their days doing what any good frugivore (or fruit-eater) does: dispersing the seeds of the trees whose fruits they eat. The smallest toucan species, the lettered aracari (Pteroglossus inscriptus) is only about 11 inches (28 centimeters) tall and weighs only about 4.6 ounces (130 grams), while the largest toucan, the toco toucan (Ramphastos toco) is nearly three times as tall and six times as heavy. What all the toucan species — and there are over 40 of them — have in common is their preference for their home turf (toucans don't migrate), their habit of making nests in the hollow cavities of trees and, of course, their long, often colorful bills.