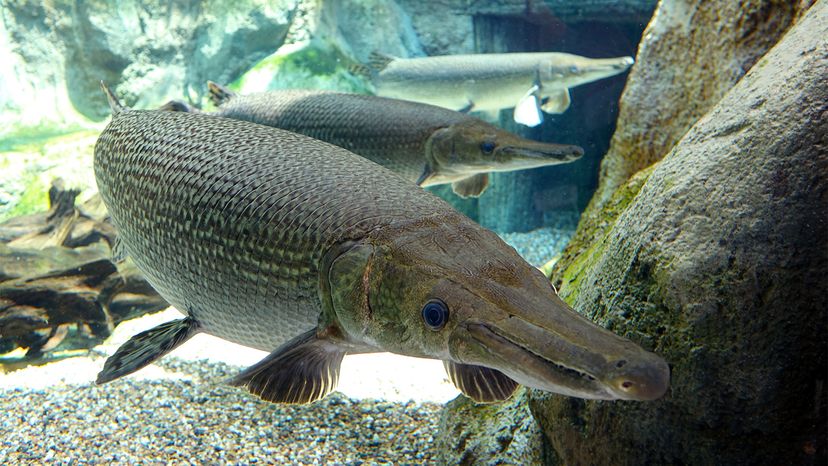 As humans, we like to think we run the show here on planet Earth. But in the grand scheme of things, our legacy is laughably short compared to those of other species. The prehistoric-looking Atractosteus spatula, for example, otherwise known as the alligator gar, is sometimes referred to as a "living fossil." And for good reason: Scientists can trace this unique looking fish back 100 million years.
"The alligator gar, Atractosteus spatula, is the largest of the seven living species of gar," said Robert H. Robins, collection manager in the Division of Ichthyology at the Florida Museum of Natural History, when we talked to him in 2019. "Besides its massive adult size, it can be distinguished from other gar by two rows of teeth in the upper jaw versus one, and a head that when measured length versus width, is broader than most other gar."
And talk about massive — in the first week of May 2022, a Texas man pulled in an alligator gar of truly monstrous proportions. According to LiveScience, YouTuber, educator and conservationist Payton Moore caught the huge fish, which was 8 feet (2.5 meters) long and weighed an estimated 300 pounds (136 kilograms). In an interview with the Houston Chronicle, Moore said, "It felt like somebody's car had just started up and was rolling out of the driveway, and I'm hanging on to the end of it."
Moore released the gar back into the bayou after measuring it and uploaded a video of it to his channel, WILD LIFE, on May 7. But he didn't seek official certification and the fish wasn't weighed, so his massive catch isn't eligible for the record books. The record for the largest alligator gar ever caught in Texas still stands with the beast hauled into a boat in 1953, which weighed 302 pounds (137 kilograms), according to Texas Parks and Wildlife.