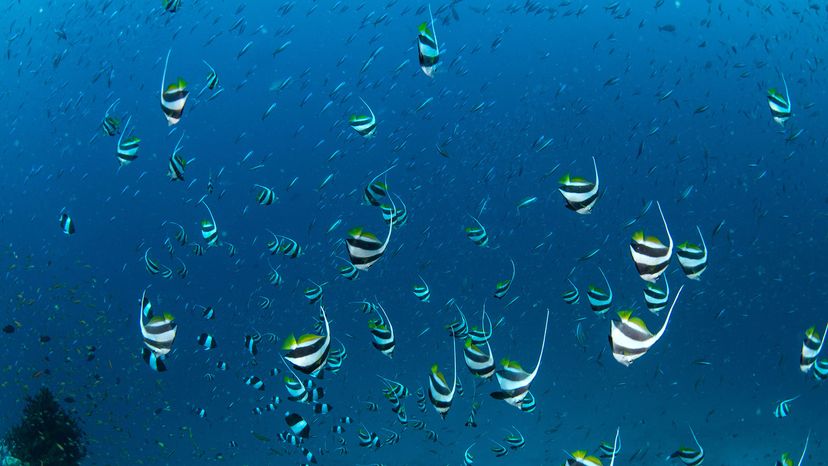 You might be tempted to answer this question with "Of course they don't! They're swimming in water." Or maybe you start thinking about how swimming in saltwater makes you thirsty. So, might fish feel the same?
The short answer is we don't know for sure if fish get thirsty. "It's impossible to know what a non-human animal truly experiences," says Tillmann Benfey, professor of fish physiology and aquaculture at the University of New Brunswick, Canada in an email interview.
But you? You know exactly when you're thirsty. You might experience a range of symptoms, perhaps dry mouth, fatigue, reduced urine output, lightheadedness, and weakness, among others. And when you're really, really thirsty – like lost in the desert without a canteen type of thirst – you simply crave water, sometimes to a degree that you can hardly think about anything else. That powerful urge is what keeps our bodies from becoming dangerously dehydrated.
But because we can't put ourselves in a fish's shoes (fins?), there's no way for us to know how fish perceive thirst, or if they do at all. "I think of thirst as a cognitive response to hydration and it's hard to get inside a fish's brain," says Boston College assistant biology professor Christopher Kenaley via email. "However, we do know quite a bit about how fishes regulate water balance."
Regardless of their thirst drive (or lack thereof), these creatures absolutely need hydration to stay alive. They regulate water balance via a process called osmoregulation, which is common to many other vertebrates, including humans.
Ultimately, says Kenaley, osmoregulation maintains the appropriate amount of salts and water in the body, and two main organs facilitate this process. First, the kidneys kick into gear, helping to maintain salt levels, and second, the gills have special cells that exchange water and salt with the environment.
Notably, the process varies quite a lot depending on where the fish lives.