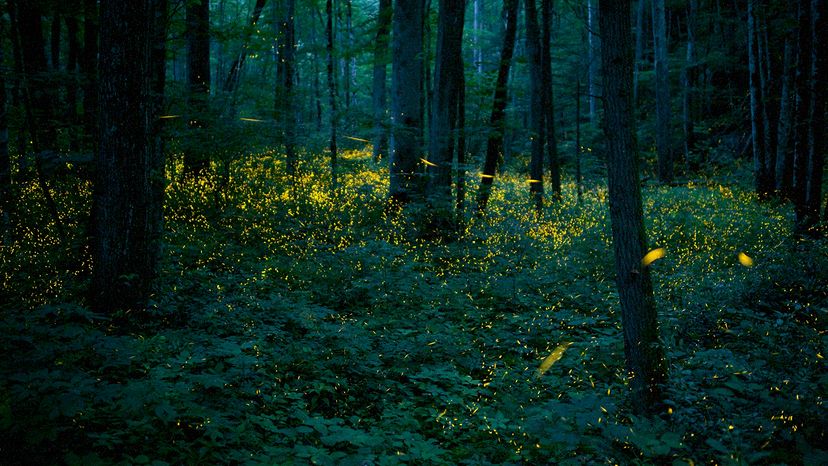 We know why fireflies do their firefly blinky thing. It's simple, really. It's the same reason males of many species show off.
It's a mating thing and it's a subtle form of flirting.
We don't know, precisely, how a few blinks in the middle of a crowded forest, or even a suburban backyard, eventually end in a nocturnal hookup. Nor do we know exactly how a female firefly, often on the ground or in the bushes or in a tree, leads her little blinking beau to their eventual love nest.
We're still trying to figure out, too, how some species of firefly can pull off their light show in synchronicity. It happens, in the Great Smoky Mountains and a few other places every summer. Hundreds or thousands of fireflies light up at the same time in the same pattern in one, huge choreographed flirt.
"It's a pretty magical experience," said Jamie Sanders, a park ranger for the National Park Service, when we spoke to her in 2017.
Every year, for a couple weeks in late May or early June, the park sponsors viewings of a certain species of synchronous firefly, Photinus carolinus. It's one of about 19 species of fireflies in the park but the only one in North America that has its choreography together.
The viewings are a hot ticket. In 2021, a total of 24,401 households, from all 50 states, Washington, D.C., Puerto Rico and three countries — Australia, Canada and Great Britain — applied for a vehicle pass, according to park spokesperson Dana Soehn.
According to the Great Smoky Mountains National Park Service website, for 2023, the firefly viewing dates will be announced Tuesday, April 25, 2023. The lottery for vehicle passes will open April 28, 2023, at 10:00 a.m. and close May 1, 2023, at 8:00 p.m. All lottery applicants will be notified about whether their application was successful or unsuccessful on May 11, 2023. Make sure to visit the website for information.