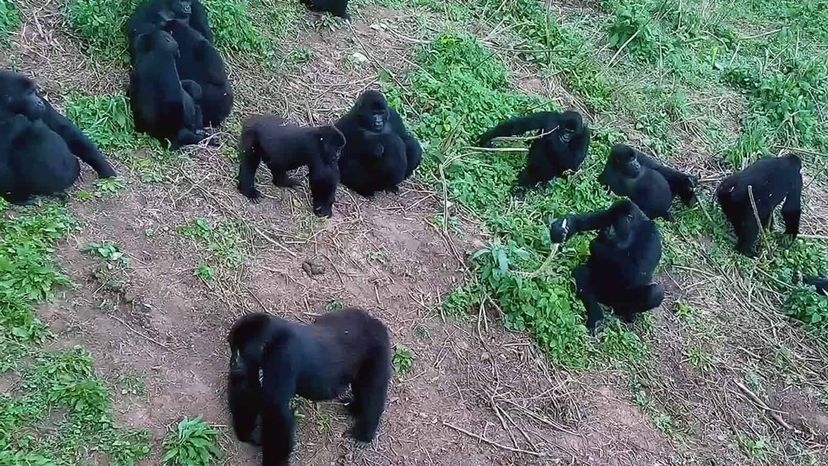 There are about 300 eastern lowland gorillas in the GRACE habitat that you can watch live via webcam.
Grace Gorillas
Staying quarantined all the time probably has you stir crazy by now and maybe even wondering what's going on in the outside world — you know with the animals. And with zoos and aquariums off-limits, there are only so many ways to catch up with our friends in the wild. But no worries, you and you kids can still check in on some pretty amazing species via webcam — and we found five that do the trick.
Depending on what hour you tune, you might be treated to the animals during an actual livestream, but if not, no worries. Most of these kid-friendly webcams also include highlight reels that provide hours of footage that's ready for watching. Just press play and become mesmerized as you watch gorillas in the lush forests of Africa snooze unencumbered or watch brown bears in Alaska catching salmon as they swim upstream.
Gorillas in the Mist
The Gorilla Rehabilitation and Conservation Education Center (GRACE) is an organization dedicated to the conservation of the eastern lowland gorilla (Grauer's gorillas) in the eastern Democratic Republic of Congo. The program focuses on the long-term rehabilitation of these majestic primates (the largest in the world!) by creating surrogate families of orphans. There are about 300 gorillas in the habitat. The webcam, which went live on Sept. 24, 2019, in honor of World Gorilla Day, captures male silverbacks, adult females and little ones romping around and dozing in the forest, and snacking on leaves, blissfully unaware of how much joy they're bringing those who are watching from afar.
One Word: Puppies
Umm, puppies, hello! No matter what time of day you check in, you'll likely be greeted with an adorable pile of puppies transmitted live from Brookeville, Maryland. These pups, typically a litter of Labradors, are part of Warrior Canine Connection, a program designed to help service members and veterans who are struggling with both psychological and physical injuries. Veterans with PTSD help train and socialize the pups, starting at 4 weeks old, to become service animals for other physically disabled vets. Everyone benefits from the love and connection the dogs provide along the way. It's a win-win situation for all involved. And when you tune in to the webcam, it's a win-win-win!
Fat Bear Challenge
Established in 2012, the Brown Bear Cam of Brooks Falls in Alaska's Katmai National Park is a classic animal cam that you need to check out immediately if you never have before. If you tune in early in the spring, you might be surprised to see how skinny some of the bears are. But no need to worry, they're just coming out of hibernation. As the months progress into June and July, those bears will thicken right up on a feast of migrating sockeye salmon that leap up the falls. It all leads up to Fat Bear Week, an annual competition in October that awards the biggest chunk through an online bracket.
Carole Baskin's Big Cats
If you're curious to check in on Carole Baskin's cats, check out The Big Cat Rescue in Tampa, Florida. That's where you can see the "Tiger King's" co-stars via The Big Cat Rescue cam from many different vantage points around the sanctuary. The most popular view is of Tiger Lake where two rescue tigers in separate enclosures lounge on wooden platforms — but don't miss Nikita the Lioness or the Kitten Cabana. The latter showcases the smaller cat species at the reserve, such as bobcats, but also regular house cats who live in a fever dream of a scratching post corral.
Save the Manatee
Tune into the underwater and above-water manatee cams at Ellie Schiller Homosassa Springs Wildlife State Park to see the park's permanent residents, Ariel, Betsy and Electra (who was rescued in 1998 after a boat struck her) drift and float across your screen. You might not see them right away but that makes a glimpse of these interesting creatures in their natural habitat all the more rewarding.