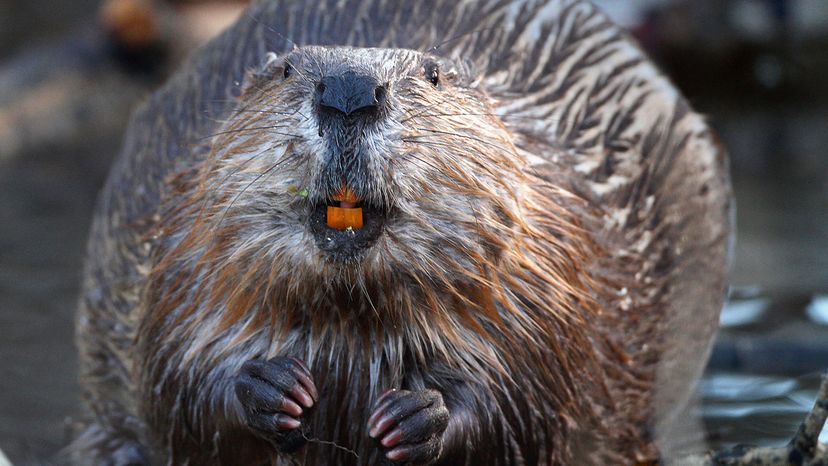 With their oversized front teeth, beady little eyes and funny flat tails, beavers look less like crazed killers and more like the goofballs of the woods. Yet with their distinctive orange-colored incisors, these furry wonders can slash through a finger-sized tree branch with just a single chomp. So that begs the question: Are beavers dangerous to humans?
It turns out that yes, in certain circumstances, beavers might harm people and pets.
In 2013, a man in Belarus approached a beaver hoping to capture a picture of it. But he apparently got too close and the beaver managed to inflict a bite that severed an artery in his leg. He promptly bled to death.
In 2018, a Pennsylvania man ventured out onto a kayak when a beaver attacked his watercraft and attempted to climb aboard. He smacked the beaver multiple times with a paddle to no avail — the beaver merely switched targets, instead attacking the man's young daughter. He was finally able to beat the beaver to death with a stick.
Sometimes, beavers attack because they're deliriously sick with rabies. That's happened multiple times in the past few years, including a 2012 incident in which two Virginia girls were ambushed by a rabid beaver. Both girls survived but received rabies treatments.
But the truth is that beaver attacks make great headlines for one reason — they are incredibly rare.
"Beavers in the wild are not considered dangerous," emails Michael Callahan, president of the Beaver Institute, which works to reduce beaver-human conflicts using non-lethal methods. "Unless they are threatened, the most aggressive behavior beavers will exhibit is slapping their paddle tail on the water to create a loud noise."