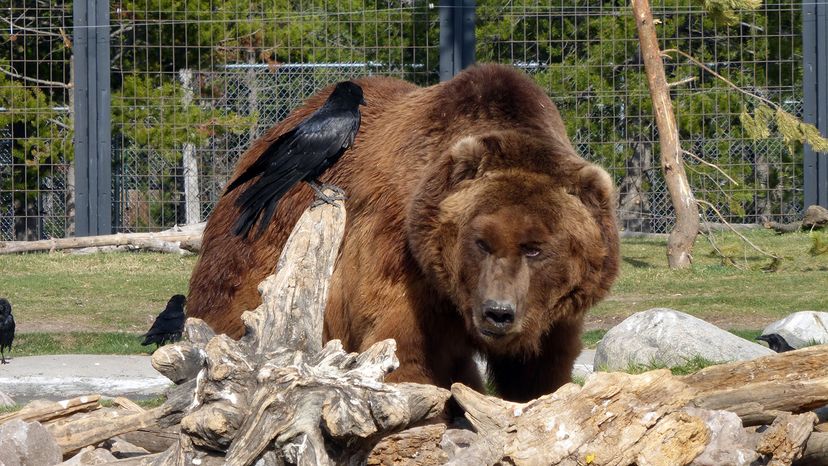 Have you ever wondered how manufacturers can be so sure their coolers, trash cans and other food storage units are safe and suitable for campers and outdoorsman to use without luring beasts toward their sleeping bags? You know, the ones that claim their products are bear-proof? Well we've got your answer.
"Our product testers come to work just like anybody else," Randy Gravatt, container testing coordinator at the Grizzly & Wolf Discovery Center told Great Big Story. "Their job here though is problem solving. They're here to put their backs into it, a little bit of elbow grease. The biggest difference is that they are 600-pound (272 kilogram) hungry grizzly bears."
In the video, Gravatt explains why his staff of furry, trash-loving employees serve such vital roles at the Discovery Center, which serves as a sanctuary and educational resource just outside of Yellowstone National Park in West Yellowstone, Montana. While it's probably best to assume that any type of bear in the wild poses a risk to humans, grizzly bears that have become habituated to human food are considered particularly threatening due to their hyper-keen senses and commitment to eat food scraps at any cost. They're often either killed or put into permanent captivity because of this reason.
Gravatt and the team at the Discovery Center decided these super smellers may not be suitable for the wild, but their exquisitely sensitive noses could be put to good use. Enter the bear product testing program.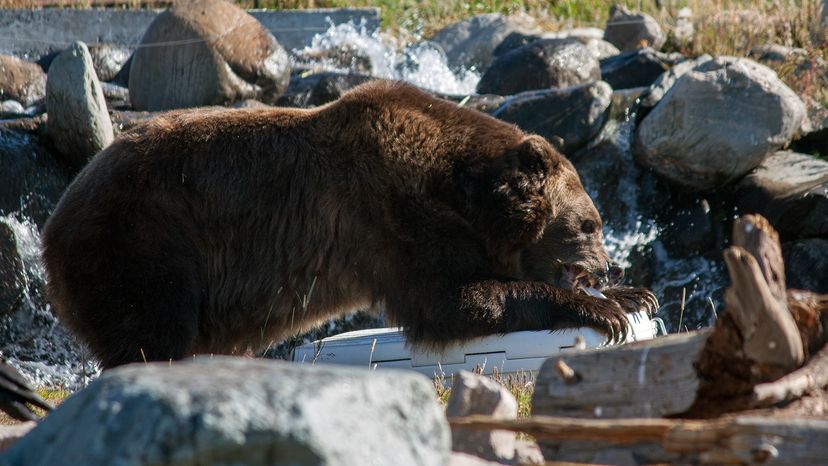 When Gravatt receives new products that need testing, he fills them with the type of foods bears drool over: fish, meat, peanut butter, and yes, honey. He then puts his team of seven strong, smart bears to work, leaving the food-filled products out in an open space at the Discovery Center and allowing the animals to get to work. He gives the bears one hour to try to gain access to the contents of the products (they do everything from biting and clawing to employing the adorable but vicious "CPR method" of pumping the hell out of items with their front paws).
If the products manage to survive the bears' best efforts to destroy them and pillage what's inside, they're officially considered "bear-resistant" and receive certification from the Interagency Grizzly Bear Committee (IGBC). Products that don't pass the one-hour test and are smashed to smithereens aren't necessarily out of the running for certification, but do require modification before they can be re-tested.
The process may seem a little silly (hot tip: the CPR method is beyond fun to watch in slo-mo), but the testing is crucial for campers and wildlife alike since bear-safe products keep humans safe and keep the bears from being deemed lethal threats. You can see the most updated list of IGBC-certified containers here.
Product testing is just one of the many important functions taking place at the Grizzly and Wolf Discovery Center. In addition to conservation efforts and special projects centered around grizzlies and gray wolves, the non-profit wildlife park offers guests the chance to get up close and personal with the animals through exhibits and educational experiences. So if you'd like to see the hardest working creatures out there, pay a visit to Yellowstone and stop by the Discovery Center for a bear-y good time (ugh sorry).