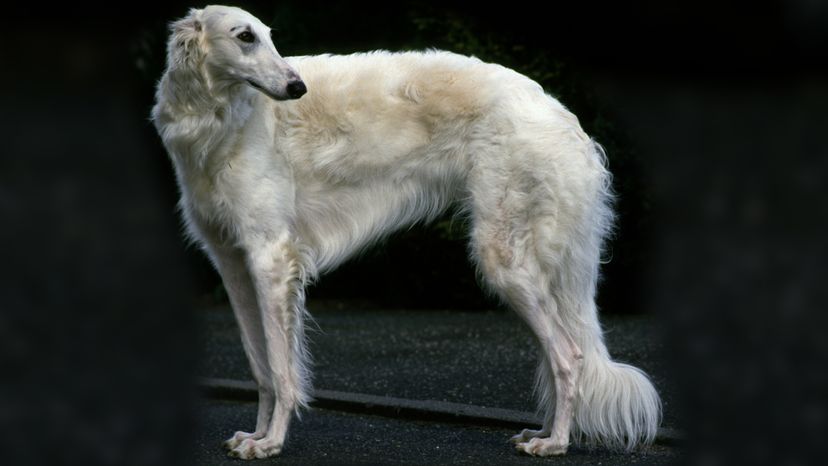 Although the precise origin of the borzoi is unknown, many people believe the introduction of the elegant and graceful breed can be traced back to a 17th century duke in Russia who imported a collection of fleet-footed Arabian greyhounds to serve as hunting dogs. Unfortunately, while the greyhounds met the duke's speed requirements, their thin coats rendered them ill-equipped to contend with the frigid Russian winters and they died.
That's when the duke requested a new batch of Arabian greyhounds and crossed them with thick-coated Russian sheepdogs. The result? Dogs, known also as both Russian wolfhounds and long-haired greyhounds, that not only were better suited to cold temperatures, but were also quick and tough enough to pursue and easily pin their prey, which consisted of foxes, boars, hares and even wolves. In fact, the Russian word "borzoi" translated means "swift."
Designated as a type of sighthound — meaning they hunt prey using their amazing 270-degree field of sight and sprinting ability, rather than their nose to locate and follow a scent (like beagles and basset hounds) — borzois can reach speeds of up to 36 mph (58 kph), which makes them one of the fastest dogs in the world, says Nicole Ellis, a certified professional dog trainer and pet lifestyle expert with Rover.com, in an email interview.
The borzoi wound up becoming a popular companion dog for royalty across Europe, where they are still common today. In America, however, they're considered a rare breed.
What Does a Borzoi Look Like?
At first sight, the borzoi resembles a typical greyhound, with a lean and narrow body, long and slender head and legs, deep chest, tucked abdomen, arched loin and lengthy tail. The difference is apparent in the dog's larger stature and luxurious silky coat, which can be flat, wavy or curly. Any color or combination of colors is allowed, according to the breed American Kennel Club (AKC) standard.
Considered a giant breed by the AKC, adult male borzois stand about 28 and up to 32 inches (71 to 81 cm) high at the withers (the top of the shoulder), and weigh between 75 and 105 pounds (34 to 48 kilograms). Females are slightly shorter and lighter than males, as well as more feminine and refined.