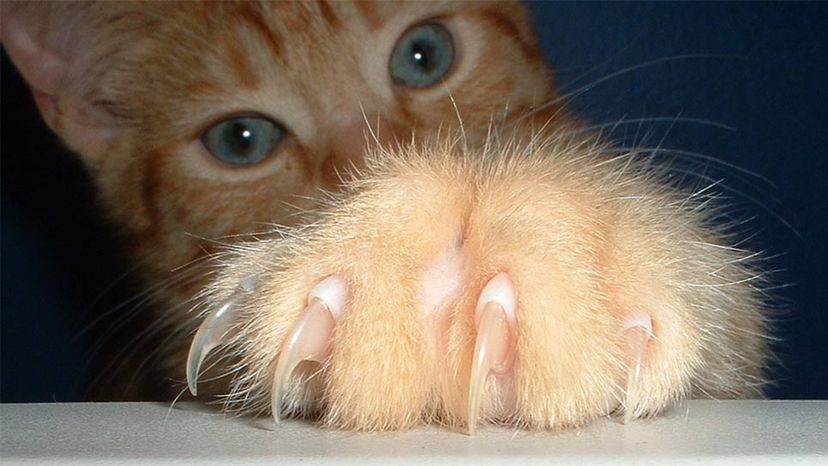 Does it look as if Jack the Ripper went dog day afternoon on your couch? Does it seem as if Edward Scissorhands continually carves your doorjambs? If you answer yes to these questions, chances are you have a cat.
Cats are notorious for scratching. Some scratch furniture. Some pick at carpets. A few slice human sinew. They use chair legs as scratching posts and shred drapes and tablecloths into rags. Cats scratch. That's what they do. The American Veterinary Medical Association (AVMA), says "scratching is a normal behavior of cats." Conversely, "destructive scratching represents approximately 15 to 42 percent of feline behavior complaints."
They don't do it for malevolent reasons, but mainly to mark their territory, sharpen their nails, stretch their tiny cat muscles, protect themselves or remove dead husks from their claws. All of this is natural and instinctive. But because such activities can be destructive, many cat owners resort to declawing their felines, a painful, and many would say, barbaric remedy.
But now, the cats of New York state can now purr a bit louder thanks to a new bill passed by the state legislature in June 2019 that outlaws cat declawing. Pet owners who declaw their cats can face a stiff $1,000 fine. If signed into law by Gov. Andrew Cuomo, who is rumored to be a dog lover, New York will become the first state to make declawing cats illegal.
"This bill will ban declawing of cats except when necessary for therapeutic purposes," Assemblywoman Linda B. Rosenthal told lawmakers just before the vote was taken in the New York Assembly. "There is no reason other than medical necessity, to remove or amputate the bone up to the first knuckle of a cat."