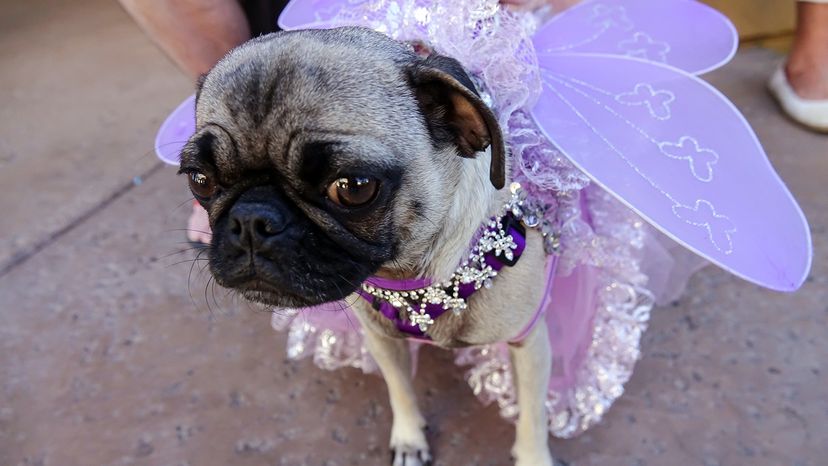 There Charlotte was, a 3-month-old rescue puppy donning a pink floral dress. Charlotte had only been with us for a week, fresh from Tennessee, and now she looked as if she was ready to walk down the runway during Fashion Week in New York City.
"Oh my God!" I exclaimed, as my partner Karen held her proudly. "Isn't she cute?"
"She is," I answered, trying to stop my eyes from rolling into the back of my head.
Loretta, her older sister, seemed just as excited, or perhaps, perplexed. She looked inquisitively at this diminutive bag of paws squirming in Karen's arms, a $9 dress flapping in a soft June breeze. I turned to Loretta and said, "Don't worry, sweetheart. You don't have to wear a dress if you don't want to."
Charlotte grew out of the dress a week or two later. She now has a new winter coat, which she has yet to wear. As for the dresses, I hope Karen doesn't go shopping for some crazy holiday outfit.
Since you're reading this, chances are you love dogs. And some of you, I suspect, like to dress them in all types of frilly garments and outrageous get-ups. Halloween costumes! Holiday outfits! Birthday dresses! Boots! Scarves! Wigs! Painted nails! Boots! All of which you wouldn't be caught dead in. Which leads us to the question of the day: Do dogs get embarrassed when we do silly thing like dress them up?
"I don't think they get embarrassed, but definitely annoyed," my friend Dawn McKersie, a dog trainer and sometimes puppy sitter laughed. Then to prove her point, she sent me a photo of one of her clients who had a lion's mane wig around his tiny head. The dog looked miserable. No, really. He looked as if he wanted to hide in the jaws of a real lion.
"What did you think?" I asked. "Look at that poor pup's expression."
"He's miserable," she responded.