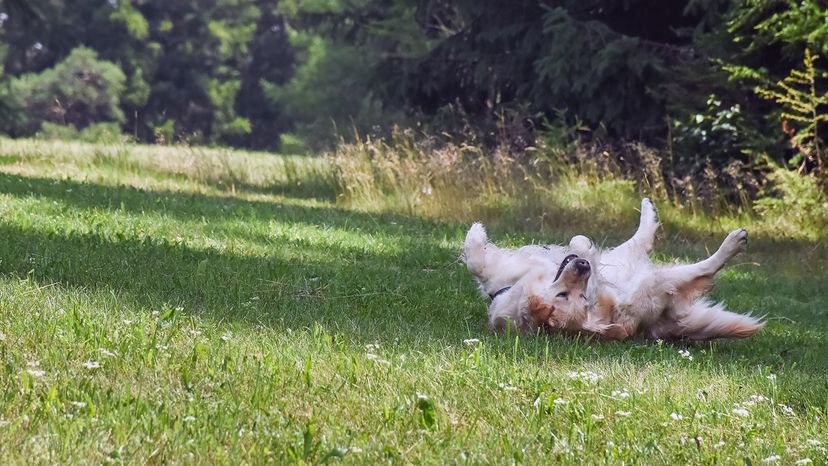 My setter-mix, McBeal, had a particular fetish. When she was still with me, my property was covered in trees. Every fall, as trees are wont to do, the leaves fell to the ground. Mix in some rain and various organic matter, such as rotting weeds, flowers, and all types of wild animal poops and pees, and soon a toxic witch's brew of some of the most vile-smelling stuff this side of a rotten egg would waft through the air.
McBeal, who at the time had mighty-long fur, always meandered down to that section of the woods, fell on her back and rolled in the muck. More than once I ran toward her shouting, "No! No! McBeal! Stop it!" She'd pop up covered in smelly slime. "Why do you do that?" I'd cried plaintively, expecting an answer. I only got a tail wag. Her sister, Sophie, did not follow her lead, thank goodness.
These days the trees are gone, replaced by a lawn, a rock garden and wildflowers. Yet, my chocolate lab, Loretta, has taken to doing the same thing. This time there's no devilish morass to roll around in — thousands of hard-earned dollars have seen to that. It seems Loretta likes to squirm in decaying grass clippings sprinkled with Milk-Dud-looking deer feces. The first few times I shouted my popular reframe: "NO! NO! Loretta! Stop it! Why do you do that?"
She's been doing this for a while, more so since we got a new puppy. Finally, I gave up trying to corral her in. When I asked my vet about Loretta's rolling ways, he just shrugged his shoulders and laughed.
If I had to guess, all of us who have dogs have been down this road before. But why? Why for the love of Pete, or Mike, or whomever, do dogs roll around in decaying, stinky, vile, rotting awfulness? Frankly, my vet was right in shrugging his shoulders. No one knows!