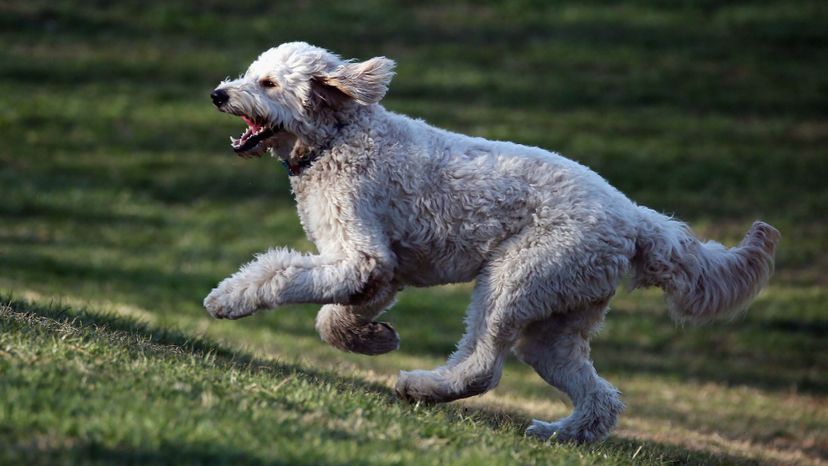 Goldendoodles are the adorable result of a cross-breeding between a golden retriever and a poodle. Hence the name, goldendoodle. While you might be picturing an exact hybrid between a golden retriever and a standard poodle, however, goldendoodles can vary quite a lot in appearance, according to Nicole Ellis, a certified professional dog trainer and pet lifestyle expert with Rover. "The size of a goldendoodle depends on the poodle part of their heritage," says Ellis in an email interview. "Poodles come in many different sizes, so goldendoodles do, too. Because of this, you'll meet goldendoodles ranging from small, at 15 to 30 pounds (7 to 14 kilograms), to very large, up to 100 pounds (45 kilograms)."
Contrary to common logic, goldendoodles don't always have golden fur, either. "Coloring can vary," says Ellis. "Like poodles, they range from light tan to apricot to chocolate and black. Goldendoodles usually have shaggy, curly coats, but the curl tightness can vary drastically as well."
According to Steffi Trott, owner of and head trainer at SpiritDog Training in Albuquerque, goldendoodles have been bred in the U.S. as guide dogs as far back as 1969. "In the 1990s, designer dog breeders picked up the cross and started to market them as perfect all-around family dogs," she says via email. "Later on, many other breeds were also crossed with poodles and became cousins of the goldendoodle, such as the labradoodle (labrador and poodle), sheepadoodle (Australian shepherd and poodle), Bernadoodle (Bernese mountain dog and poodle) and others. While goldendoodles were first bred in the U.S., they are popular all over the world today.
So, how did they become so popular? "Goldendoodles combine the very clever and silly characteristics that poodles are known for with the loyal, loving and friendly disposition of a golden retriever," says Ellis. They also shed very little, making them a great choice for people with allergies or those who don't like cleaning up much dog hair around the house, and finally, they exhibit an even temperament, trainability and super-cute looks.
Here are seven more fun facts about this cuddly canine.